EvoPlay Entertainment Slots Review 2021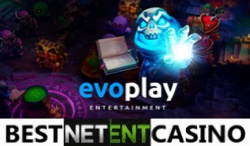 The Maltese company EvoPlay Entertainment was founded in 2003. Today the gambling development studio keeps up with the times, releasing only innovative software. The provider's portfolio includes more than 60 slot machines, as well as other products (roulette, card games and platforms). High-quality software creates worthy competition for all the leaders of the gambling industry. The original online slots have recently gained popularity and demand among gambling enthusiasts from all over the world. The company was one of the first to launch online virtual reality (VR) slots. Consider the features of the company and slots:
Logo
Name
(Play demo)
Percentage
(RTP)
Volatility
(Dispersion)
Ace Round
96%
average low
Aeronauts
93.9%
high low
Animal Quest
96.1%
high average
Atlantis
94.5%
low average
Basketball
94.8%
high low
Battle Tanks
93.9%
average low
Book of Rest
96%
high average
Brutal Santa
96%
low average
Candy Dreams
93.8%
low low
Charming Queens
95.74%
average high
Chinese New Year
93.4%
average high
Clash of Pirates
95.1%
low average
Cycle of Luck
96.12%
low high
Dolphins Treasure
94.1%
low low
Dungeon Immortal Evil
96.3%
high average
E.T.
96.5%
high low
Egypt Gods
94.7%
high average
Ellen's Fortune
96%
low high
Elven Princesses
96.4%
average low
Emperor`s Tomb
93.7%
average low
Epic Gladiators
95%
low high
Epic Legends
96.16%
average average
Exploding Fruits
96%
average average
Fluffy Rangers
96%
low average
Food Feast
96.09%
average average
Football
94%
low average
Forest Dreams
96%
average average
Forgotten Fable
96%
average average
Fruit Nova
96%
low average
Fruit Super Nova
96.03%
low average
Fruit Super Nova 40
96.04%
low average
FruitBurst
95.3%
average low
Fruitsland
94.23%
high low
Gangster Night
96.12%
low high
Gold of Sirens
96.12%
high high
Hot Triple Sevens
96.1%
average high
Hungry Night
96.1%
high average
Ice Mania
96.09%
high average
Indiana`s Quest
94.9%
average average
Irish Reels
96.1%
average high
Jelly Boom
96.1%
low high
Jewellery Store
95.1%
average low
Jolly Treasures
96.2%
low high
Journey to The West
95%
low low
Legend of Kaan
96.3%
low average
Lucky Girls
94%
average low
Lucky Mahjong Box
92%
low low
Maze Desire for Power
95.9%
high low
Mehen
95.8%
average low
Midnight Show
96.1%
low high
Monster Lab
94.3%
average average
Mystery Planet
93.63%
low average
Naughty Girls Cabaret
93.9%
high low
Necromancer
95.85%
low average
Neon Shapes
96%
high high
Night of The Living Tales
96.2%
low high
Nuke World
96%
average low
Pachin Girl
96%
high low
Prohibition
94.5%
average low
Raccoon Tales
96.2%
high high
Red Cliff
95%
high high
Reign of Dragons
95.8%
average low
Rich Reels
96%
average average
Rise of Horus
96.1%
average high
Robin Hood
95.1%
high low
Robinson
92.4%
high low
Robots: Energy Conflict
96%
average high
Rocket Stars
96%
average high
Runes of Destiny
96.07%
low average
Sea of Spins
96%
average average
Season Sisters
96%
low average
Sindbad
93%
low average
Slavs
96%
low low
Sprinkle
96%
low average
Surf Zone
96%
low average
Sweet Sugar
96%
high high
Syndicate
94%
low high
Talismans of Fortune
95%
low average
Temple of Dead
95.99%
high high
The Great Conflict
93.17%
average average
The Great Wall Treasure
94.5%
low average
The Legend of Shaolin
92.7%
high high
Totem Island
93%
average average
Treasure Mania
96%
low high
Tree of Light
96.1%
high high
Trip to The Future
96%
high low
Unlimited Wishes
95.99%
low high
USSR 70`s
94.8%
low average
USSR Grocery
94.1%
average low
Valley of Dreams
96.1%
high high
Vegas Nights
95%
average average
Western Reels
96.1%
high high
Wild Bullets
96%
average high
All slots have Full HD resolution, which makes the gameplay as realistic and exciting as possible. Colourful design, as well as a large selection of interesting topics, are some of the main advantages of the software.
There are four main storylines that the provider adheres to. Often slot machines are dedicated to an oriental theme, fruit, adventure or fantasy genre.
Slots are available in six languages, support all major currencies and cryptocurrencies.
The main "highlight" is the original bonuses. Each slot has its own special options that differ from the many offers in an online casino.
We can safely say that each slot is unique and has its own sophistication.
Even free spins are quite often either launched in a non-standard way or are endowed with interesting functionality.
The arsenal also includes completely atypical slot machines. They lack standard reels and pay lines. A complex plot with simple rules allowed the developer to reach a new level in gambling.
Most of the slots have high volatility. But the return is average. Usually, slot machines give a player an advantage of 96%.
We recommend reading about:
The main office of the company is located in Malta, but the software development centre is based in Ukraine. Also, the provider's representative offices are open in Europe and Asia. Today the provider of gambling software has a license from the Malta Gambling Commission. The company is also actively working to obtain licenses from other well-known regulators. All software is tested by the independent eCOGRA laboratory, which is respected all over the world.
The main achievement of the company should be noted separately. In 2018, at ICE, the developer was the first to present a 3D slot with the possibility of playing in virtual reality. This solution became a real breakthrough in the field of gambling, and today this new trend in online casinos is just beginning to gain popularity.
It's worth starting with the positives.
Firstly, a striking design and original functionality. Indeed, most of the games are different from each other, you will definitely not find clones in your portfolio.
Secondly, the quality of the software and support for the game for cryptocurrencies. By the way, all slots work great on both mobile and desktop devices.
The disadvantages include a small selection of slot machines. The portfolio of slots could be larger, given the experience gained over more than 15 years of work. Despite the fact that the company develops gambling platforms and develops slots for individual orders, it does not provide software for games with live dealers. The provider can safely put "4 plus" on a five-point scale.