Details

Written by

Yovko Peev
How To Find The Most Profitable Slot For Return In An Online Casino In Canada?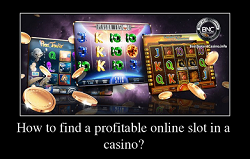 When looking for profitable slots, we start by finding where the house edge is smaller. To get a positive balance at a Canadian online casino, keep in mind that the positive mathematical expectation only applies in the long-distance. Of course, it is possible to have a strong advantage at shorter intervals, but it is not very likely.
The positive outlook is represented by the RTP (Return to Player) index. This is a very interesting mathematical attribute (in %), which shows numerical probability based on complex game events over a long period of time (relative to gaining an advantage A) during the game, B) at the end of the game, and C) only after playing for a long time).
So, if 1 slot is said to have 96% RTP, it doesn't mean that if you place 100 CAD and start playing this money, you are guaranteed to get 96 CAD at the end of your session.
No, as with all new products on the market, the casino producers did their internal testing before the release of the machine and after almost a billion spins in different conditions they deliver a number - when different paylines are enabled, different features are activated on and off, with various bets and various speeds.
Obtained with a math formula for probability, this RTP number goes along with the technical specifics of the game, when the producer has to certify its creation before a commission (or in the gambling world a company like ECOGRA - engaged in monitoring, reporting, analyzing, testing and validating casino games. So we all rely on these types of companies to tell us that the RTP announced by the game developer is legit.
On the other hand, online sessions consist of spins that roll independently of each other, so each session is automatically different with every game. That makes it statistically difficult to compare, so we'd better eliminate any analogy with other casino games and other ways of playing (we won't be talking about lottery games or table games here, nor should we mention odds in land-based establishments in Canada - if you want to read more about these subjects - use the links or the search bar of our site).

What we will talk about in this article is solely about online slots and how profitable they were for us (BNC team of several members - test/play as single or as a team).
In addition, we will try to explain our theory of how we found the best slots (for us) to return to (comeback slots), why we think they are generous (establishing hot/cold) and what our gambling strategy in regard to return slots is.
We will consider the impact of RTP, Volatility, Cyclicality, Hot/Cold slot mood and generosity of games from famous developers in reliable casinos.
To secure money-making sessions, you need to understand how to find the most profitable slot for return that is "hot" and ready to pay money. There is always a huge amount of online slots available on many sites, so from there the question is:
How do you choose the most profitable? Or a dozen bankable slots? Which of the slots are currently hot and which are cold? There is no simple answer to this. In our article below, we provide summarized ideas for answering these questions.
In most cases, the games that come close to achieving such a goal are the high volatility slots. You probably already know that both - the slot variance and volatility imply the same property: revealing how risky the slot is, and whether you should in all probability expect to lose your money in a series of empty spins.

Some software developers don't hide the
technical data about their creations
, and the players can delve into the publications. Also, forums and other players' experiences can help you in the search for lucrative slots. Depending on your character, game strategy, and style, some slots can be fitting better than the rest.
While there can be many strategies at land-based establishments when we talk about online - it is immensely diverse, and building your own winning technique, which should work all the time is impossible. Well, close to impossible. Our team has developed Plan / Play / Score / Comeback (PPSC) strategy and we would like to share it with you.
Find the most profitable slot for return at the best Canadian casinos
Logo
Name
Bonus
Details
Play for real

Fastpay

100 % up to 150 CAD + 100 Free spins

Popular Slots
24/7 Support
Instant withdrawals

Play for real

Cobber

100 % up to 300 CAD + 100 Free spins

Crypto bets
24/7 Support
Instant withdrawals

Play for real

Casino4U

100 % up to 150 CAD + 100 Free spins

Popular casino
24/7 Support
Cryptocurrencies

Play for real

Wildblaster

100 % up to 150 CAD + 100 Free spins

Multiplier race
24/7 Support
Buy Feature slots

Play for real

Instantpay

100% up to 150 CAD + 100 Free spins

Many bonuses
24/7 Support
Instant payouts

Play for real
During the 1st phase:

Of the
PPSC strategy - Plan
, pay attention to the following 2 category factors:
I - Plan at which casino you will play
You should make your selection (of several casinos) based on:
Licensed gambling sites are trustable (no shady business is expected - after all the establishment wants to keep its certificates and reputation). Investigate if any complaints against the casinos on your personal list have been made, and/or resolved. You can always scrap some names from the list at any time.
Examine how smoothly transactions are processed by these casinos. At this point, you need to find some free spins or Welcome Bonuses, so that you don't have to wager your own money but rather research the speed and ease of withdrawing with gratis money.
After winning some small amounts at some of the casinos on our list, we've made our final top 3 where we plan to execute our tactics. By the way, while designing this strategy we did tests (registered) with 8 casinos at the same time. At the end of developing our MO (Modus Operandi - method) for slots to return to, we never went back to deposit in 5 of them.
It is vital to do your research and not only find honest Canadian online casinos, but if you are going for high volatility slots (with the potential for huge wins), protect yourself by checking that online casino beforehand (if financially operates with credibility to handle and pay huge amounts of 5000x-10000x+, or for example the Jackpot).
Some networks don't easily give out large payouts and instead spend them in monthly instalments. (Read about Playtech Progressive Jackpot scandals on the forums.)
II - Plan at which games you will play
You should make your selection (of several games) based on:
In addition to checking the authorization of the gambling sites during the previous step, we also monitored how many games are offered there and which producers (by name) are presented. The rule here is that the bigger the number, the better (because the casino pays to include this or that provider, as well as per game).
So some of our chosen casinos have a collection of over 4000 games and over 35 producers on their 'menu'. That's good, in the next stages we have more to choose from. However, if you find such research labour intensive and perhaps overwhelming, just choose from the most well-known Casino Slots Software providers.
Note from this point on we avoid all producers who do not publish the technical data of their games!
After finding 3 of the most well-known producers recommended on different platforms, let's start looking at our 3 selected casinos - which games do they have from 'our' producers? Now we begin to examine their titles with the highest Return to player percentage (RTP).
The RTP is the first and most important factor to consider when choosing an online slot. As mentioned before, the RTP determines/predicts how much of his bets the player will get back in the long run (if he continues to play in a long, long session). This percentage is never 100%, so unless you are lucky and score within 1 average session, do not expect a full recovery of your starting capital.
Canadian online casinos are much more beneficial to players than land-based gambling houses as they have lower costs and therefore can afford to give players higher returns. The average RTP of an online slot is 95% or higher (at some casinos - including NetEnt casinos - you can come across slots with an RTP of even 97-98% of the stakes).
For example, the RTP of the Blood Suckers slot is 98%. This means that as you go through the full cycle, the slot will return 98% of all bets placed. This is a theoretical indicator, thus you should not make your decision by ignoring all other factors.
And if we compare Blood Suckers with another NetEnt game - Ghost Pirates slot with an RTP of 95.28%, over several sessions, we can see that the latter can turn out to be more profitable than the former. Why? Well, because the period is too short. What are thousands of spins compared to billions? Just nothing. Anything can happen at such a short distance, after all, slots are games of prospects and luck!
In addition to the RTP of the games we had in mind (dozens still on our list, waiting to be scrutinized - and eventually included or excluded from our final list), we started reading about the second major technical feature of one slot - the volatility (variance/dispersion).
This technical characteristic signifies the expected:
amount of the payouts,
frequency of the payouts,
level of risk of the game.
We have learned that the fluctuation of play sessions from frustratingly long losing streaks to some fantastic winning rounds can be explained by the Volatility. We also discovered that this property was assigned by the developer at the time of building the game's mathematical model and that it has a lot to do with the paytable and the slot's hit rate.
Knowing the Volatility metrics about the slots will help you select the slot that best suits your needs. Keep in mind that the value of the slot's Volatility pinpoints the level of your bankroll exposure to loss.
You will probably want to play Low Volatility slots that involve fewer risks if you have a small budget, which could extend your gameplay with lots of minor but recurring wins.
Opposite to this, if you are more of a risk-taker with a larger budget, you'll want to play medium to high volatility slots, which can generate sizeable wins but seldom.
At the upper side of the spectrum are the High Volatility slots. There are a lot of advantages to playing high-risk slots. Each high volatility slot comes with lucrative multipliers and bonus features. With them is likely to receive some sparse payouts or hit a completely dry period, but when the machine bestows you with the real win, it is absolutely worth the wait! A good example in this regard is the Dead or Alive slot. It is an excellent machine, with super potential, but to deliver an EPIC win is exceptional - all the standard scenarios played here will eventually devour the bankroll.
The third key factor is the slot's cycle of winning. This is the trickiest element (and admittedly you can often be wrong, as it's hardly reported anywhere - so you have to experience it first hand). It took us many sessions to play the last contenders on our list (in DEMO mode of course) before we started to understand the course/waves of winning and losing. The length of the cycle theoretically shows the same periods (explained above) when the machine is "on the return" or when it is "on the dry flat" - not a profitable phase, and relentlessly eats your money without giving anything back.
For example, the cycle length of 1 of the nominees on our list of providers and games - the Arabian Nights slot machine is very long, and in Microgaming's Blazing Mammoth slot the cycle length is short. While the winnings fall in both frequently (almost 40% of the time), both have different Volatility.
Plus, although in both games you play for the Jackpot, the difference is that one is a Progressive Jackpot (Local - per casino - at some jurisdictions ), and the second is an in-game Jackpot (i.e. on the small size, 1.3 mln CAD on average for the fairy-tale slot, and 240000 CAD for the mammoth game). The cycle's length shows how often the accumulated prize pool will be awarded in big wins to some of the players.
We therefore always recommend playing DEMO style first before identifying the cyclicality. Be patient and examine the mood of the slot risk-free - at certain bets, considering the value and size of the stakes. With more time spent testing the slot (like we did), starting to understand the game is inevitable.
That is how you begin to recognize the start/end moment of the cycle, which enables your maximum winning awareness, i.e. when you can change the bet because you expect to hand out a bigger prize.
Our strategy to find slots worth returning to is based on our desire:
* Playing only 2-3 times a week (i.e. not living off this),
* To spend no more than 3 hours in each session (i.e. still have personal time for other things),
* To pay no more than 300 CAD each time (i.e. we are not high-rollers and will play with our limited budget via small to medium bets), and finally
* To not jeopardize our investment and still play long enough (i.e. we preferred medium to high volatility games).
If you don't see yourself in our category, the strategy below may not apply (try adjusting or find another plan).
During the 2nd phase:
Of the PPSC strategy - Play, you have a list with chosen Casinos, Providers, and Games (with certain attributes - RTP, Volatility and Cycle), now - evaluate and start playing the TOP 3 of your list. You can follow the steps below (which worked for us) in the process of choosing slots to comeback to and pull money out of these games with success.
Step-by-step guide of choosing a rewarding online slot
1. We have picked 3 slots with Medium and High Volatility, plus High RTP from 3 different Providers. (Below you will find our exact selection with a chart). Fortunately, NetEnt and Microgaming are 2 companies that offer an excellent number of generous slots and you can easily pick from their range of good games. We recommend choosing slots with RTP above 96%.
Here is our selection of 3 slots we would like to pass our tips about (being exemplary slots to return to):
| | | | |
| --- | --- | --- | --- |
| | | | |
| Producer | NetEnt | Microgaming | NextGen |
| Release year | 2014 | 2011 | 2015 |
| Layout | 3x3 | 5x3 | 5x3 |
| Paylines | 5 paylines | 243 winways | 25 paylines |
| RTP | 98.86 | 96.86 | 95.25 |
| Volatility | High | Medium | High |
| Bonus statistic probability | every 52nd spin | every 160th spin | every 125th spin |
| Rating for the wagering | 4.26 out of 10 - unsuitable | 3.93 out of 10 - unsuitable | 0.18 out of 10 - unsuitable |
| Max Potential | 600x the total bet | 12150x the total bet | 17700x the total bet |
Each of them has its specific qualities/features (here we mean only payout attributes and not the value of the graphic and sound) for which they are worth the rebound, and maybe with them, we can be victorious again!
2. We have checked out the hidden data (volatility, the probability of triggering the slots' features, wagering rating), examined various parameters and read recommendations on different forums (on our BNC site, this is the section "How to win Netent slots").
3. We have chosen the bets we will play - in accordance with our budget. We have followed the important advice to prepare a bankroll that correlates to the slot's volatility. If you only have money for 50 - 100 bets, then will be hard to play one High Variance game (it is always better to have the cash for 200+ spins). We have divided our 300 CAD bankroll into 3 sections: 100 CAD for each of our selected games.
We have played the 1st slot with 50 cents (Jackpot 6000)
We have played the 2nd slot with 60 cents (Immortal Romance)
We have played the 3rd slot with 50 cents (300 Shields)
4. We entered 1 of our selected casinos and start playing these games one by one in DEMO mode to confirm/identify the slot mood exactly today at this time (always near the weekend and later than 8 pm - this is our personal preference time) at the bets, asserted above.
5. We have played for a while - 1st, 2nd, 3rd slot for about 15 minutes each, trying to leave the slot at a moment when we were in a plus (still in DEMO). So until here, you don't spend a dime and just try to reveal the current mood of each one of them.
6. Then we decided which of the 3 games presented the best. By the way, we had a record book and checked the scores we had on the same slots a week ago, so it started to make sense which game was popular at any given time. Sure this is not an explicit, rock-solid, ironclad plan with a 100% guarantee of success, but, hey, this is a game of odds, where you just want them to be in your favour someday! So basically we rely on our luck plus the sum of all the advice and recommendations we have found, topped off with our own hunch.
7. Now we have placed 100 CAD real money on the slot that exhibited the best progress in the previous step. Having selected games from the 3 industry giants with enormous histories and experience, we believe those 3 licensed slots will work equally (in terms of profits) in DEMO and REAL money mode, as they are supposed to.
During the 3rd phase:
Of the PPSC strategy - Score, we had our 3 games, plan to play in 3 casinos, a bankroll limit, our good intentions, and positive attitude. Now it was time to achieve one of our goals - monetize our efforts in the previous phases - and aim for a capital increase of 35-40%. Anytime we get 405-420 CAD, we plan to stop and wrap up our casino business for today as we are happy with such growth.
1. We hope to hit some juicy win (for players like us - with the 300 CAD bankroll per week - which by the way if we lose we will not miss much - we even like to think that this is our "fun expenses"- instead of going out) and when that happens in the first casino we are happy, we collect our winnings and retire for the week.
2. If we don't win with our 100 CAD in the first casino, on the slot that showed a hot mood (from our trio) we go to the next casino from the list, and start again from the 2nd phase/step 5. Although we now have only 200 CAD left, we still hope for the best and instead of playing other games that we know very little about, and only can rely on luck, we keep persistently playing our 3 'blue chip' games - anticipating they will yield the most profit for us.
3. If you dive into playing a new game at a new casino, the only armour you have is your luck. Instead of always depending on it, in a way we invest in our 'slot knowledge' - something we have read, learned and statistically examined (we have almost become experts in regard to these 3 slots and our 3 favourite casinos. We had accounts in all 3, which didn't take us a lot of pains by the way).
4. The verification process was manageable, and we used the same document scans for all 3 casinos. We have played various Welcome Bonuses at these casinos, but they were never on our TOP 3 selected slots. At least this way we checked the transfer time at each operator, and frankly our winnings were sent by bank transfer within a reasonable amount of time.
5. We have the notion that each game (casino product) regardless of DEMO variant or REAL MONEY type - all reside on the company server (network platform with broadcasting all products for all linked casinos). By playing 'X' spins on 1 game you create traffic and your wagers, whether DEMO or real, come in and out of the same prize pool of that game at that casino. We have contacted some casinos to ask if this theory is true (the developers themselves do not engage in answering about their network operations at all), and they neither confirm nor deny this assumption. Let's say some part of this simplified hypothesis is real. That all means that your sessions to test the slot's mood at the concrete moment, at the concrete game even in DEMO, matter.
During the 4th phase:

Of the
PPSC
strategy -
Comeback
, you guessed it right - we keep going back to play the same slots at our favourite casinos.
1. Rather than exploring new territories and giving into new alternatives, we stick to the old games (from 2011, 2014, and 2015) which proved to bring us profit (nearly 100 bucks each week) and return to them time and time again. And let's not forget the fun we had, cause that is the real spark of stress liberation for us - gambling at the end of the week (sometimes 2 times on the weekend), with no additional Bonuses or wagering engagements.
2. Of course, sometimes we were curious about new titles or some buzzing new provider - but we know - playing new games with real money straight away is just foolish, impulsive and generally not advised. Above all, we tried to stay cool and not succumb to greed and gambling lunacy.
3. So this is our self-styled strategy to 'Plan, Play, Score and Return' to the same slots on a regular basis. We have played them so often (almost 60 times each within a year of using this tactic) that we could "assemble and disassemble" those 3 games even with our "closed eyes". We also had built some VIP CP points in 1 of our chosen casinos, so we decided to wait and when they are enough to cash them out together with some winning.
Remember to choose one fair and trustworthy Canadian online casino if you will play for real money! Coming back to a slot where you had some wins in the past can give you once more the excitement and the high win potential - you have your firsthand evidence!
On a final note - yes, we prefer these 3 games and return to them often, but if you are a different category player (with a bigger or smaller wallet than us, with other types of aspirations - for a Jackpot or some huge reward, unlike our simple 35-40% weekly profit on a 300 CAD investment), you should create your own lists, make your own plans and variate from our strategy as best suited to your preference and finances.
Sometimes we do take the time to read about new software providers and their new games. We even experiment via free credits. So we may one day change our list of Profitable Slots for Return as well.
Written by Yovko Peev