Details

Written by

Kamen Valev
Blackjack Pro (NetEnt) Rules and Free Play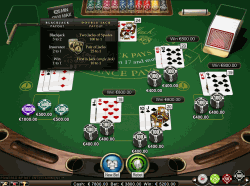 Undoubtedly, Blackjack is a favourite table game to many gambling enthusiasts. At any casino: land-based or online tables set for this relatively easy game are accessible for low and high rollers, beginners and pros. Blackjack's main advantage, compared to Poker, is that here you play only against 1 opponent (the dealer). The main advantages of Blackjack compare to Slots is that here you have better (in fact, the best) odds of winning (less than 1% house edge in most cases).
It is just a myth that this is a game only for the smart and the insightful players. Sure first, you have to be familiar with a set of rules, but you don't need to be a specialist to play this enticing game.
Get your 15 free spins (no deposit bonus) at Fastpay Casino and enjoy super-fast withdrawals.
Click here and grab a no deposit bonus of 15 free spins at Casino4U for sign-up. Enjoy problem-free payouts.
Go to Instantpay Casino and get 15 free spins without any deposit, just for registration. They will send the winnings instantly.
Check the basics of Blackjack in our general article via this link bestnetentcasino/rules-of-blackjack
This article will focus on the new variation of the game Blackjack Pro from the giant software developer NetEnt, available at every respectable NetEnt Casino.
You can certainly read about the Blackjack game history or about some popular Blackjack strategies on our site. You can also review our tips and recommendations for winning Blackjack tactics or play for free the Classic Blackjack version.
It takes a little time and effort, but with true conviction, you can conclusively mature into a sharp Blackjack Pro player! Start by practicing right here on our page - in DEMO mode - for free.
Attributes of online Blackjack Pro
When considering whether or not Blackjack Pro from NetEnt is an appropriate pastime for you, you should bear in mind that this is:
A card game (4 decks of 52 cards - shuffled before every round)
An RNG game (entirely automated, where a Random Number Generator appoints the outcome - i.e. utterly fair)
A table game (where each round you will play at all 3 seats)
No live dealer game (fully computerized - no personal interaction)
A game with an RTP of 99.60%
A game with perfect visual and colour scheme and self-adjusting speed settings
A game with excellent audio qualities and self-arranging background (between 5 melodies)
A game where you can play with different chips: between 1 CAD and 500 CAD.
Rules at the Blackjack Pro
All the customary rules, typical for the classic version of the game, also apply to Blackjack Pro:
The game's purpose is to: To defeat the dealer by piling a higher card sum but not going over 21.
You should remember the card meaning: Ace is 1 or 11; 2 to 10 are 2 to 10, and K/Q/J are 10's.
The card suits are not important (unless the Double Jacks side bet is played).
Ace + card worth 10 points (21 total) is a Blackjack.
Hit is whether or not to take another card.
The stand is whether or not to stop at this latest card total.
The bust is going beyond 21.
Push is a tie - when the player's and dealer's hands come to an equal sum.
Split is whether or not to split a pair and play each card separately.
Doubling is betting extra when you think you have a strong hand (but you get only 1 additional card).
Insurance is to put a side-bet on the dealer's hand if the dealer's hand is strong (Ace is visible).
Surrender - is not applicable for the Blackjack Pro.
The repeated/constant choice the player must make during the game is to act with Insurance (of all 3 seats, or separately), to Hit, Stand, Doubling, or Split.
The new feature at the Blackjack Pro
The developers from NetEnt implemented 1 new aspect at the Blackjack Pro: the Double Jack side bet.
You should regard this option as an extra-side bet.
You should use this bet when you think that the 1st or the 2nd card dealt will be a Jack.
You can choose your stake from the same coin denominations as the rest of the bets.
You can place your bet at the top left side of each seat.
Your bet will be lost if nor the 1st nor the 2nd card dealt is a Jack.
This is one lucrative option to win up to 100x your current stake.
Now you are familiar with all the blackjack attributes, so you should proceed with reviewing the payouts.
Payouts and other settings at the Blackjack Pro:
You should mind that in the Blackjack Pro online game:
The dealer must draw to 16, and he stands on 17.
The Blackjack payout is 3:2, but the Insurance is paid as 2:1, the usual Win is paid 1:1, and when Push - the bet is returned.
The new Double Jack side bet feature pays as follows:
If card N: 1 and card N: 2 are 2 Jacks of Spades - 100x your current stake.
For any 2 (other than Spades) Jacks - 25x your current stake.
If only card N: 1 is a Jack - 10x your current stake.
You can always check your game history (not in the DEMO version) to make up your strategy.
The outcome of the last 10 dealer's hands is always available to estimate your options.
Each round is launched by pushing the Deal (start) button, and immediately every 1 of your 3 seats gets 2 cards, and the dealer receives 1 hidden and 1 visible card.
Conclusion
NetEnt's Blackjack Pro is a first-class game with an elegant and advanced user interface that can be played on all devices (incl. mobile). It is a game that stands out with its impeccable return (RTP of 99.06%) and makes you feel that you are in charge of your own money, and gives you a super large selection opportunity. In addition, blackjack players are cool, with high competitive abilities in general. So, if you want to be part of this group of audacious players, be sure to launch Blackjack Pro.
Never the less like the rest of casino playing, this, too, is a highly addictive game.
Be mindful and only play with what you can allow yourself to lose!
Where to play?
Play over 5000 games, including Blackjack Pro (NetEnt) at Fastpay Casino, the best gambling place in Canada. You will be pleased with the excellent customer care, VIP bonus program for loyal players and super-fast withdrawals (1-5 minutes.)