Details
Single Deck Blackjack play for free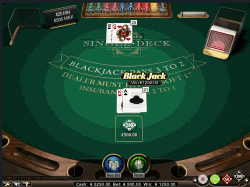 The most popular casino game after Poker is unquestionably Blackjack (generally known as 21). On our page, you will have the opportunity to play Single Deck Blackjack by NetEnt for free without registration. If you spend all your free money, refresh the page, and the balance will be reset to 5 000 CAD.
The number of free game sessions is not limited. The return to a player percentage (RTP) of the game is the highest possible (99.55%). In case you decide to check out your chances at this Blackjack version, you can probably use some tactics and guidance. With this article, we will try to clear for you the difference between the single and multi-deck versions and give you some tips to utilize during your game.
Single deck chronicle
Single deck Blackjack game will become instantly interesting to any player who knows that it has the lowest house edge of all games between only 0.5% and 2% house edge (!), which certainly provides numerous advantages in comparison to the classic Blackjack.
At the same time don't be misled into thinking that playing a single-deck game will give super huge odds because the slight increase in the house edge via the multi-deck game isn't worth the decrease in a payout that the house gives for a single-deck game.
In the post-World War II, years - mid of the 20th century -1950-70s, playing Blackjack with a single deck was the universal norm. Was around that time when savvy opportunists recognized the chance to win by counting cards, as one deck makes card counting less complicated even straightforward. This became apparent for the Casino-managers, making them swiftly shift to multi decks, boosting the house edge and impeding the counting.
Differences between Single and Multi-Deck Blackjack
A number of decks. Nowadays it's possible to play Blackjack with up to 8 decks or a single deck (of 52 cards).
Payouts/Winnings. Single deck games are regularly paid as 6:5, while the multi-deck games are paid as 3:2.
Card Counting. Card counting is legal and it works in multi-deck games as well as single- and double-deck games. The difference is that there are fewer cards with a value of 10, so it's harder for the player to bust their hand. In multi-deck blackjack, with up to 8 decks, there are simply more 10-value cards to hit.
Doubling Down. There are a few more double down moves in single-deck blackjack. (Note- the definition of the move doubling down - whether or not to bet extra when dealer's hand is weak.)
Single deck Rules & Gameplay
The mission remains the same: to outplay the dealer by collecting a higher card sum without going over 21.
The dealer distributes in 2 passes a total of 2 cards to each player-revealed.
The dealer gives 2 cards to himself, one of which flipped till the end.
Each player judges the dealer's upper card and decides to hit, stand, split, or double down.
NetEnt's Single Deck Blackjack
The game has no side bets and surrender is not allowed.
Players can place an insurance bet against a dealer's blackjack, split cards, and double down on the first two cards.
Main characteristics
A player wins Number of hands
Split - Yes
Double - Yes
Insurance - Yes
Surrender - No
Minimum bet - 1 CAD
Maximum bet - 500 CAD
RTP percentage - 99.55%
How to win at Single Deck Blackjack
As usual, we strongly recommend playing Single Deck Blackjack for free before switching to real money play. This way you will have enough time to familiarize yourself with the game's rules and dynamics.
The most popular technique, which helps the player at any Blackjack game is anticipating the next card based on counting.
Try counting cards also in the live casino version.
The most advantageous tactic is calling upon playing each hand opportunistically, considering the dealer's upper card at all times.
Never take insurance or even money, as the house edge on insurance for single-deck Blackjack is 5.9%.
Use a responsible wagering strategy, making it suitable for your bankroll and allowing you to stay at the game longer.
Remember, it's all about having fun. This is one exciting and thrilling game to play.
Many beginner players prefer this Single deck variant better than the Classic Blackjack or Blackjack Pro from NetEnt.
Where to play?
Play over 5000 games, including Single Deck Blackjack at Fastpay Casino, the best gambling place in Canada. You will be pleased with the excellent customer care, VIP bonus program for loyal players and super-fast withdrawals (1-5 minutes.)