Details

Written by

Kamen Valev
Play free Classic Blackjack for fun

Blackjack is the second most popular card game worldwide. This game was the most popular game for many years, but
Texas Hold'em
became more popular among players in the last few years. There are many reasons why Blackjack is so popular; some of them are that it's very easy to learn and that each hand is different and cannot be like the previous one. This game has so many variants that you can always find something different in online casinos. On our site, you can
play Blackjack for fun without registration
. However, we
advise all new player
s who are unfamiliar with the rules to spend some time practicing before they start playing for real money.
Play Classic Blackjack in demo mode
In this variant of Blackjack, you will find the oldest classical rules of the game. The design and the sound may be a little old-fashioned, but the gameplay is excellent. One of the main differences with the modern variants of Blackjack is that you can play three boxes with them, while you get 5 boxes when playing at the older one.
There is another essential difference – you cannot surrender at classic blackjack.
Features
Rules of Blackjack

Some people call the game "21" because your main target is to make points closest to 21; to burst the dealers, you can try getting over 21. The game starts with bets and the dealers drawing two cards to all the boxes where the stakes are placed; there's also one for him. After that, the player must decide to take a card (Hit), not to draw (Stay), split it into two boxes (Split) or double the initial bet (Double). Most casinos use six decks of 52 cards, but you can also play with eight decks. The points of the cards are counted: 2-9 have the value shown on their face, Ace is counted as 1 or 11 (depending on the total score of the cards), all picture cards and 10 are counted as 10 points. If some of the players or dealers get an Ace and 10 (J, Q, K), then this combination is called Blackjack.
How do I play?
Your target is to get points closer to 21 or 21; all the above will mean that this box is burned. So, for example, the first two cards are Q and 2 ( the dealer's card is 10), then you have 12 points, then it's better to Hit another card to get your points closer to 21. Your decisions (hit, stay, split or double) should be based on the card that is showed for the dealer. You need to know that the dealer must draw cards until his points are 16 or less, then he stays on 17, 18, 19, 20 and 21. You can learn more about the rules of Blackjack in the next link.
How to win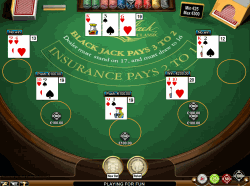 There are many strategies on how to win at Blackjack, and we wrote articles about the most popular and profitable ones. The punters that follow our recommendations win much more often. We strongly advise you to read and learn the following strategies before play blackjack for real money.
How much can I win?
The payments in blackjack are straightforward. You always get 1:1 on your bet at the table except when you get a blackjack combination; then, the payment is 3:2. There are some additional options like split and double when your initial bet is at least doubled, and if you win the hand, your payment will be 1:1 to all of the made bets during the hand.
Conclusion
We like the classical version of Blackjack, despite that there is a newer version - Blackjack Pro. Frankly speaking, this is the best game in casinos (in our opinion). Not only is it fascinating, but if you learn some strategies and are disciplined and patient enough, you can really get an advantage over the casino. That's why we recommend spending some time practicing before you play for real money.
Our Casino Recommendations