Details

Written by

Kamen Valev
Red Dog (NetEnt) Rules and Free Play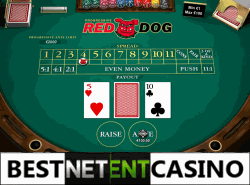 Red Dog online game is one special type of Poker, also known as Yablon / In-Between / In the middle / Between the sheets. Originating from the US of the down of the 19th century. It was always considered one easy game: qua rules, qua betting, and very presumable deceit. So, throughout its history, the game was always related to plots of lying and committing fraud. In this regard, the land-based casinos quickly picked up specific rules like: not allowed to touch the cards; shuffling after every round; regularly exchange the whole deck; even at some gambling houses, they started to perforate each couple of times used deck.
Although marked/bent/obsolete cards are not a matter when playing online Red Dog, it is essential to mention that each new round starts with a full - 52 card deck. So you should review every new hand unrelated to the prior one, i.e. card counting is unworkable.
Get your 15 free spins (no deposit bonus) at Fastpay Casino and enjoy super-fast withdrawals.
Click here and grab a no deposit bonus of 15 free spins at Casino4U for sign-up. Enjoy problem-free payouts.
Go to Instantpay Casino and get 15 free spins without any deposit, just for registration. They will send the winnings instantly.
Are you already intrigued about what is this simple table game all about? You can start practicing right here on our site for free via the instant free DEMO link. If you want to find more details, read the rules, stats, and tips on playing the Red Dog online game.
The mission of the Red Dog game
The idea of this type of Poker is to consider the span between 2 face-up dealt cards to define the odds and put a wager on the 3rd card's value falling between the 2 primary cards.
The RTP of this enticing game from NetEnt is near 97% (i.e. the house edge is 3%), which is not as advantageous as the Classic Blackjack (99.6%) or Baccarat (98.94%) also from the same developer. Therefore, the player faces here the constant choice-making to Raise or Call.
Cards counting, as mentioned above, is one of the strategies used to win in this game, but only in the land-based casino, and only for as long as the deck (of 52 cards) remains unchanged. Unfortunately, with the Red Dog online table game, that is not possible. So here it is all up to luck and RNG.
Rules of the Red Dog game
For this game, you should consider the value of the cards as follows:
| | | | | | | | | | | | | |
| --- | --- | --- | --- | --- | --- | --- | --- | --- | --- | --- | --- | --- |
| A | K | Q | J | 10 | 9 | 8 | 7 | 6 | 5 | 4 | 3 | 2 |
| 14 | 13 | 12 | 11 | 10 | 9 | 8 | 7 | 6 | 5 | 4 | 3 | 2 |

And here is how to play the Red Dog game:
You have chips with a denomination between 10 CAD and 100 CAD.
The utilized table is delineated with marks as the one below:

Besides the board, there are 2 circles on the table: you will deposit your Raise chips; in the left one, you will install your Ante chip.
Your betting always begins with placing an Ante (i.e. a minimum bet=your ticket to participate in the game).
After that, you are dealt 2 open cards.
The Red Dog token automatically hovers to the appropriate place of the board, demonstrating the spread between these 2 cards.
You can easily see the unfold number between your initial cards. Then you can react with Raise or Call.
The concept of this type of Poker is to bet on a lucky prediction of what the 3rd card will be.
Example:
I place an Ante of 10 CAD on the left of the 2 circles on the board.
The dealer gives me a K and an 8.
The Red Dog token automatically moves to the number 4 on the board as the walking difference between my 2 cards is 5 cells.
For me to act with Raise, I must have a premonition that the 3rd card will be Q, J, 10, or 9 (i.e. at the K to 8 span; so - will not happen to be A, nor anything under 8).
Number 4 is not a large number for spread, making a narrow possibility for my 3rd card. However, I believe my card will be different than Q, J, 10, and 9. So, this 3rd card will not comply with the number 4, and I believe I won't be winning. So I will not place a Raise chip and will act with Call.
The dealer gives me a 2.
Exactly as I supposed - 2 is not between K and 8.
I am now only losing my Ante.
You might think those are peculiar rules but rest assured, this aberrant game is absorbing and highly addictive. You will find it at the table games branch in every online casino and most land-based establishments. Just maintain strict control over your capital, bet wisely, and you will be OK!
Payouts at the Red Dog game
The playing board clearly indicates the payouts in every situation:
So for a 4 to 11 spread, you will get EVEN money.
The spread of 1, 2, and 3 are prized better as 5:1, 4:1, and 2:1, respectively.
Naturally, the best combo when you play with 3 cards is 3OAK. Therefore, it is prized at 11:1.
To this ultimate combo, you can come only if you are dealt 2OAK initially.
The likelihood of a 3rd same card being drawn is just 4% (2 out of 50).
In the case of 2OAK, you have the chance to Raise - then you will be given a 3rd card, or to Call - then this is considered a PUSH (tie), and your Ante is returned.
If you are dealt Consecutive cards at the start of the round, that is a PUSH (tie), no 3rd card will be given, and your Ante is returned.
You will lose whenever:
- the 3rd card is out of the scope (for example, with original cards J and 6, you get as 3rd card Q or 2).
- the 3rd card repeats 1 of your initial cards (for example, with original cards J and 6, you get as 3rd card one more 6).
Example 8-8/J-J
2 OAK
Draw
Ante return
Example J-J-J
3 OAK
11:1
Example A-K/K-Q
Consecutive CARDS
Push(no 3rd card)
Ante return
1
1 CARD difference
5:1
2
2 CARD difference
4:1
3
3 CARD difference
2:1
4
4 CARD difference
EVEN money
5
5 CARD difference
6
6CARD difference
...........
11
11CARD difference
How to win at Red Dog game
Red Dog is an attractive and uncomplicated game. However, players need to be familiar with the rules (i.e. b) before placing real money deposits.
The crucial path to success in the game of Red Dog is to know when to mount up your chips (Raise).
Through mathematics and statistics, we can underline the strategy, which worked in most of our sessions.
Obviously, you need to Raise when you believe that the 3rd card falls between the original 2; if not - you Call (stand).
Big chance of success you will have if Raising when the spread is 7+.
Here statistically, you will have the possibility to win 54% of the cases.
If you get a spread of 11 cards and you Raise, you can win in 85% of the cases.
When you face a spread of 6, and you Raise, you can win in 46.5% of the cases, which is also a reasonable gamble.
The chance to happen 3OAK is statistically once in 200 hands.
And the total probability of winning at Red Dog comes up to 27%, while PUSH will befall in 21% of the rounds (i.e. pretty often); in 52 % of the rounds, you will book loss.
Make a plan of how much you can lose or at what balance increase you will stop and stick to your plan. This is the best tactic when playing any online casino game. For example, the explicit moment for the Red Dog game is difficult to pinpoint but is somewhere close to 35-40% of your initial capital. If you caught a winning streak and your bankroll boosted that much, it is time to wrap up the session and move to other magnetic online games.
Where to play?
Play over 5000 games, including Red Dog (NetEnt) at Fastpay Casino, the best gambling place in Canada. You will be pleased with the excellent customer care, VIP bonus program for loyal players and super-fast withdrawals (1-5 minutes.)