Details
eCOGRA - the independent guarantor of online casino's reliability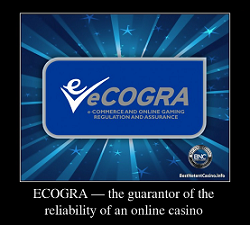 With this article, we will zoom in on one of the most highly approved independent international leaders, specialized in online gaming software and systems certification - the non-profit company eCOGRA.
Based in the United Kingdom, operating since 2003, eCOGRA demonstrates the highest possible standards of professionalism and impartiality from operators and software suppliers to regulators in the online gaming industry.
Legally standardizing the relations between the casinos and the players, the company is actively engaged in interpreting players' rights and obligations during online gambling and assisting in their disputes - no matter they are related to gambling transactions or regulatory issues.
As a testing agency eCOGRA is accredited by various online gaming jurisdictions (in more than 20 countries), and frequently performs onsite evaluations to verify operators' compliance with each jurisdiction's regulatory requirements.
eCOGRA's spectrum of activities
As a regulatory organization, eCOGRA is busy with monitoring, reporting, analysis, certification, testing, mediation, and introduction to the common standards for the contemporary online casino marketplace: gambling houses and their players.
Company main activities are:
Developing technical standards and testing methodologies
Permanent collaboration in responsible gaming initiatives
Advise and provide third-party dispute mediation services for players
Prepare and perform testing, assuring technical, financial, security, and legal expertise
Consulting regulatory authorities on the adoption of online casino standards
Casino payout reviews are carried out monthly on the following game categories:
All games
Table games
Slot games
Poker games
Casino RNG reviews are organized twice a year on the following game types:
Blackjack
Roulette
Video Poker
Poker
Bingo
Nowadays eCOGRA provides compliance services to more than 100 of the casino industry's leading operators and software suppliers including Microgaming, 888, and NetEnt.
NetEnt AWARDED ISO 27001 CERTIFICATION
Nasdaq-listed software provider certified by eCOGRA - London 9 April 2020 -
"NetEnt has joined the noteworthy list of online gambling organizations to be certified by the accredited testing laboratory eCOGRA for compliance with the International Standards Organisation 27001:2013 certification for Information Security Management Systems."
eCOGRA's main objectives
Providing better information about the players' rights and obligations
Safeguarding assailable players
Blockage of underage gambling
Fighting dishonest and unlawful actions
Players' privacy information protection
Direct and exact payouts
Fair gameplay (e.g. RNG and RTP game evaluations)
Accountable casino promoting
Dedication to higher players' satisfaction
Protected and trustworthy gaming comfort for players
Overall improving casino standards
Read here more about how to choose from the selection of Fair and Safe gambling houses.
Where to play?
All operators presented on this site are members of the Net Entertainment network. They have testimonial qualifications of principles, integrity, and loyalty. Currently, players' trust that is included in the NetEnt family is the highest guarantee of casino honesty.
At the bottom of this page, you can find links to other features related to casino ranking and summary details about various gambling houses. Before starting to play with real money you should check for yourself the positive and negative comments and analysis about the gambling place of your choice.
We recommend you play at the best online gambling house in Canada - Fastpay Casino