Details

Written by

Kamen Valev
Deposit and cool off limits at all Softswiss online casinos in Canada. Is gambling only fun?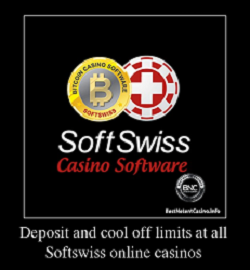 There are countless reasons to gamble. And countless questions tailgating the gambling state of mind. Why am I doing this? Am I bored? Or lonely? Is it a sin that I am doing it? Should I stop, or should I get a bit more? Is this stimulation enough for me? How long will my excitement last? …
Is my gambling lapse harmful to me? What about hurting my health? My time, my work, my family? My sanity?
If you have ever been to the local gambling house - around the corner - with your spouse and friends on a Friday night, feeling free in the urge for extra entertaining, you probably felt a bit of the adrenalin rush playing risky for fun. But you most certainly didn't ask yourself any deeper. Instead, you just went Monday morning to your job and in your everyday routine, forgetting all about the short Friday gambling escapade, and there was nothing to fix.
Well, some of the frequent visitors at the Canadian online casino know the need for a "fix." So they not only become dependent on the bitter-sweet risky feeling, but they even derive delight from knowing how totally wrong the taste of the next "fix" could be.
With the online possibility of gambling, the "fix" becomes ever closer!
The burning questions are probably swirling often inside the gambler's mind. Good, the casinos have their special restrain mechanisms protecting all the staunchly players from constantly living on the edge. But, while for many people, depression, stress, migraine, and anxiety are signs that require a doctor's visit, for an addict, these situations are everyday living.
So, before you go so far before the total gives into despair and inability to defend yourself - please read this article - it is probably not news for you - but there is a way to help your situation.
1. Get in contact with RG- Responsible Gaming, or ask for advice from an anonymous support group, helpline, or forum.
2. Use the two options accessible at the online casino site:
- self-limitation with a "cool-off" period, or
- self-exclusion from that gambling site at all.
Best no deposit bonus free spins at online casinos Canada
In this paragraph, we will introduce you to the best Canadian online casino promotions about no deposit bonuses in the form of free spins. You will just need to register in the following casinos to get your free bonus. In the first place, we recommend you the most trusted casino - get your 15 free spins (no deposit bonus) at Fastpay Casino and enjoy super-fast withdrawals. Our second offer is to click here and grab 15 free spins (no deposit bonus) for sign up at Casino4U - enjoy problem-free payouts. The third recommended online casino offer is to go to Instantpay Casino and get 15 free spins without any deposit, just for registration - they will send the winnings instantly. At last but not least is to get 15 free spins casino no deposit bonus at Wildblaster - they will offer perfect customer support and fast payouts.
Self-restraint choices at a Canadian online casino
If you need a helping hand at keeping yourself in check at your personal untroubled scope, several tools are available. Some online casinos can let you setup:
Cool-off options
Depositing limits: Enables you to control deposit spending on the site per day, week, or month. Pressed by their licensing requirement, casinos must have a pre-set break period of 1 to 7 days, to 1 month, 3 months, or even 6 months to block their service by the players' choice.
Profit/Loss spending limits: You can choose a time period, and filter/check how much money you actually won or lost for that same period, i.e., your net loss. This enables you to see and control if you need to put on the brakes for some time from here on. Unfortunately, not all Canadian online casinos offer this self-restraint option.
Time spending limits: Enables you to keep the number of hours spent on the casino site each day within bounds. It is in the form of a warning message/alarm coming when the self-installed time limit comes.
Wagering limits: Enables your self-grip over the amount you wager on a single bet per selected game you play. Not all casinos offer this self-restraint option.
Self-exclusion option
This is a self-suspension action that enables you to stop gambling completely by blocking your account for a period of few months to 5 years (can vary for different operators).
It is a personal voluntary demand, with which you ban yourself from all services of that Canadian online casino: collecting winnings, recovering losses, or accepting special deals or gifts.
Essentially you wish to terminate the desire of further gambling and proactively withhold yourself from getting into a potential complication. For the time you determined yourself, this settlement cannot be overturned.
Deposit and cool-off limits at online casinos: True stories
1." Limits declined or "simply do not click the link."
Here we have the record of a conversation between a player and a Support team member on the topic of placing a deposit limit and the self-exclusion at one specific Canadian online casino. Unfortunately, the support team refuses to accommodate the player's request.
Support employee: Hello. How may I help you?
Player: Hi, could you set a cooling-off period of 6 months, please?
Support employee: You may set it yourself in your account.
Player: No, but there is only up to 30 days.
Support employee: Set it for 30 days. Just do not cancel it, and it will last 6 months.
Player: My account will be re-activated after 30 days: Cool Off. This limit type allows the player to set a limit for 1 week, 1 month, 3 months, and 6 months. When the limit is set, the player can't make any deposits at the casino and will also be excluded from all the advertising offers. However, the player is free to withdraw funds during the cooling-off period. When the limit expires, the player's account will be re-activated. You surely know this.
Support employee: Of course, we do. However, we do not set the cooling-off period. The players are the ones who can do this.
Player: So, you refuse to set a limit of 6 months? You know that I can set it just for 30 days.
Support employee: Do not cancel it, and it will last as long as you want.
Player: It's not a deposit limit; after 30 days, my account will be re-activated.
Support employee: If you click the link in your e-mail – then yes. Just do not click the link.
Player: Nonsense.
2. "Just hours later, my account was up and running."
Here we have a complaint letter from a player on the topic of one specific Canadian online casino ignoring the required 24-hour cool-off period when re-opening an account after self-exclusion.
"I didn't play for some period of time, and last month I asked to re-open my old casino account. I was informed my self-exclusion had ended last year and emailed the support team if I wish to re-open. I emailed the support the same day. Hours later, my account was up and running.
However, under the responsible gambling guidelines as set out by their regulator, they are supposed to implement a 24-hour cooling-off policy after re-opening an old account, after self-exclusion (whereby you cannot gamble or deposit any funds for the first 24 hours).
They confirmed this practice to me as a normal practice over the phone (later that day). However, they failed to implement the 24-hour cooling-off period for me, allowing me to deposit and lose a huge amount on impulse. The whole 24-hour cooling-off period is designed to stop people from impulsively re-opening old accounts and gambling away their funds.
The casino has not admitted any wrong-doing but has offered some compensation (rather than the whole amount deposited). I find it hard to believe that this casino would fail in handling responsible gambling policy so easily; I can only assume they purposefully did it to prey on my impulses, as I may not have been so generous in my deposits 24 hours later.
Either way, I am not legally liable for any deposits for 24 hours due to the mandatory cooling-off period, which the casino & the regulator have stated over the phone is a requirement. Unfortunately, the casino, thus far, ignores this issue and attempt to keep me quiet with a partial settlement of the amount that should be refunded (it should be refunded as it was the casino's fault for failing to prevent me from gambling for 24 hours)."
How to set deposit limits at online casinos
T
o block your account for a cool-off period, follow the steps below:
Log in and go to my account/my profile
Choose: responsible gambling/limits
Choose: deposit option cool-off/edit
Select your preferred period and confirm.
The Canadian online casino support team should not be able to remove the player's cool-off period. Only after the self-restraint term is finished, the player should be having access to his account again. They should not pray on players' impulsive behaviour and irresponsible desire for betting. They should have all the options clearly exposed, and it is up to the player to control his conduct and adjust his deposit strategy. Do you want to play at online casinos with no verification withdrawal? Check this link.
Please, be advised that you should always check beforehand if the casino of your choice is trustworthy. That includes examining the terms and conditions section well, where is described as the self-restraint application.
Conclusion
Do not play at gambling sites, which:
Refuse to set limits, or
Do not support your decision for self-constraining.
They violate their licensing agreement.
Some Canadian online casinos intentionally confuse the players with the lengthy procedure of contacting the Support Service team, wishing to complicate the cool-off process, concealing the options for 3, 6 months or more, so you cannot keep your composure. You will keep losing money while they win.
Where to play?
We highly recommend you play at the best online gambling house in Canada - Fastpay Casino, a 100% honest and reliable operator.