Details

Written by

Kamen Valev
Terms & Conditions at online casinos in Canada. Awareness of the casino rules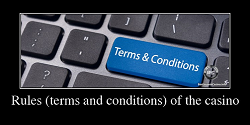 The Terms & Conditions - "T&C's" is а bilateral binding contract, meant to service both- the provider- online casino, and the customer- the player.
It is designed to draw the full "frame" of rights and obligations of both sides.
As an agreement, the "T&C's" defines entirely what is allowed and what not during providing and using casino operations, what will happen in case of disagreement, and how different issues could be resolved.
However tolerably trying to guarantee both parties' interests, this "frame" in some cases is thrown off balance - beneficial for the gambling house. Understandably, after all, the Canadian online casino is a place of business, trying to make reasonable profits.
In most cases, this contract is broadly extended and not fully digested: be ready to understand it without overlooking the "small letters"!
Considering that you will get involved in a multi-transactional (deposing and withdrawing) connection with the casino, you better make sure that all is according to your liking. In case you don't accept some of the restrictions that the casino is trying to "squeeze" on you, you can search for another trusted online operator with more moderate "T&C's."
Locating the Terms & Conditions
Standardly the "T&C's" can be found via the link at the Canadian online casino home page footer. You should make it your priority to read them in every aspect! According to the statistics, most booby traps are concealed in the paragraphs of bonus policy and free spins. You should pay special attention to these sections and try to understand them beforehand!
In most cases, you should be able to recognize suspicious Canadian online casinos rules by reading their bonus requirements, stipulated in a separate clause inside the "T&C's."
Where the commitment to the Terms & Conditions section comes from?
As a guideline with 2 pilot points, every player, before moving to gamble with real money, should:
1. Take the time to check if the casino of his choice holds a gambling license.
2. Take the time to read the Terms and Conditions for the Canadian online casino of his choice.
To meet the licensing authorities' obligations and uphold its standards to gambling regulation, every online casino is compelled to put together all rules in one construction ("T&C's").
Because the head company Net Entertainment (NetEnt) holds a Maltese general license, as a subsidiary, All Net Entertainment operators have their license cards issued in the EU by Malta as well. Their "T&C's" respectively are created to abide by the Jurisdiction of Malta.
To be familiar with the specifications for each Canadian online casino players' account verification process, you need to read the "T&C's" pages of that casino. If you indeed decide to play there, you should proceed according to these rules.
Besides the verification section, another important section from the pages with "T&C's" is the requirements for the bonus offers on a mandatory basis.
Example: wager requirements indicate the terms in which you need to win back the bonus money.
Player's mindfulness needed
Beyond the 2 pilot points (paragraph above), what the player should pay attention to is:
"T&C's" related to Bonuses. What are the wagering requirements:
that must be met before you can withdraw your winnings;
based on the bonus, the deposit or sum of the two;
if needed to be completed inside an exact time period;
for minimum and maximum allowed bets;
on which specific games can be used.
"T&C's" related to Payment system:
the minimum amount for deposit and withdrawal, which can vary for each payment system;
deposits, which have to be wagered at least once (maybe more times) before making any withdrawal;
payment verification by placing a deposit and wagering it at least once, before the withdrawal of no deposit bonuses winnings;
potential fees calculated for some banking systems (charged directly or invoiced later).
"T&C's" related to Promotions and special offers:
characteristics for participation- deposit needed/fixed time frame for using/fixed time frame to be compensated
restriction of the use of risk-free bet while assembling table game tournament
other prohibitions of risk-free wagering;
additional conditions- cash prizes and free spins usually have wagering requirements as well;
eligibility to take part in the special offer- per country; per how many times.
Additional information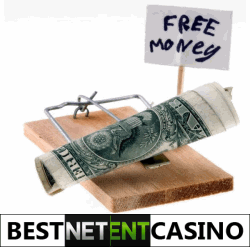 Beneficial to the players on our website with a user-friendly principle, we place the translation of the rules of our Canadian online casino partners. In the main menu, you can choose in the rubric "Where to play" - the casino you are interested in, check them out and compare them if you will. You can also slide above the text, and a field will pop up with supplementary information about the rules.
Applying the rules
Every now and then, an accidental breach of the rules can happen; on other occasions, people disregard the rules intentionally. Each casino has distinct procedures to deal with such situations, settling them depending on the player and the situation. With so many rules, regulations, and stipulations to absorb and mind, it is not difficult to overlook some.
To illustrate the meaning of the rule, we will work out the situation with high bets and a specific strategy of increasing the stakes. The player deposits 100 CAD and gets an automatic 100% bonus for his first deposit. The player then has 200 CAD in his account. With further explanations, the player will discover that he needs to make bets of 4000 CAD (40x). If he overlooks point 9, described above, he will certainly not get his winnings. So, attention to detail is much needed! Reading only a few lines from the rules for playing with the bonus money is not enough.
Helpful information
All operators presented on this site are members of the Net Entertainment network. They have testimonial qualifications of principles, integrity, and loyalty. Currently, players' trust that is included in the NetEnt family is the highest guarantee of Canadian online casino honesty.
While playing with NetEnt operators, you will always:
Be presented with the most detailed and up to date information about bonus programs;
Be assisted with the rules and regulations in case of changes (new points will be stipulated with colours);
Be guided if issues with payments occur;
Be supported when you receive even a huge amount of winnings without any conditions;
Be helped and backed every time you have a query or question (using the contact form on our site).
Where to play?
We recommend you play at one of the best online casinos in the gambling industry - Fastpay, a 100% honest gambling place. It provides a wide range of games in its portfolio (over 5000 games). They will send the money prize super-fast (1-5 minutes).