Details

Written by

Kamen Valev
Spin and Max-Bet buttons vs cycle of winnings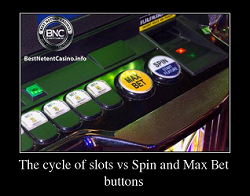 In this article, we will talk about the theory of changing the cycle of winning with the help of Spin and Max-Bet buttons. Is this possible? Is there a difference between those two buttons? Remember, we are writing about our opinion based on the rich experience we have, you will decide which one to believe and which not.
Find your favourite paragraph:
Can we change the cycle when we are pushing different buttons? Yes, we believe in this theory, and our opinion is that the behaviour of the slot is changing. However, there is one essential thing you have to remember when you push the Max-Bet button; the final stake should be the same; otherwise, you start a new cycle with the higher bet.
Let say we play on Creature from the Black Lagoon slot, and we play on 10 CAD per spin at a coin value of 0.05 CAD. In this case, by pushing Spin or Max-Bet, the stake will not change. So, you can do the following: try spinning the reels with the Spin button and wait for a series of negative spins or around 100 spins when the slot is just taking the money. Then push the Max-Bet button and follow the behaviour of the slot for the next 100-200 spin.
Try to use our recommendation described above in demo mode or real money play but with small bets. One essential thing to know is that if you want to change the cycle with the Max-Bet button, you will have to play on the max level per line (number of coins). It should be no difference in the final stake after pushing Spin and Max-Bet. Furthermore, when playing on the max bet per line, the RTP on some slots is higher. Remember one more thing: we share our experience, and we don't reassure you that what we are saying is the only truth. It's your choice to believe or not. For sure, we can say that many players are writing to us every day and telling us that after, they increase the percentage of winnings in online casinos. We wish you the best of luck!!!