Details

Written by

Kamen Valev
How to beat an online casino in Canada?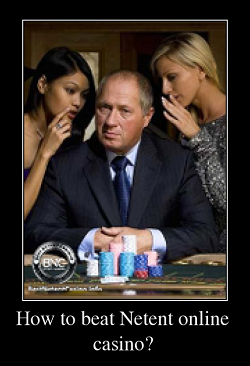 The mathematical expectation is always on the casino's side. As we all know, the casino, like all the other businesses, is made to win money. But the question is, will somebody play if the house always wins? So, how do we beat a Canadian online casino? In this article, we will talk about all the possible ways to take advantage of the casino.
Find your favourite paragraph:
Accept that the casino always wins!!! The RTP (return to player percentage) in Canadian licensed casinos is between 95%-99%, depending on the game you choose (slot, roulette, blackjack etc.) We teach you many strategies that can raise your winning percentage, and they are working, but the point here is that you will need to follow them extremely strictly; you have to be precise. But the problem is that the addiction is so big that it's nearly impossible to be perfect.
Our experience shows that no such strategy can make you win every time playing at the casino; there will always be that one time when the emotions take over you, and the loss is more than you will ever win. It's sad, but this is the way the casinos work. So if somebody tells you that he is in profit over the years playing at the casino, please send him to me, we will pay him a considerable sum so he can teach us how.
Our primary strategy is to use bonuses on slots with a high RTP and get a positive mathematical expectation of winning without breaking any rules of the Canadian online casino. In this case, the player will have an advantage over the casino. This is the reason why so many gamblers become bonus hunters.
Nowadays, bugs and mistakes in slots are so rare, and the new software is so good that finding such a bug would be a miracle. We are not talking about some huge mistakes because, in this case, the developer will void all the winnings; this rule is written in the terms and conditions in all Canadian online casinos. Most of the time, such a bug makes the slot more generous on some bets or denominations. We advise you if such a bug is found, don't get greedy and don't share the information with anybody else. The best way is to win small sums more often and always withdraw the money from your casino balance. Learn more about bugs and mistakes here.
Besides the exciting design and gameplay of the modern slots, they have an essential feature – RNG (random number generator). This factor works in the same way at demo mode and in real gameplay (we consider mostly NetEnt slots). This is our primary strategy when you want to find a generous slot.
Before you start playing for real money, we suggest you play in demo mode first.
Choose different bets and denominations, and don't forget to use the Max bet button to change the cycle.
If you have tested the slot in demo mode, you will be able to find out what the "mood" of the slot is (positive or negative).
We can say that we succeeded in revealing the behaviour of NetEnt software; this is a conclusion after millions of spins. We wrote about this in the following article: classification of the players by the software.
The Hot slots or the slots that have money in their prize pool are the ones you would want to play at. Learn more about Hot slots here.
Use bonuses to get a positive mathematical expectation of winnings. Learn more here.
In this paragraph, we will mention all ways to reduce the risk and increase your chances of winning.
Playing to win the loss from yesterday is one of the biggest mistakes you can make. Always have limits and don't think about yesterday. Do not make the unfortunate day even worse. There will always be another day for gambling; to be calm is essential.
If you play at high stakes, do not take any bonuses from the Canadian online casino, this will only put some restrictions on your game (max win, max bet etc.) If you deposit 5000 CAD, why take 500?
Do not "hunt" the jackpots. Yes, if you see a slot with a progressive jackpot, do a few spins but don't get involved. There is no point at all.
The only way to beat the Canadian online casino without breaking the terms and conditions is to use bonuses and get a mathematical expectation of winning. Remember, no strategy can guarantee you 100% winning sessions. We are humans, and we have emotions, and bad luck will come to us sooner or later.