Details

Written by

Kamen Valev
How to find a generous slot to win?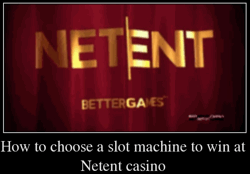 In this article, we will show you a strategy for choosing the most generous slot at a Canadian online casino by following the behaviour of the slot. We will also show you how to find a slot where you can win a bigger amount with a small bet, sounds good, eh? Remember our position, we are providing information about gambling (gathered from our rich experience) but you will choose whether to believe or not.
So, in another article, we reviewed the theory that slots (especially those from NetEnt) have the same behaviour when you play for real money in demo mode. That's why the people who believe in the prize pool theory should probably skip this article. Otherwise, it's easy, we will lose money in demo mode and then win all the money in the world if we switch to real money!!!
Find your favourite paragraph:
The core of the strategy for choosing the best slot is to test it in demo mode first. Considering the fact that all licensed slots are on the provider's server (the online casinos are in the middle between players and providers, they just receive and send money) then all slot's demo is the same for all gambling sites.
Positive (Hot). Hot pokies have positive results (collected more money than it paid), so all players want to find such slots. Playing in them, there is always a good chance of hitting something huge.
Negative (Cold). Such slots have paid more than collected. So, Cold slots are about to collect money to fill the prize pool. Perhaps no point to tell but you shouldn't play in those slots.
Neutral. These slots are on zero balance. Believe it or not, some people play in the casino for fun. Such slots are ideal for them, you don't have to expect big winnings either big losses in slots with a neutral balance.
To find the positive slot, you will have to test them in demo mode first. Remember, this strategy doesn't work with all providers as many of them are giving much higher RTP (return to player percentage) to the demo mode of the slots. Our theory is based on millions of spins (in demo mode and real money play) at slots by NetEnt.
Next, we will show you how to find the positive slots
Choose a slot from our section to play free casino games. While choosing, you will have to consider the following parameters – RTP, volatility (variance), wagering rating, the probability of triggering the bonus round and distribution of the prize pool (between usual spins and bonus). When you click on the desired slot, it will lead you to a detailed review where the hidden data is shown (dispersion, cycle length and tester's review).
Choose a bet and lines on which you will play for real money. We suggest you read the following articles: variance of winnings and the cycle length of the slot.
While switching the different stakes, pay attention to the behaviour of the slot. If there is a lot of action (frequent payment combination, bonuses etc.) then the "mood" is Hot so the chance of a big win is much higher.
If you lose all the virtual money on the selected bet, refresh the page and try another stake. If the slot is behaving in this way on all bets, then it is obvious it's Cold and you should find another casino game and repeat the procedure. For better results read the following article: Change the value and quantity of coins per line.
It is important to notice that if you lost a big amount and the slot gives you some big winnings, this can be mostly considered like the returning part of the lost money but not for a Hot slot. But in our opinion, it's an exception.
If you've found a Hot slot already, switch to a game for real money. It's very important to play on the same lines and bets as you did in the demo mode.
We advise you to start practising the strategy on small bets because it will take time to understand it in the best way, Playing on small bets will save you a lot of money.
Choose 10-15 of your favourite slots and test the strategy (better to select slots with high RTP). If all of them are cold, you should change the provider (Microgaming or NYX).
One of the fundamental things you need to know is that the balance in your account is very important. We recommend you have at least 200 bets in the balance. This depends on the volatility of the slots: 100-150 for low variance; 200-300 for average once; around 500 bets for slots with high volatility).
Our recommendation is to combine both strategies at once: selecting the slot in demo mode with the getting of positive mathematical expectation of winnings.
Don't worry if, in the beginning, it's difficult to determine the slot's "mood". All the good things in life need time and pieces of training. Good luck!
Some aspects of the slot's behaviour are also showing the "mood", such signs can be triggering the bonus, often dropping 2 scatters etc. For example, the slot triggers 2 bonus features in 50 spins on a 10 CAD bet, but on a 5 CAD bet you get nothing. Another indirect sign can be how often the slot is giving out 2 scatter symbols but never triggers the bonus. With time and practice, you will start noticing such signs, then your percentage of winnings in a Canadian online casino will be much higher.
Imagine the following example: Many pools, fish and fishers. The fish can't swim from one pool to the other. The fishers are the players and the fish is the money. There is an algorithm in the provider's software which is controlling the bites of the fish and how big the fish will be. We believe that this algorithm is updating once a month. If you want to go "fishing" for big winnings, it's important for you to get familiar with the prize pool theory.
Saying it in an easier way, it will be impossible to win if you are the only player in the Canadian online casino. First, you will have to lose money before the software gives you a big payment combination. In the prize pool, there are money collected only from your bets and will return part of the money (90-99% depends on RTP) when the pool is filled.
We advise you to start playing for real money only when you feel confident in your skills and have passed through all the steps described above. It is important to switch from demo mode play to real money as fast as you can because if you make a pause, some players can hit something big on the slot and the behaviour will be different.
Try not to play on new slots because they will have to collect money in the prize pool before giving some good payment combination. You should wait for a few months.
Spend more time playing in demo mode and analyzing the slot than playing for real money.
Choose only reliable and trusted Canadian online casinos from our list. In this case, we will be able to help you in a difficult situation.