Details
How many coins do we need to play at slots?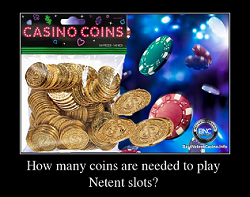 Many players believe that there is no difference between 5 coins of 0.1 CAD and 1 coin of 0.5 CAD (they both have the same total bet). As we understood from the article about the prize pool, different denominations and bets have different pools for winnings. Ok, but does this mean that the RTP (return to player percentage) is different? How many coins do I need to bet at slots? In this article, we will discuss if it is better to play on maximum coin per line or a maximum coin value (denomination). We recommend you get familiar with the next article.
How the cycle changes in final stakes that are different.
Does the bet influence the behaviour of the slot?
You need to understand that some slots can have different RTP depending on your bet. Let's give an example with Koi Princess (play over 5000 casino games at Fastpay) that has an RTP of 96.23% when the bonus bet feature is activated; the RTP becomes 96%. Thus, this isn't a big difference, but once we start the long run, the slot will behave differently. We will now give you two more examples of changing the behaviour according to the final stake.
Mega Joker
The usual RTP at the Mega Joker slot with a bet of 1 coin: 76.9%.
The RTP when betting 10 coins (maximum betting level), including "the Super meter mode": 89.1% - 99.0%.
Jackpot 6000
The usual RTP at Jackpot 6000 slot with a bet from 1 up to 8 coins: 74.9% - 79.2%
The RTP when playing at a maximum betting level (10 coins): 95.1% - 98.9%.
Other slots
There are no other slots from NetEnt that change their RTP in final stakes that are different.
Conclusion
We advise you to always play on the maximum number of coins per line. It's better to play at 10 coins on 0.1 coin value (denomination) than 1 coin on 1 coin value. You can be sure that when placing the maximum number of coins, the RTP of the slot will not be lower. We suggest you use this feature if you play on slots with the opportunity to bet an extra bet (bonus bet, super bet, etc.).
Where could I play?