Free Habanero Slots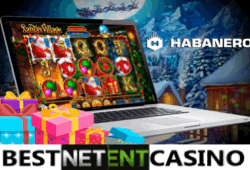 Habanero Systems company for a long time remained unknown, despite its launch still in 2010. In 2012, the European Investment Group acquired it and the situation has changed dramatically. As a result, this provider entered the world market after 2 years. Today, Habanero has offices in 4 countries. The company's portfolio includes about 100 slot machines, table games, and video poker. All products are available in the world's biggest online casinos. The developer regularly participates in international exhibitions and is the owner of prestigious rewards. We will tell you about all the features of Habanero slot machines in this article.
Logo
Name
(Play in the demo)
Percentage
(RTP)
Volatility
(Dispersion)
12 Zodiacs
96.1%
low
5 Lucky Lions
97.93%
low
5 Mariachis
96.67%
average
All For One
96%
high
Arcane Elements
98.09%
low
Arctic Wonders
96%
high
Barnstormer Bucks
96.03%
-
Bikini Island
96.15%
high
Bird of Thunder
98%
average
Bombs Away
97.9%
average
Buggy Bonus
96.1%
average
Cake Valley
98%
average
Carnival Cash
95.96%
high
Cash Reef
96.16%
high
Cashosaurus
95.96%
high
Coyote Crash
97.83%
from average to high
Disco Funk
96.09%
average
Dragon`s Realm
96%
-
Egyptian Dreams Deluxe
96.7%
high
Fa Cai Shen
98%
high
Fenghuang
98.21%
low
Fire Rooster
98%
from low to average
Fortune Dogs
98%
high
Four Divine Beasts
98%
from average to high
Galactic Cash
95.92%
low
Gangsters
98.02%
average
Gold Rush
98.1%
low
Golden Unicorn
96.11%
from average to high
Happiest Christmas Tree
97.88%
high
Hot Hot Fruit
98.05%
high
Indian Cash Cather
97.83%
-
Jugglenaut
98.01%
from low to average
Jump!
98.13%
high
Jungle Rumble
95.65%
average
Kane`s Inferno
96.06%
low
Knockout Football
96.8%
-
Koi Gate
98%
low
Little Green Money
96%
average
London Hunter
97.94%
average
Magic Oak
96.71%
high
Monster Mash Cash
96%
high
Mount Мazuma
97.98%
-
Mr Bling
96%
from low to average
Mummy Money
95.97%
low
Mystic Fortune
96%
average
Ocean`s Call
98%
-
Pamper Me!
95.98%
low
Panda Panda
98%
low
Poolshark
95.84%
average
Presto!
98%
average
Pumpkin Patch
98.18%
average
Queen of Queens
96%
high
Rolling Roger
97.95%
average
Roman Empire
98.06%
high
Ruffled Up
98%
low
Santa`s Village
96.07%
-
Scruffy Scallywags!
98%
low
Shaolin Fortunes
96.02%
high
S.O.S!
96.18%
from average to high
Space Fortune
95.65%
average
Sparta
98.16%
low
Super Strike
96.02%
low
Super Twister
98%
low
The Big Deal
96%
average
The Dead Escape
98%
low
Tower of Pizza
96.41%
from average to high
Treasure Diver
96%
from low to average
Viking`s Plunder
96.13%
average
Ways of Fortune
98.12%
low
Weird Science
95.87%
-
Wicked Witch
97.99%
average
Zeus
96.03%
average
Features of the slots
Theme and design. The main feature of this provider is a huge choice of slot machines on a variety of topics. After all, the developer uses unusual solutions in the design of games. Here you will find the design in the form of classical painting, styling for old comics and other. And very often the subject does not coincide with the design, so the gameplay is more exciting. As for the topics who are devoted to the slot machines, they are very different. There are traditional fruit slots, ancient Egyptian, Asian, pirated, cartoon and others.
Pay lines and reels. Most games have 5 reels and a diverse number of pay lines - from 5 to 1024. The provider offers the slots with fixed lines and an ability to change their number for the stake.
Range of stakes. Here you will find a wide range of stakes. During the game process, you can put the maximum stake that does not exceed 1 000 coins, extremely rare. Usually, it is 5 000 coins.
Bonuses. The special symbols - wild and scatter are necessarily presented at the online slots. In addition, there may be bonus symbols that are endowed with special features. In most cases, free spins are the bonus. However, the non-standard bonus features are involved at several original slots.
Multipliers for the pay lines. Here the provider uses different strategies. Unfortunately, he did not endow most of the games with the huge multipliers.
RTP. The theoretical RTP (return to player percentage) will please you here. Since most games are endowed with the RTP of 98%. Such indicators are very rarely. This provider has a small number of slot machines that have a low indicator of RTP.
Volatility. These slots can give good rewards due to their low volatility. However, it will be difficult for you to hit a big win.
Progressive Jackpots. The video slots are connected to the cumulative jackpot system, so you have the chance when playing for the real stakes, to hit the mega cool win.
Languages and currency. Habanero company has translated its machines into more than 20 languages. You can put the stakes in different currencies, by including cryptocurrencies.
History of the company
Now we will tell you in details about Habanero company in the world of online gambling. We will begin from the moment of its repurchase by European investors. As a result, the Asian gambling market was conquered after 2 years this date. In 2016, the company was already in the top four. This period was the key point of development for its. At this time, the provider presents its products at ICE in London and EiG in Berlin. The company has received the prestigious awards here, for example, "The Best Online Provider". Habanero also has the "Best Mobile Solution" reward at the Asia Gaming Awards.
This company seeks to create only high-quality products. Therefore, it regularly introduces only the latest technology. All its products are available on various devices - PCs, mobile gadgets. In addition, the provider has not only online gambling, but also solutions for operators.