Details
Fire Star slot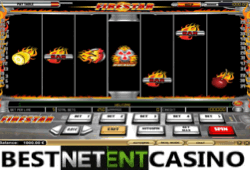 In the first look can seem that Five Star slot is a classical fruit slot with three-game lines, but it not so. It is not deprived and of additional functionality, such as instant prize and re-spin. At the same time, the slot has quite qualitative "picture" and good potential of delivery of big winning. Red Tiger company suggests increasing the rate to 2000 times. By the way, average volatility works here. RTP - 92%.
Review and recommendations from the testing team
Despite only three active game lines, the slot quite often gives advantageous combinations, allowing small series of "empty" spins. The average payment 1-6 bets are rarer – 12-60 bets without participation bonus feature are given. The maximum prize received during testing (without participation the bonus function), made 200 bets. Though, in my opinion, nevertheless the "real" maximum prize in this slot does not exceed 600-800 bets and it is almost impossible to receive declared up to x2000 here.
The bonus function of the slot is the re-spin feature (re-spin) which is triggered at the time of delivery by the slot of an advantageous combination. The activation of this function happens not at each prize, and, as a rule, only every third or fifth payment (though quite often in the slot there are the whole series of activation) is can launch re-spin. It is worth noticing that it is not classical re-spin as at traditional to re-spin there is a fixation of one or several reels and spin the others with giving the new symbols capable to improve an initial combination. And here in Five Star occurs in a different way. In this slot of re-spin is repeated "cloning" of the previous spin (i.e. giving the same combination of symbols) that, inherently, it is rather possible to call a multiplier (with random X). Often, re-spin is launched only on inexpensive combinations worth 1-6 bets, and in time it was possible to receive testings to 7 re-spins. Less often more expensive combinations, worth 12-60 bets, but, as a rule, no more than 1-3 times could repeat.
Also, the "instant" prize at the delivery of special Five Star symbols is provided. So, at the delivery of three such symbols - the prize will be 30 bets, at the emergence of four - 100 bets, and a loss of five - already 500 bets. It is worth noticing that this advantageous combination can be also "repeated" on re-spin. During the test, I could catch only three symbols with an instant prize, but at the same time with three repeats.
In conclusion, it is possible to tell that this slot quite not bad, but sometimes not stable. So, it can take away stock in 100-150 bets then to give quite a big prize and to offset losses and can hold not bad during 300-500 spins balance. Only because of unstable behaviour I will leave neutral recommendations though, from my point of view, it quite not bad is suitable for implementation of requirements for the wager. At a game on real money, I would recommend having a stock not less than 250 bets.
Bonus options
Instant prize. You can receive up to 500 total bets if you collect a combination from three-five symbols with the game Logo.
Re-spins. This function has the features. You are waited by cloning of the last game field to add advantageous combinations of symbols.
Settings
The size – 3х3;
Lines – 5;
Volatility – unknown;
RTP– 92%;
The maximum prize is 500.
You may also like the following slots in Fun mode