BGaming slot machines Review Softswiss Casino Platform 2023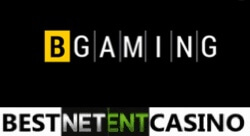 Bgaming's developer company history began in 2012. At that time, Softswiss provided a powerful platform for online casino operators and, after six years, the company assembled all the developed slots under a single logo. Major experience has delivered great results after rebranding. After all, their products are not only high-quality graphics but also a clear interface. And also HD support on mobile devices and a wide range of currencies, including crypto. From this article, you will learn about the features of slots developed by Bgaming company.
Play Softswiss slots for free without registration
Please select any of the slot machines below to trigger it for free and view hidden slot features.
About Softswiss slots
BGaming has more than 40 online slots, board and casual games. The cryptocurrency society is particularly popular with products. An outstanding feature is the variety of themes that have an original storyline and often cartoonish design.
Most slots have a standard set of five reels. But the number of payment lines varies from 5 to 25. Here the provider is reserved in his fantasies.
On bonus features. Mostly bonus symbols and free spins are offered. It should also note that Bgaming company is trying to create simple and understandable slots. Without loading them with bells and whistles.
Many of them have medium to high volatility. So you can hope for the medium frequency payment. In some trademark slots, payments will be sporadic, but their value will scale (30,000 - 50,000 coins). But the theoretical percentage of return varies between 95-98%.
BNC's opinion on BGaming
The software of this provider seemed to be a little strange. Even while playing at maximum bets, it rarely gives out big payouts. However, most of the developer's products have average volatility. It is worth noting that these slots like to "absorb" bets. But they are capable of producing big winnings. Our team suggests that you first test the slots in demo mode and then go to the actual gameplay.
The product line features a small collection of slots with a fairly straightforward and understandable playstyle, including many clones and analogues. All of them can be divided into three types of slots.
The first type can be attributed to slots with good potential to win big. The second - will be one of the best decisions while playing for the bonus money, but in them, the potential of obtaining big winnings is minimal. The third type can be assigned to completely "minus" slots; they do not potentially trigger the big win and show terrible performance and balance keeping. You can get familiar with the settings of each slot in the reviews.
An additional "plus" is to mention the presence of a risk game with the possibility of increasing the winnings 2-4 times, which is discussed in more detail here.
Different "direction" of BGaming was the development of non-classic slots, among which we can point: Heads & Tails, Jogo do Bicho, Mechanical Orange, Minesweeper, Plinko and Rocket Dice. They can easily compete with classic board games or roulette. These products are more focused on applying different strategies with fair potential. BGaming is "far" from reaching the top companies, but it cannot say that the products of this developer are bad. Among them, you can find slots worthy of being tried.