Details

Written by

Vladislav Dibrov
Last Updated: Thursday, 12 January 2023 16:24
Online casino affiliate's motivation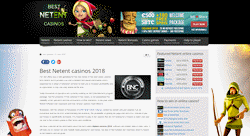 I have conversations with lots of people who have online projects (sites, blogs, streams, and so on). I'd like to highlight a common thing of all these activities — sooner or later, you get sick of all that sh*t. Everything turns into a routine, you get tired, you get lazy, and you start experiencing the procrastination. That is, you start doing anything, except the vital things you need.
I remember well the days when something was going on in the casino field, a couple of years ago there was some enthusiasm, rivalry, but now everything is faded away. Even the old comrades, who were ready to work day and night and of whom I was impressed, started doing weird things: some of them stick to gambling, others drink hard, and the rest can't be found anywhere.
However, it's not about the money a project offers, and it's about us, who don't want to try to achieve something, yeah, I am in the same boat. The lack or surplus of money has a similar effect on people's activity, and it's a negative one.
The other day, I was reading the diaries of Leo Tolstoy; he was there constantly, whining that he is lazy every single day, and he would better sleep. Quite familiar… I mean that there are no gifted people; there are only those who work hard, especially on themselves. People are all roughly the same regarding physiology and brain structure.
Useful videos for an online casino affiliate
Below I highlighted some things that should be considered.
Regularity — you should always be busy doing things, that's how you get used to working.
Remove all PC games, unnecessary contacts, don't waste time on useless talks, do not watch YouTube.
Do some sport or any other physical activities.
NO gambling — I mean any gambling.
Honestly speaking, I see no reason to write anything on this topic, especially if there is someone's channel which has it already there. So, I recommend you listen to the competent expert. Only the one who has been in this field for a long time would understand it if you don't — then you shouldn't fill your head with this nonsense).
Where to play?