Details

Written by

Yana Sliusar
Dice High slot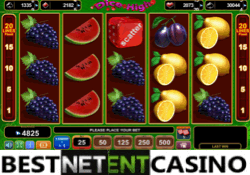 Dice takes the main part in gambling. During the game, your luck will depend on them.
Dice high slot
from EGT company is devoted to this dice. It has 5 reels and 20 fixed pay lines. The main symbols of the game are fruits, seven and dice. Dice symbol can bring you up to 200 000 coins in the bonus game. The bonus feature from dice is available when you trigger the special bonus stake.
The maximum stake reaches 500 coins per spin. 5 Dice symbols will bring you a big win up to 80 000 coins. The symbol Seven will replace other symbols. This provider offers you several bonus features such as 4 jackpot bonus features and the risk game. You can get 1 of 4 jackpots in the bonus feature. The developer has not published the RTP (return to player percentage) at this slot. Dice high slot has simple gameplay, a great design, a lot of bonus features and generous rewards. We recommend you to learn the rules before triggering this machine to get the maximum wins.
Review and recommendations from the testing team
At first, it may seem that Dice High slot is another "classic" fruit slot, with same old symbols, including wilds and 1000 coins per spin bet potential. In fact, this is not the case here, and the developers did not limit themselves to just make another well-known slot. The company gives the players one additional "bonus bet" (increases the original payout prices by 25%), which also triggers a rather interesting and not typical "Dice Feature'' with a potential to win up to 400x bets. Another good thing about this slot should be mentioned, the "Dice" is still "classic" (replacing the fruit theme with Dice).
In the usual spins, Dice High has quite standard gameplay for slots of this type. For example, most of the time, this slot gives winnings that range within close to the nominal bet. Less often, paying the biggest payments of 20x-40x bets, as well as winnings reaching prices of 100x total bets. Dice High has a very real potential to trigger the combination of 100x-400x, but that does not happen very often. The chance of giving payment the combination for 400x-1000x bets is lower, and it is not good to try to wait for the slot in an attempt to get it.
When "bonus bet" is not used and scatter combinations are given this slot is able to pay winnings up to 200x bets (when 5 scatters are triggered). But, most of the time, only 3 or 4 are given paying 2x bets and 10x bets. With the "bonus bet" used though, scatter are no longer triggered often, on average at a distance of 60-120 spins. When 3 scatter symbols are given and the bonus bet is on, "Dice Feature" will be triggered.
The "Dice Feature" gives the opportunity to play a game of dice throwing, in which the main goal is to make one of several combinations, which awards from 4x to 400x bets. The player has 3 rolls with the possibility of keeping one or more dices (saving their positions – numbers), as well as the chance to just stop the rolling and pick up the win for reached combination after each throw. Possible combinations and winnings for them: One pair - paying 4x bets; 2 pairs - winning 6x; three of a kind - worth 10x total bets; the full house (3+2 of a kind) - costing 20x bets; 5 in a row (straight) - worth 30x; Quads (4 of a kind) paid for 50x total bets and 5 identical worth 400x bets.
Despite the fact that the combination of 400x total bets (5 kinds) didn't happen during testing, the potential for this is quite real and realizable. The maximum payout during the tests was 50x bets, which were gained very often (almost all the time). Minimum winnings are rarely.
You can find information about risk game for doubling of winnings here. With information on "JackPot Cards" feature available.
Personally for me, Dice High left some positive feelings. The slot is well suited for playing for the bonus money. While playing for real money it is possible to consider both short and long playing sessions, because the "Dice Feature" is very good.
Symbols and winning
This slot machine has 20 pay lines. The maximum stake reaches 500 coins per spin. If you play at the maximum stake, this online slot will payout the following wins:
Seven will replace all symbols except Dice symbol. It will pay out 800, 8 000 and 20 000 coins.
Dice is the scatter symbol that will increase your account by 800, 4 000 and 80 000 coins.
Grapes will bring you 400, 1 600 and 8 000 coins.
Watermelon and Plum will add to your account by 400, 800 and 4 000 coins.
Orange, Lemon, and Cherry will give out 200, 400 and 2 000 coins.
Bonus feature
The "Dice" bonus will be available if you lose the additional bonus stake and 3 or more Dice symbols appear on the reels. You will have the opportunity to make 3 throws. You can hold up 1 of 5 Dice after the first throw. Further, you can take the next throw. Here you can also hold up or release 1 of 5 throws. Then you need to make the last throw and count the wins. The maximum reward reaches 200 000 coins at this bonus feature.
The bonus stake will be triggered at the request of the player. Its maximum size is 100 coins.
You may also like the following slots in Fun mode
Published: Thursday, 21 March 2019 07:39 | Last Updated: Monday, 07 December 2020 07:31
Written by Yana Sliusar