Details
Thank you for rating this article.
You can play Sparkling Fresh online slot for real money in the following Endorphina casinos:



Sparkling Fresh slot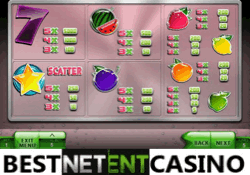 Sparkling Fresh slot is a clone of Lucky streak 2 and The Emirate slots. Just like Lucky streak 2, this is a classic slot with a fruit theme, five pay lines, no bonus game or free spins features. RTP - 96%.
Review and recommendations from the testers team
The gameplay of the slot also does not differ from the clones, and in the main game it makes large series of spins without a win, occasionally interrupting them by issuing wins of 1-15 bets, and less often it issues larger wins of 20-40 bets.
In short sessions, this slot is not quite bad at keeping the balance, but in long game sessions, it will often give a negative result. The slot is designed in such a way that for a certain number of spins, it draws from the balance, and then gives out a fairly good combination, which nearly compensates for losses. Often the slot will give a small loss, and in a long session this loss will be quite large and only the top combination will be able to compensate for it. The chances of getting such results are minimal since, despite the potential of the slot, it gives out 1000 or more bets for one spin; the realization of this potential is extremely bad, and such a winning can be expected for several hundred or even thousands of spins.
The risk game in this slot is the card game (classic), which you can find more about here.
While playing with bonus money and trying to fulfil wagering requirements, this slot is not the ideal option, because it often gives a negative result during a long session, and the balance is badly kept, but it can still be used for medium sessions, therefore I can make only neutral recommendations. During long gaming sessions with real money, a large bet balance is recommended (at least 300-400), or short gaming sessions in an attempt to get a top combination at the beginning.
You may also like the following slots in Fun mode