Details
Thank you for rating this article.
Asgardian Stones slot
The NetEnt company devoted another machine to the Scandinavian topic. Scandinavian myths are fascinating. We do not stop being impressed by the fantasies of ancient people who created these diverse, at the same time wise and naive, stories about gods, giants and many other inhabitants of the mythological world. Launch Asgardian Stones slot, in which mythical heroes will help you get good rewards. You are being waited for 20 lines for the payment and a great set of the bonus features – free spins, mega-symbols and the Rolling Reels feature with a growing multiplier. RTP - 96.31%. But we know that the maximum size of the multiplier for the pay combination does not exceed 500x total bets.
Personal testers opinion about Asgardian Stones
Fortunately, the hidden settings of this slot machine show that here you can complete the bonus requirements. There are also other positive moments in the game. For example, it has a short cycle of return bets. We should note that the bonus feature occurs, approximately, in every 156th spin (0.64%). Only 27% of the stakes from the total prize pool will be paid in the feature. The rest is spent on the winning in the usual spins. I give neutral recommendations about the game for real money.
Review and recommendations from the testing team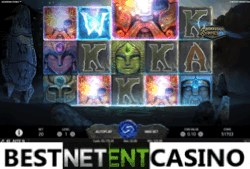 This is a colourful slot with high-quality sound, and gameplay taken from the beloved by many Gonzos Quest slot.
In the main game, in addition to standard symbols, we can also see symbols of 2x2, 2x3 and 3x3 cell sizes, which in a row give greater winning than standard symbols. It is good to be said that in the slot there is a crush feature, thanks to which large symbols cannot just appear on the reels, but remove standard symbols under themselves. They then go down to the bottom, using the largest number of gaming lines.
Regarding winnings in the main game, winning combinations appear quite often. The wins they give are not big and, usually do not give more than 3x total bets, and in most cases, they are equal to or less than the main bet value. Expensive combinations appear not only during free spins feature, but also in the main game, and they can give quite good winnings of 20x - 50x total bets. They usually appear with high frequency, and often the slot can deliver such a big win 2-3 times in 4-5 spins.
The bonus wheel feature triggers quite often during the main game. It can rise completely or partially. When it appears completely, we get to activate three prize values, among which there can be up to 15 free spins or coins with a total value of up to 36x total bets. With its partial appearance, we get the activation of one or two cells, which reduces the chances of getting free spins and increase their number.
Generally, it is quite rare to get 15 free spins, and in practice, we often get 5 or 10 free spins, or coins.
During free spins, the gameplay is the same as during the main game, except that larger symbols appear more often, among which is also the wild symbol. It's often impossible to see a 3x3 wild, but the winnings it gives are quite big.
The average winnings on bonus spins are 20x - 50x total bets, more successful bonuses bring 60x - 100x total bets. Winnings which are bigger than 150x - 200x total bets are extremely rare for a slot.
Considering that this slot keeps the balance well, it can be recommended for playing with bonus money and accordingly for fulfilling the wagering requirements. This slot can also be recommended for games with real money, but rather for players who prefer a calm and stable game with minimal triggering frequency and dispersion, as well as fairly average wins.
Hidden data and settings of Asgardian Stones slot (testing results)
The frequency of triggering of the bonus free spins feature is statistically every 156th spin (0.64%).
The probability of a hit (any winning) is 19.70%.
Distribution of winning is 73% during usual spins and 27% in the bonus feature.
The maximum winning during the tests was 366x.
The average winning from the bonus free spins feature was 32x.
Volatility is 4,99 out of 20 (low).
Cycle length is short.
The rating of the slot machine for the wagering is 5,83 out of 10.
RTP ( return to player percentage) is 96.31% allows getting a positive mathematical expectation of winning at the casino.
The bonus feature
After each successful spin, the symbols disappear which are included in the pay combination.
The remaining symbols will be gone down, and new images will appear above. As a result, new combinations of symbols will be formed.
With each new disappearance of pictures, your winnings will automatically increase, because an additional factor from x2 to x4 comes into play.
And now we will talk about mega-symbols. There are huge pictures at the slot machine. They occupy 2x2 cells and can appear in any spin.
Also, these symbols when you launch the Rolling Reels feature can "destroy" the pictures that appeared under them.
In any spin, the bonus round "Wheel of Fortune" can be triggered. You will see the standard wheel, in these sectors you can find the rewards – free spins or multipliers.
You can win from 5 to 15 free spins. Also, you can also extend the bonus no more than 3 times. The maximum number of spins which is available in 1 round is 25.
Symbols and payouts
There are 20 pay lines at the slot machine. You will not be able to change their activity, so you should carefully choose your bet. Below is a description of the symbols of the slot and the payouts which they give.
Orange stone idol will bring from 40 to 500 coins.
Green idol will give out up to 300 coins.
Blue, Purple and Grey idol, some payments do not exceed 150 coins.
The symbols with the image of the playing cards will give out up to 30 coins.
W letter, carved into stone, will bring the additional pay combinations, as it will replace other pictures.
How to win at Asgardian Stones slot? (conclusion)
Many of you know our golden rule and the main recommendation, namely: always test the slot machines in demo mode before you start playing real money. The game has a low dispersion and does not require a large reserve of bet balance (around 100). We have achieved good results between € 5 - € 20, so we think average bets are the best here. This does not mean that the minimum stakes are bad, especially in this slot any kind of bets are acceptable. The slot is good for any type of game: real money, people who play for fun and killing the time, and bonus hunters. We can recommend the slot for completing the bonus requirements.
You may also like the following slots in Fun mode