Details

Written by

Vladislav Dibrov
Last Updated: Wednesday, 22 December 2021 13:41
Dead or Alive slot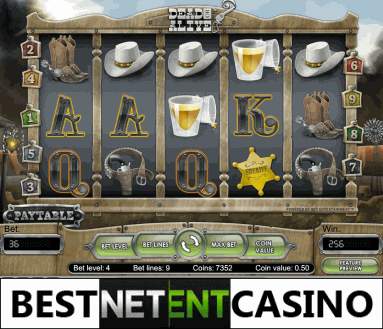 The topic of Wild West, full of adventures and dangers, has already been used in the machines of all software developers. Open
Dead or Alive slot
and try to hit a big winning. Pay attention that this machine has exceptionally high volatility and potential of winning during the free spins feature. If you are lucky enough to get a wild line - your winnings will be counted in thousands of bets.
The free demo module of DOA is situated at the top of this page. You can use it to play for free.
Dead or Alive is one of the most dangerous and high potential machines in Netent line. During testing my maximum winning was 4 181x. The probability of a hit during the usual spins is equal to 30.43%. The bonus free spins feature triggers every 154th spin (statistically 0.65%). Here you will lose all or hit a lot.
Try to get a wild line during the free spins feature (you will receive five extra free spins) and check out the extremely high potential of DOA slot. Highly recommended to have at least 500 total bets on your account before starting spinning. Here is much better to have money for more spins than to bet more in each of them.
This slot is commonly known as DOA and has fairly modest graphics, sound and gameplay. It is loved by NetEnt fans and many other players due to its higher-priced winning combinations (5 scatters, 5 wild symbols) and the fixation of wild symbols in the free spins feature, which can give a huge win with free spins. The slot can easily give 1000x and 2000x total bets, and even 5000x is not its limit.
The only minus is that it is very slow, and this makes the game boring during a fast spin.
The total return to the player percentage (RTP) is 96.82%. Of these: the usual game is 53.7%, payouts for scatter symbols -17.4% and 25.7%, in the free spins feature.
The probability of getting any winnings is 31%, on the pay line is 24%, by using scatter symbols - 7%.
The probability of falling out 3+ scatter symbols and triggering the free spins feature is 0.66% (every 152nd spin). The probability of collecting five wild symbols (one on each reel) and get an additional five bonus free spins is 2.2% (approx. every 50th feature, but it does not mean that wilds will be in the line).
Maximum winnings during the usual spins (per pay line) are 6 000 coins, during free spins - 12 000 coins, total maximum winning is 54 000 coins.
The frequency of triggering of the bonus free spins feature is statistically every 154th spins (0.65%). This number is in the middle line. Pay attention, that you will see a lot of "empty" free spins features, where your winnings will be 10x-20x.
The probability of a hit (any winning) is 30,43%. Here you will see a lot of winnings that will be lower than your initial bet.
The distribution of the winnings is 69% during usual spins and 31% in the bonus free spins feature. The third part of all bets is accumulated in the separated pool, which will be used for super mega winning when somebody will hit a "wild-line" during the lucky free spins feature.
The maximum winning during the tests was 4 181x. This is an extremely high number for Netent pokie.
The average winnings from the bonus were 47x.
Volatility is 16,26 out of 20 (high). It is on top of the volatility pokies of the Netent company.
The cycle length is long. To pay out the massive winnings Dead or Alive needs to collect that amount from many players. That is why the cycle is long. If DOA slot is cold - do not even try to pass it trough. As mentioned - we suggest having at least 500 total bets in your account to have real chances of hitting.
The rating of the slot machine for the wagering is 0,81 out of 10. This is an extremely low number. Do not even try to complete wagering here.
RTP of 96.82% allows getting a positive mathematical expectation of winning in the casino.
Among the usual symbols appearing on the screen at each spin, you will meet not only the attributes of the cowboy life (hat, boots with spurs, a glass of whiskey, a sheriff's icon) but also made in the colour of steel the values of playing cards from ten to ace. They are the least profitable (from 25 to 100 coins for a full pay combination) because they cannot give you big winnings, but they will appear very often and partially compensate for this shortage.
The five most valuable symbols are drawn in great detail and created in the style of Wild West. The fewest coins will be brought by a couple of glasses (200 coins), a pair of cowboy boots with spurs will give you 300 coins. Further in the rating is a white hat (400 coins). The most desirable will be a cowboy belt with a gun (750 coins) and a sheriff's icon (1000 coins). Correctly them you would like to see as often as possible on the reels of the slot.
A wild symbol (a leaf with the inscription Wanted) can appear anywhere in the playing field. During the base round, the wild symbol promotes the formation of the pay combinations, substituting missing images for this, except for the scatter symbol, and also it brings the payments on its own. For the chain of three Wild symbols the bet will increase 25 times, for four symbols 150 times, and five signs 1500 times. During free spins, it becomes sticky.
Scatter. The crossed revolvers are a symbol of dispersion. The appearance of three images allows you to rely on starting free spins. At least two of these symbols will bring an additional winning, doubling your bet. For the appearance of three scatters, the stake has already increased four times. The maximum payout reaches x2500.
If you are planning to have a lot of adrenalin, then this game is for you, but we recommend at least 500 total bets in your balance. For example: if you are planning to play on a 2 euro bet, your recommended balance is 1000 euro. We believe that the slot "loves" more the small bets than the highest ones, anyway even on 1 euro you winning can reach several thousand euro. The main target is to get the free spins feature, and there if you are lucky enough and get a line of Wild symbols, you will be awarded 5 extra spins, and each of them will be winning with a line of Wild symbols because they "freeze".
Be sure to test the slot in demo mode, before start playing with real money. Like this, you will be able to understand "the mood" of it (Hot or Cold). The game is not suitable for bonus hunters, because of the high volatility. We recommended it for players who follow the principle - "All or Nothing".
You may also like the following slots in Fun mode