Details

Written by

Vladislav Dibrov
Eggomatic slot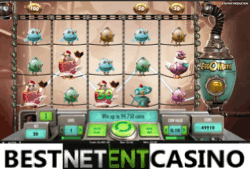 The most popular machines from which Net Entertainment starts its run were Gonzo's Quest, Eggomatic and Boom Brothers.
Eggomatic slot
was so successful and popular that Microgaming decided to make the clone of it in 2015 -
Rabbit in the Hat
. The declared RTP is set at 96.48%, and the maximum winning can be up to 10 000 coins.
The main winning potential is triggered during the free spins feature. Despite the age of Eggomatic - it is still popular among players.
Eggomatic slot machine was trendy in 2012. Here is very important if there is money in the prize pool or not. If Eggomatic is cold - it shows it straightly during the first 100-150 spins. Statistically, every 200th spin (0.50%) is triggering "the free spins feature", in which, up to 33% of the total fund is paid out. In the feature, my average statistical winning was 52x. The wagering rating is 5,02 from 10. Here you will need more patience to wait for the free spins feature triggers. I suggest playing this slot only in large famous casinos.
Quite a colourful and exciting slot, which will keep you on edge through each spin.
The additional features that regularly appear at the top will make you want to play this slot again and again, but you still have to be lucky enough to get them with a Wild symbol.
Many may think that it keeps the balance up due to the egg collection on the top of the screen. I can disappoint many players, but that is not how it works. Due to rare and low valued combinations, this slot is not quite good at keeping the balance, and the collected eggs will not make a big difference.
You will hardly get an egg that will trigger the free spins. Speaking of re-triggers, this slot has a strange behaviour, and you may not see them at all, or get them like from an Amatic (i.e. quite enough).
The extra Wild feature does not always guarantee a big win, since this feature may be triggered on the last reel.
There is good news; when the slot has successfully given an extra Wild on the first reels, and you may enjoy a good win almost every spin, but this will not happen often.
When having an extra Wild the average win is about 80x - 100x total bets, during the free spins feature it is 100x - 200x total bets (and this is a good bonus). You will not get much from less successful bonuses, just 20x - 60x total bets.
Many casinos have this slot on the list that is not recommended for playing the bonus money, although I think its characteristics do not justify that step. I would not say it keeps the balance up very well and that it is a good slot to play the wager. I usually stop playing this slot just after getting the first bonus or a good Wild that gives a good combination. If that does not happen, I would not recommend going for more than 50 spins. This slot may easily reduce your balance to 0 during a long gaming session, even with a balance of 150 bets.
The total percentage of the return is 96.48% (67.2% in the usual spins and 29.3% during eggs features).
The probability of getting any winning in the primary (free spins) is 31.4% (44.6%).
The probability of getting free spins is 0.71% (statistically, every 141st spin).
The maximum winning is 10 000 coins.
The frequency of triggering the bonus free spins is statistically every 200th spin (0.50%). Our testing results differ a lot from Netent's official numbers.
The probability of a hit (any winning) is 31,69%.
The distribution of the winnings is 67% in the usual spins and 33% in the bonus feature. On the other hand, maximum winning is capped by 10 000 coins.
The maximum winning during the tests was 191x. This result we have got after more than 30 000 testing spins. The potential of this machine is low.
The average winnings from the bonus feature were 52x. This number is higher than Netent's middle line. Features (statistically) will pay more than 50x.
Volatility is 5,98 out of 20 (average). The only way to increase the volatility here is to raise stakes. The problem is - when you raise your stakes - Eggomatic "forgets" that it has the bonus feature.
Cycle length is average. If you already lost a lot in the current session - there is a reason to continue, until you will win back 50% of your loss. Pay attention to the prizes in eggs.
The rating of the slot machine for the wagering is 5,02 out of 10.
RTP of 96.48% allows getting a positive mathematical expectation of winning at the casino.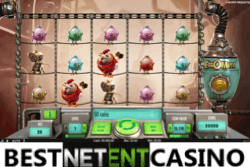 Eggomatic is a colourful slot with 20 pay-lines, five reels, special symbols, bonus games and a free spin feature. At this time, the NetEnt company has developed a truly unique slot in which each gambler will visit a poultry farm and meet with these chicken robots.
In short, this is the game that will appeal to absolutely everyone, whether a professional player or a beginner. Note that the interface is particularly colourful and straightforward with superb graphics data.
Eggomatic slot uses non-standard solutions. Animation and game process are worthy of all praise. Here are the technical characteristics of the slot:
Provider – NetEnt.
Volatility – average
The number of game reels – 5.
The number of pay lines - 20.
Bet per line - from 0.01 to 10.
The maximum bet is equal to 200.
The maximum payout for a combination of symbols is 1 000x (5 pink Chickens).
Bonus game - yes (several types, below you can find the more detailed description about each bonus).
"Wild symbol" - yes (Rooster with the nameplate in hands).
Free spin - yes (up to 50 free spins in with special rules).
The percentage of winning RTP at the slot machine is 96.48%.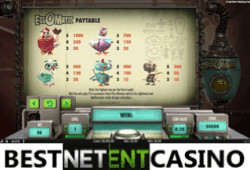 At Eggomatic slot, the "Convener Belt" feature is used, which is a kind of bonus game. The particular unit will throw on the tape prize eggs, such as Spreading Wild Egg (Egg with expanding Wild), Coin Win Egg (Egg with a prize payment), Surprise Egg (Egg-surprise), and Free Spins Egg (Egg with free spins).
If any of the eggs mentioned above stop above the reel that has the Wild symbol, then consider that you are lucky. You will become a winner and receive a generous monetary reward. To understand which the best egg is, you need to see into the characteristics of each of them.
Spreading Wild Egg can turn all the images located around the Wild symbol into identical "wild symbols" that can replace other pictures with winning ones. Getting the same combination and will ensure gamblers monetary reward.
Coin Win Egg - is an egg that can make a payment of money. In this case, the monetary rewards can range from 50 to 2500 coins.
If you see Free Spins Egg, you are guaranteed to get from 7 to 50 spins for free. Surprise Egg is an unpredictable egg. This means that the random generator will choose one of the three bonuses.
Free spins are triggered using eggs, and a player significantly increases the chances of the big winning, when all the reels are filled with eggs, and the wild symbol on any of them gives us additional prizes. Often additional free spins are launched during the free spins feature.
As a rule, test the slot machines before start playing with real money. The slot is quite popular among players, and most of the times will be "Hot", but you will have to test it before, there are always exceptions. During our testing, we noticed that the slot behave well when we used bets which can be multiples of 10. So, maybe you want to try this strategy. Also, you will need to be patient enough to trigger the free spins feature, as the prizes can be bigger there.
Maybe, you will want to use the strategy "Hit and Run" on this slot machine. Usually, after a successful free spins feature or good Wild feature, it can "eat" all of your money if you don't stop on time. We suggest you try around 50 - 100 spins, and if you see the slot is not in a giving money mood, better change it with another one. About the bonus hunters, we believe this slot is in average position (5.02 out of 10), but still, the recommendations are more negative than positive. Good Luck!

You may also like the following slots in Fun mode