Details

Written by

Vladislav Dibrov
Elements slot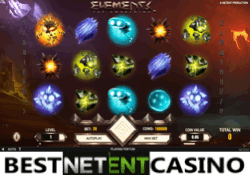 Air, Earth, Fire, and Water are four elements which rule the universe since its inception. Can you unravel the magic of the ancient symbols? Learn more by starting
Elements slot
in free demo mode. It has RTP (return to player percentage) of 96.02%, and the maximum winning is 300,000 coins. Four free spins features make this machine unique.
The basic model of triggering the free spins feature is to win four times in a row. Players that cannot look at the 32nd time of three winnings in a row better to skip this slot.
Personal testers opinion
Elements slot is one of the most dangerous in Netent's line. It looks like Elements uses a different type of cycles. Sometimes you can wait for "the bonus feature" up to 1000 spins and next time gets five bonuses per 100 spins. If you see that it doesn't want to pay-out, so don't try to pass all the cycle through. Just stop and go to another slot machine. As for statistics: 64% of the bets are reserved for the payment in the usual spins.
However, the probability of getting any pay combination of symbols is equal to 29.21%. During the tests, my most significant winning was 586x. The wagering rating is 4,89. Elements slot has high popularity among players and enough money to create a massive prize pool for the winning. We suggest the players do 100-300 testing spins via minimum stake to determine the "mood" of the slot and then switch to regular stakes.
Review and recommendations from the testing team
This is an unusual slot from NetEnt, with good graphics and sound. It is enjoyable to play, unlike some others which are annoying. It is probably one of the best slots from the provider.
In the main game, payouts for winning combinations are minimal. You can get a big win with a line of top symbols (which are not often displayed) or with a line of wild symbols.
A combination of 3 scatters will not trigger a bonus, but only four winning combinations in a row are needed. Even though a bonus game seems easy to get, it is rarely issued. Unlike some slots where there is no variety, a bonus game here has four different features, which is very pleasant.
Despite all the advantages of the bonus game, it has a big minus just like the main game: it's the payouts. This slot can't issue a win of x1000+ total bets, and the average win is 40x - 80x total bets. A bonus with a top combination gives about 200x - 300x total bets, which is extremely small, considering that it keeps the balance in the main game not very well, and the bonus game is not triggered often.
In conclusion, it can be said that this slot is ideal for games with small bets, whose purpose is getting pleasure from it. If the goal is to increase the balance, it is recommended to play exceptionally carefully, while closely watching the bonus triggering, with a minimum reserve of the balance of at least 150 bets. This slot is in the middle range for fulfilling the bonus requirements.
The hidden parameters and settings of Elements slot (data from testing)
The frequency of triggering any of the bonus free spins features is statistically every 116th spin (0.86%). This data can be completely different, depending on the "mood" of the slot. If it is "cold" - you can see 1000 spins without any bonus feature, but when it becomes "hot" - it can fire with the free spins features every 20 spins.
The probability of a hitting any win is 29,21%. Note, that you will see a lot of situations when the slot will give three winnings in a row instead of four.
Distribution of the winnings is 64% in the main game and 36% in the bonus. These numbers mean, that if you're ending your current session without any bonus feature - you're loosing about the third part of all your stakes. This fact is the main dangerous point of Elements slot.
The maximum winning during the tests was 586x. This is a high number for the Netent slot with 7.8 points of volatility. It has winning potential, especially in fire and ice bonus features.
The average winning from the bonus was 46x. This is above average winning, which (maybe) doesn't allow to collect a lot of money "for super mega lucky bonus feature" (1000x+).
Volatility is 7.8 out of 20 (from low to average). The main potential of winning can release during the free spins feature.
Cycle length is average (stretching). More spins player does, longer the cycle is.
The rating of the slot machine for the wagering is 4,89 out of 10. The main problem with wagering is long waves of loosing.
RTP of 96.02% allows getting a positive mathematical expectation of winning at the casino.
Description of the slot machine
According to most virtual players, this slot machine is one of the best emulators developed by NetEnt. This is an excellent example of the perfect slot should be to attract the attention of fans of the gambling. The graphics are amazing, the symbols themselves are well designed; they are even more prominent on the dark screen background, where you may see the mountain peaks covered with snow and the blazing lava flows. Sound effects and continually sounding musical accompaniment are also performed at a high level.
Free Spins
You may get four types of free spins feature at Elements slot:
Fiery "Fire Storm";
Air "Air Storm";
Water "Water Storm";
"Earth Storm" — is a symbol of the Earth.
Depending on the element group, Wild symbols are dropped on different reels, and they are quite different. The bonus game consists of issuing ten free games with additional Wild symbols. It is launched once you get four consecutive winnings. During free games, Wild symbols will be fall out depending on the number of the most played symbols in those four successive winnings.
Types of Wild symbols during free spins
Fire Storm. By being triggered, Wild symbols will appear on the reels 2, 3 and 4. They can randomly move to reels 1 and 5.
Air Storm, when dropped on the playing field during the first bonus spin, gives you the chance to move it to form a pay line.
Earth Storm. If you have launched the bonus game with this element, it means that all Wild symbols will be remaining on the field until they play.
Water Storm. Appearing on the playing field, the symbol turns all the symbols on its reel into wild symbols.
This function started is extremely rare. Most often, it is activated by elements of fire.
Settings
Provider — NetEnt.
Payment lines – 20 (always active).
Volatility – from low to average.
Range of bets – 0.2-100 coins.
Playing field – 5х3.
The maximum winning is 150 000 coins (Red Asteroids symbol).
Bonuses – the Avalanche feature, free spins.
RTP - 96.02%.
How to win at Elements slot? (conclusion)
The most important thing here is to wait for the free spins feature because there is the highest potential of big winnings. In our opinion, the free spins features "Fire" and "Ice" are the best here. We always recommend testing every slot in the demo mode first. It is very important to find out what is the "mood" of the slot, before start with real money. If it's "Cold", then better skip it, you can wait for free spins even 1000 spins. But in the opposite situation (Hot), there is a chance to get several features in 100 spins, that's why is so important to test it before start playing with real money. If you want to start playing it directly, we suggest to use small bets for about 50 - 100 spins, then to move to the bet you were planning to play (if the result is positive). Remember to very careful while playing at this slot, if you miss the chance to stop, it can lead you to zero balance easily.
You may also like the following slots in Fun mode
Written by Vladislav Dibrov