You can play this slot machine for real money in following Netent casinos:





Frankenstein video slot
It is difficult today to find a person who has never heard the sinister history about Frankenstein, a professor obsessed with the idea of the resurrection of the dead, at least once in his life. This story is a fruit of the imagination of English writer Mary Shelley and the character Frankenstein, eventually became a household name, embodied in numerous screen versions, book stories and even children's horror stories. Of course and the developers from Net Entertainment did not stay aside, the video slots which always correspond to the most popular topics, and created an exciting and breathtaking Frankenstein video slot. The percentage of the return is 96.6%, and the maximum payout is 175,000 coins. At first you can play in the demo of this video slot for free and without registration. As you know, the classic topics and books are always in vogue, this also applies to the story of Frankenstein. A lot of gamblers visit this video slot every day and they have many positive results.
Feedback of the tester:
To tell the truth, I really appreciate this video slot. This game is full of fun, fervently and highly dispersive. There are winnings in 500-1000 bets without any problems. The bonus does not give much - it is necessary to wait for successful Wild symbols. Despite of the special design, like at the party Halloween, it is so generous and it has unusual atmosphere, it does not look so horrible. My conclusion is that this game is ideal for playing at medium and high stakes. That`s why I write positive recommendations for playing for real money.
The hidden parameters and settings of Frankenstein video slot
Description of the slot machine: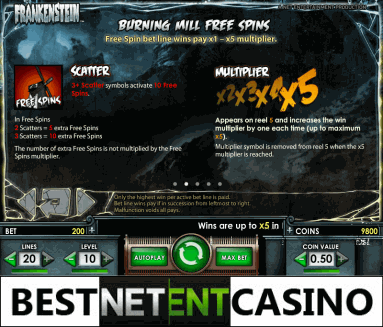 When you launch the game at your disposal, it will have 5 reels, 20 active pay lines and three rows of symbols. At the discretion of the player, you can adjust not only their number, but also the size of the bet before each spin in two ways: the level or the face value of the coin. Developers offer us 10 levels of bets, and the cost of coins varies from 0.01 to 0.50. Thus, the minimum amount for one spin you have only 20 cents, while the maximum will be already € 100. Such a wide range makes the Frankenstein slot machine accessible to all categories of gamblers.
The innovative function which is called the Linked Wilds is realized at the video slot, which launches not only in basic game mode, but also during free spins. Exactly this feature becomes an adornment during the main round, allowing you to rely on good payouts and keep your budget balanced. The wild symbols will spread right to several adjacent cells, increasing our chances of success. In addition, in this video slot there is a function of free spins, a lot of interesting thematic symbols and three-dimensional graphics. You can play on all mobile devices and fixed computers.
The theoretical percentage of return of the made bets makes 96,7%, and the maximum prize reaches up to 175 000 coins. For the convenience of players in this video slot the possibility of automatic play is realized when you specify a certain number of spins and enjoy the game process. As in many other games from this manufacturer, there are many other settings that vary according to your desire.
To get an idea of all the opportunities of Frankenstein slot machine, at first you will need to play it free and without registration using the demo version. The game on equal chances is not provided, and the progressive jackpot is not played out.
Specifications:
Number of reels is 5
Number of pay lines is 20
Cost of one coin - from € 0.01 to € 0.5
Number of coins per line is from 1 to 10
Range of bet sizes is from € 0.20 to € 100
Maximum winnings - 175,000 coins
Wild symbol - yes
Scatter symbol - yes
Free spins feature - yes
The expected percentage of payments in this video slot is 96.6%.
Symbols and payouts:
If you want to get a winning, you will need to collect a pay combination of at least the same symbols on the active pay line. In fact, it will be quite easy to do. All images (there are 9 of them all in the game) are conventionally divided into two categories: thematic and standard.
The thematic images are highly paid, but they make into victorious chains much less often than conventional card denominations. In turn, they belong to the low-paid, but they are often seen on the screen of the reel. Thus, they will compensate you for a small amount of their value. Also, invaluable help during the game is provided by special symbols, about which we will mention separately.
Images of playing cards (from ten to ace) bring you from 25 to 150 coins.
In addition, on the screen you will certainly meet the characters of the famous story - the doctor Frankenstein, his assistant Fritz and, of course, Monster and the Bank with the inscription Brain. A complete pay combination consisting of these identical images will increase your score by 500-1500 coins. The most desired sign is the Monster.
Scatter. An old mill depicted against a background of burgundy sunset is a symbol of dispersion and it launches free spins, before which you will see the animation from the film.
Multiplier. This symbol can appear only on the 5th reel and only during free spins. With it, you can increase your winnings up to 5 times.
Wild. A wild symbol deserves your special attention, since it has several features at once. It appears on three medium coils and replaces all signs except the scatter. The independent payments it does not bring, but it can easily be cloned to several neighbouring cells creating the most profitable pay combinations.
Lightning Wild. A wild symbol which is in the form of a ball lightning dropping out on a 2-4 reels, arranges the pay combinations by converting nearby images into wild signs.
Fire Wild. It appears similar to the ball lightning, but only during the free spins and it represents a fiery wild symbol. It pays the most advantageous pay combination.
Bonus games
There is no thematic bonus game in this video slot. It is replaced by a round with 10 free spins and various functionalities. For launching it, you need to collect at least three scatter symbols. During free spins you should try to collect at least two scatters. It will get an additional five bonus spins, and if you collect the three scatter symbols again, you will become the owner of 10 free spins at once.
The multiplayer symbol can only be present on the fifth reel. Each time it appears there, the winning multiplier is increased by one to the maximum coefficient x5, after which the sign disappears from the playing field. Instead of a wild symbol in the form of ball lightning during the free spins there will appear a fiery Wild symbol that ignites from two to several adjacent ordinary pictures changing them into wild symbols.
Conclusions
By giving preference to this video slot, you will not only know all the secrets of the greatest and terrible history of Frankenstein, but also enjoy the royal victories. Scatter symbols will launch free spins for you with the opportunity of their prolongation, and the additional multiplier will allow you to increase your winnings up to 5 times on occasion. Special compliment goes to innovative wild symbols, which become indispensable to your assistant throughout the game. The amazing and simultaneously crazy atmosphere combined with the great sounds makes this slot machine incredibly interesting and unforgettable.
You may also like the following video slots in Fun mode: