You can play Go Bananas online slot for real money in following Netent casinos:





Go Bananas video slot
On this page, you may find a detailed description of Go Bananas video slot, its built-in features. Also, you may read the game reviews and play this slot machine in demo mode for free and without registration. The RTP is set on 96.9% and the maximum winning per single spin up to 140,000 coins.
Personal testers opinion
This machine loves low-rolling (up to €5). The probability of obtaining any winning in any of the spins reaches 31.50%. Here is better to have enough money for more number of spins. Go Bananas usually show from the very beginning if it is on fire or not. So - make 50-100 spins and decide to continue or to quit according to the result. My maximum payout during the test was 191x my bet.
Hidden parameters and settings of Go Bananas video slot (data from testing)
Description of the slot machine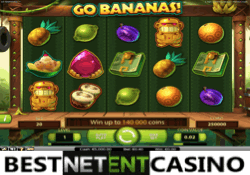 As always, NetEnt developers used an innovative approach while creating this slot machine. This time, there are monkeys, which depend on their tribal affiliation, activates wild symbols in different positions. If you love the interface and the game process, then these five monkeys will become your best friends, whose appearance will give you every time a bunch of positive emotions.
Specifications
This is a 20-line slot machine with 5 reels and 3 horizontal lines. The game process consists of 5 different monkeys that launch wild symbols around themselves in the positions, in which they are programmed to do so.
The appearance is designed in tropical jungle style, and the name itself reflects the general concept of the machine.
The bet sizes per line (20 lines) may have the following values: 0.01, 0.02, 0.05, 0.1, 0.2, 0.5, 1.
The minimum and maximum overall bets may get the values from 0.2 to 200.
The maximum winning per line is 7000 (the bonus functions of the Wild symbol are not included).
The frequency of any winning at the video slot is 31.72%.
The frequency of falling out any monkey dropping, and the start of the function is 24.1%.
Wild symbols
Go Bananas has 5 extra functions of getting wild symbols. They are triggered when 1 of 5 monkeys drops on the playing field. Let us get acquainted with them a little closer (from best to worst):
Gorilla gives a square of wild symbols diagonally (see on the image below). There is a total of 5 wild symbols, which may substitute any symbols.
When an orangutan falls out, the whole square is filled with wild symbols.
Baboon triggers 3 bananas (wild symbols) vertically.
Languor gives 3 bananas (wilds) horizontally.
Tarzir launches 2 bananas (wilds) vertically or horizontally.
Pay-table
According to the game theme, we may get all that we find in the jungle. It is still not clear, why we need so many fruits (perhaps to feed the monkeys), along with the paper money and the huge gemstone. Imagine that we have to feed 5 monkeys, and 3 of them are Gorillas, an Orangutan and Baboon. Few of them are interested in stones and paper. Consider the pay tables at Go Bananas video slot:
The red gemstone (who knows its carats) is the top symbol and it pays the maximum winning per line (€7000). If you get 5 matching symbols, regardless of Wild presence in the combination, we will get 700 coins per pay-line. The maximum winning at slot machine will be 10 at bets level and €1 at coin value (10х700).
Golden statuette with eyes, belly button, third eye (and nobody knows what is there on the back) replaced by precious stones, will pay 350 coins per line.
Bundle of money with a monkey clip will pay 250 coins.
Reels with the image of monkeys will pay us 180 coins.
And for the favorite dish of monkeys, in the form of ice cream, we will be paid 140 coins.
By getting the monkey meal, the ice cream, you receive 140 coins.
Orange pays 70 coins.
Pineapple - 60 coins.
Coconut - 50 coins.
Mango - 40 coins.
Plum - 30 coins (plum in the jungle?).
You may also like the following video slots in Fun mode