Details

Written by

Vladislav Dibrov
Hooks Heroes slot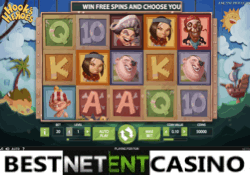 After watching films featuring Captain Hook, a lot of people decided to become pirates and go on a voyage around the world. The unusual story inspires
NetEnt
's developers for a new
Hooks Heroes slot
. The RTP (return to player percentage) is 96.9%. Well, test this slot in the demo mode for free and win up to 194,800 coins right now.
On this page, you will find the hidden data of Hooks Heroes (volatility, the probability of triggering the free spins feature and testers review).
This online slot is a very "straight" machine. If you see that is taking your money away, just shut it down. If you're winning bonuses one after another - make additional 30-50 spins after all action. Hooks Heroes have a 6.4 wagering rating, which is very good for bonus money wagering. The bonus hunters can try to complete here the bonus requirements. The probability of triggering the free spins feature is at the average level and is equal to 0.84% (statistically, every 119th spin). The third part of the total prize pool (31%) will go to the rewards in the features.
The 69% of the prize fund is reserved for the winning during the usual spins. The probability of a hit is 29.14%. Due to average volatility, if you want to win something huge, you will have to bet a lot. But if the machine is cold, at large bets, it forgets that it has features, and it should sometimes give you something to win at least. Try to track the slot's mood and change your stakes according to it.
Another testers opinion: I'm not sure that I'm right, but it seems to me that Hooks Heroes slot allow winning something massive only in the beginning. If you will continue playing it will show you the situation like "you were very unlucky". One additional symbol, one different position, one extra wild symbol. Something small will always be between you and big winning. If you try to increase the bet - the slot will start to "eat" your money straightly. All these three features and mini-features for two scatters are created to have fun. All in this slot is built to take players money without any chances of hitting the big win.
The Hooks Heroes online slot by NetEnt comes with an exciting idea, gameplay, graphics and sound. The developers have worked well on it; as it attracts and makes you want to play. But with all this, not being able to have a long gaming session is disappointing.
In the main game, the slot quite often gives out winning combinations, and two scatter symbols trigger 1 free spin fairly often. This free spin always has a bonus feature. Despite so many chances for winning combinations and bonus features, here you will not see often combinations with a win of 15x - 30x total bets. You can't expect a combination with a win above 100x total bets.
The slot triggers a bonus game quite rarely, usually, at the very beginning of the gaming session and then makes a lot of spins until the next bonus. Although of course, sometimes it happens differently and the slot gives 4 scatter symbols by providing 2 bonus games.
The slot offers 3 bonus features to choose from:
1. Fairy feature offers 7 free spins with the triggering of 2 to 5 wild symbols. Usually, you should not expect a big win with this bonus. In most spins, the slot produces 2-3 wild symbols but not on the active line. The average win in this bonus is 10x - 30x total bets. Only in rare cases, it is possible to get a good combination and a win close to 100x total bets.
2. The pirate feature offers 15 free spins with a rather interesting feature, here, there are no game lines, and the slot counts the total number of the same characters regardless of their location. In theory, this bonus can give a huge win, but in practice, the slot gives out combinations of only three symbols and sometimes gives out a combination of four. The potential of a big win and the average win on this bonus practically do not differ from the previous one.
3. Mermaid feature offers 10 free spins with x2 multiplayer (for combinations without wild symbols) or x4 (for combinations with wild symbols). The potential of the big win and the average value of the winnings also do not differ much from those in the previous bonuses. This bonus gives out good combinations extremely rare.
Thinking about the choice of bonus in this slot is useless. In contrast, for example, from the Jungle Spirit Call of the Wild slot, where the choice of bonus can drastically affect the result, there is a feeling that no matter which bonus you choose, the winning will be approximately the same, although, in theory, the potential of the second bonus is better than the others.
We would recommend playing this slot with bonus money (it is needed to monitor the slot's mood and leave it when it cools down). When playing with real money, we recommend short game sessions to get a bonus in the first 50 spins, since this slot often gives out bonus features at the start. Longer playing sessions are not recommended in this slot.
The frequency of triggering the bonus free spins feature is statistically every 119th spin (0,84%). This number excludes mini-features (one spin) for two scatters.
The probability of a hit (any winning) is 29,14%.
The distribution of the winnings (total) is 69% in the usual spins, and 31% is reserved for the bonus free spins feature. These numbers include mini-features for two scatter symbols.
The maximum winning during the tests was 84x. This is an insufficient number for the slot with a 4,91 volatility rating.
The average winning from the bonus feature was 36x. This is a low number too.
Volatility is 4,91 out of 20 (average). It seems that Hooks Heroes was created for fun play only.
Cycle length is average (stretching - increasing with the number of spins).
The rating of the slot machine for the wagering is 6,40 out of 10.
RTP of 96.9% allows getting a positive mathematical expectation of winning at the casino.
If you have ever thought that it is cool to be a part of Captain Hooks` crew rather than Peter Pan`s, well now you can definitively find this out. Thanks to the "Hooks Heroes" one of the recently released online slot games from NetEnt Company. You will embark on a high-seas adventure where you must gather a pirate crew to help you carry out an act of revenge on Peter Pan, and you will win prizes for every pirate you employ. You will also get the opportunity to play some excellent bonus games covering Wild Captain Hook, a Mermaid Feature, Fairy Feature, and Pirate Feature, and also scattered free spins feature.
Provider – NetEnt.
Maximum possible winning per single spin - 900x.
Wild symbol - yes (Captain Hook).
Scatter - yes (Crocodile).
Volatility is average.
Free spins - yes (3 modes of free games at a choice of the player from 3 scatters).
Special features — yes (3 features, are launched by two scatter symbols).
The expected payout percentage RTP - 96.9%.
Card symbols, decorated in the general category as crushed bones, teeth, shark, clouds, and leaves; will pay you in the successful combination from 5 and up to 200 coins.
Five members of the pirate crew: Fat Man with an eye patch, Nibbler with a scarf, kind girl with a cap made of an abstract, dissatisfied girl in her mother`s beads and a boy in a pirate mask bring to your account from 20 up to 900 coins.
Captain Hook in a cocked hat is a wild symbol. Swinging a hook can replace any element except scatter.
Scatter - this pirate outfit intimidation suits with a toothy crocodile. Two scatters trigger one free spin at the current stake, and three scatter symbols will open access to free spins.
Before triggering free spins, you have to choose one of three functions: 7 free spins with fairy feature; 10 free spins with the Mermaid Feature; 5 free spins with the Pirate Feature.
Like any slot machine, it's best to test in demo mode before you start playing with real money. We think that will not be difficult to define the "mood" because if it takes your money straightly at the very beginning of your session it means it is "cold". Good tactics you can use: If you triggered a few bonuses in a short period of time, do 30-50 spins more and then change the game.
Make your bets according to the "mood" of the machine - low on "cold" and higher if you think it's "hot". The recommended sessions for this slot are short, we think it's more possible to hit something good at the beginning than in a long game. The machine is good for wagering bonus money (6.4 out of 10).
You may also like the following slots in Fun mode