Game is not supported by NetEnt from 2016. Choose another slot below:
Icy Wonders video slot
The Icy Wonders video slot welcomes you to the North Pole. You are presented with very hot prizes to win, with the two progressive jackpots and a fun bonus feature. The RTP in this slot is 93.5%. The maximum winning per single spin is limited to Mega Wonder Jackpot. To do this, catch five characters with an asterisk mark on the playing field in the upper left corner.
Personal review of tester:
It is nothing remarkable. Skip the Icy wonders video slot in your next real money casino session. This machine was shut down by Netent in 2016.
How to win?
Description of the Icy Wonders slot:
A huge glacier with carved elements on it, that is what, comes to mind when you first look at this slot. The blue shades do not look boring, but on the contrary, there is the brightness of the shade and flashing symbols on the reels, the majority of which are moving. Developers from NetEnt, while creating slot machines, are always attentive to the choice of symbols. This time everything is just great: elements have sharp graphics and are expressively different from each other. Can you already hear the cries of birds, penguins joyful chirping and wind noise? Then go for hot prizes in the cold expanses of the pole playing Icy wonders slot in demo mode for free.
Specifications:
There are five reels and thirty pay-lines. You can test the game in a free demo mode. To expose these parameters, you can use button "Bet Lines" and "Coin Value". Now more about the nice surprises that Icy Wonders slot can present you:
The maximum payout per single spin (excluding the jackpots) is 7500 coins which you will agree is not so little.
The ability to hit one of the jackpots - Wonder and Mega Wonder.
The bonus feature involves funny penguins is hiding behind nice trophies. Read about the bonus feature and you can look at it by activating the button «Feature preview» on the dashboard.
Free spins feature (from 10 to 30) with multiplication coefficient of winnings x2.
Free spins feature: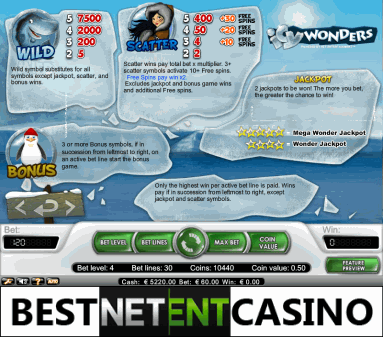 More than three Scatter symbols activate the free spins feature. During the free spins, you can win a jackpot. All wins are doubled.
Three Scatter symbols give ten free spins, four symbols - twenty and five symbols - thirty.
Free spins run with x2 multiplier on all winnings, with the exception of winning the jackpot, winning a bonus game and extra free spins.
Bonus rotation is played on the same gaming bet as the rounds that activate them.
Terms of Jackpot:
Five characters with an asterisk on an active line win Mega Wonder Jackpot.
Four characters with an asterisk, win the Wonder Jackpot.
Jackpot is progressive.
Special Characters: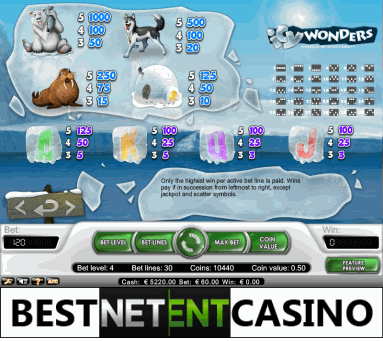 Minimum payments are for the frozen characters in small ice cubes. It is in its power to make the player richer with 5-125 coins.
Other characters include Little House needle, funny walrus, funny dog and White Bear with a fish in its claws. They are more generous and will bring you once 10, 25, 50, 150, 250, 500 and even 1000 coins.
The wild symbol became Keith miracle that swims in the harsh Arctic waters.
Eskimo Girl in a warm fur coat became scatter. It runs free spins feature (from 3+).
Penguin, appearing three times on the screen, claps his hands and takes you into the bonus game feature.
Bonus feature:
Bonus symbols with an inscription from left to right on active game lines triggers the bonus feature.
A colony of twelve penguins appears.
The player must choose the Penguins to win bonus amounts.
The game ends when a gambler chooses a penguin with a fish bone.
The bonus game can be activated during the free spins feature.
You may also like the following video slots in Fun mode: