You can play this slot for real money in following Netent casinos:





Reel Rush video slot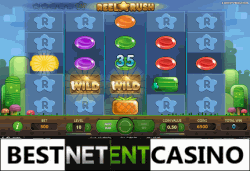 The NetEnt team announced the release of its Reel Rush video slot. Developers again surprised the gamblers. Let`s get acquainted with the result of the work of designers and programmers playing in demo of this slot for free. The RTP of the slot is 97% and the maximum winnings per single spin can be up to 480,000 coins. The machine has a pronounced long cycle of turnover and high variance of winnings. Note, that in 2016 NetEnt launched the clone of this slot in a new design. It is - When Pigs fly slot.
Description of Reel Rush slot machine:
Do you like sweets? This question is not only for women, but males also probably will respond positively. NetEnt created Reel Rush video slot that repeats fruit and candy theme, yet radically different from previous developments. It has not only an eye-catching interface but also the creativity of technical design. Well, fine ladies, of course, still appreciate the fact that even such an abundance of sweets bearing a huge financial satisfaction will not lead to a set of extra calories.
How to win
Tester`s review:
This is an interesting and unusual machine. Play small stakes (10 Euros). Reserve general rate is sufficiently 50. In other words, to play at a rate of 5 Euros, you must have in your account 250 Euros. And if you have 100 Euros in the account, the recommended rate is not more than 2 Euros. Personally, I did not like the slot machine. The mathematical model is very tight. Perhaps I was in a kind of losing streak. Throughout the more than 1,000 spins, the Reel Rush video slot did not let me in. According to a 10-point scale, I would give 5. You may have better luck. Try to play this slot in demo for free on the top of this page.
Specifications:
Coin value can vary from 0.01 to 20 cents, and the number of coins per line can be up to ten. A simple calculation shows that we can put the maximum amount of $100 during the spin.
The maximum winnings per single spin can reach 480,000 coins.
In the case of hitting any winning combination, you open additional squares come free re-spin. If you managed to catch the winning combination on the slot machine again, you will open new additional squares and make one additional respin and so it goes up to 5 times. On the 5th winning in a row you will activate the free spins feature with 1024 ways of winnings.
Paytable
Now, let's take a closer look at delicious symbols of the Reel Rush video slot:
Let`s start from the cheapest symbols - red, green, orange, purple and yellow oval lollipops. Successful combination will pay you up to 50 coins to your balance.
The next group of characters is more interesting, both in form and in payments. Five candies: a blue Plum, a purple Blackberry, a green Watermelon, an Orange, a Pineapple and ripe red Strawberries. These candies gathered on the screen will make your life sweet by adding to the game account up to 10, 50, 150, 200, 250, 500 and 1000 coins.
Gold star became the wild symbol, which appears on all reels except of the first.
Free spins feature:
Now let`s talk about the most pleasant. Of course about free spins feature. You will get 8 free spins at the maximum open field with 1024 ways of winnings. The chances of a big win are increased tenfold. In order to get the free spins - it is necessary to collect any winning combination 6 times in a row. In other words, if you win six times in a row, you get 8 free spins with the maximum possible active lines.
You may also like the following video slots in Fun mode: