South Park 2 slot machine was temporary removed from the Netent line. Date of the returning is unknown.
South Park 2 Reel Chaos video slot
NetEnt company decided to release the second part of the South Park slot. On this page you will find detailed description of the South Park 2 Reel Chaos video slot and its bonuses. The RTP of the game is 96.8% and the maximum win per single spin can reach 650,000 coins. On this page you can play in demo at this slot for free without registration.
Review of the tester:
If to be honesty with you, I do not like this game. Throughout the testing process, I have never released a tangible plus. Perhaps this is a coincidence. In my opinion, the first part is a more complete product. Both in terms of settings, and in the game process. If you want to break the jackpot here, it will be hard to come true your desire. I do not want to tell you a liar or to give false hopes. That`s why I write neutral recommendations for playing for real money.
Probabilities and payouts:
The total percentage of the return in the slot machine is 96.8%. It consists of:
In the main game is 68.2%.
Epic bonus spins (main bonus slot) - 28.6%.
Wild Cartman symbols - 8.2%.
Kenny multiplier is 4.3%.
Respin Wall with a multiplier - 7%.
Wild Kyle symbols - 5.9%.
Probability of falling Epic bonus spins - 0,73%.
Probability of activation of any of the mini functions - 4%.
Probability of getting wild Cartman symbol - 0.73%.
Probability of getting Kenny multiplier - 0.91%.
Probability of falling out of re-spins Wall - 1,39%.
Probability of getting wild Kyle - 0.97%.
How to win?
Description of South Park 2 Reel Chaos slot machine
NetEnt developers try to diversify themes by creating video slots almost without making subsequent variations of the most popular slot machines. Jack Hammer Slot 2 and now South Park 2 became an exception to the rule. Full of humor and often outright sarcasm, features of the main game where the characters struggle with Professor Chaos occur on a background of purple and blue colors. Run this machine from NetEnt in demo mode and get real pleasure from the game play. Well, in addition to high quality graphics performance, stunning animation, and comic sound, you will always be waiting for one of the features of the slot.
Specifications: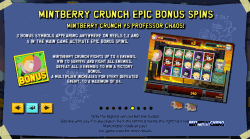 The familiar characters and adventures will meet you on the 20 active lines and 5 hectic reels.
Number of reels - 5.
Number of pay-lines (always on) - 20.
Number of coins per line - 10.
The value of a coin - from $ 0.01 to $ 0.50.
Maximum bet - 100.
Maximum potential payout - 650,000 coins (in a bonus).
Wild symbol - yes (a card with the image of the main character of the cartoon, it is involved in four bonus options).
Scatter - yes (inscription of Bonus)
Bonus game - yes (the option of Respin from wild symbol).
Free spins - yes (the symbol of Bonus starts a prize-winning round of Mintberry Crunch Epic Bonus).
Progressive jackpot - not played out
Double game - no.
Expected percentage RTP - 96.8%.
Bonus features and mini-functions: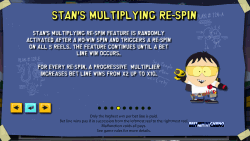 As already noted, the South Park Reel of Chaos offers an abundance of surprises. Of course, during the game you can hardly miss it, but we should explain each of the new features in more details:
Wild symbol, as in the classic emulators helps to finish the winning combinations on the lines, acting as substitute members. But there is also a new feature, and its activation occurs randomly. A Cartman, with a helmet on his head, appears on the field with a few rat minions and then shoots something similar to a laser from their gizmos.
Stacked Wilds: In this feature, players will see another opportunity for the Wild symbol. During the game, one or even several reels are filled with interlinked wild symbols. Just imagine what kind of luck this combination can bring! This feature also starts in random order.
Kenny`s Multipliers: This feature runs in winning the backs and, depending on the pull-down multiplication coefficients, accidentally increases win several times. Receipt of such a bonus is preceded by a fun scene as the two protagonists come into the fray, and above them the reel rotates with painted multiplication coefficients at this time.
Stan multiplying re-spin: Even losing can lead to a success, because for this option, which promises at least a pleasant profit, this feature is possible only in it. When a losing combination reels are run again, if a gambler fails to win even a minimum bid, the rotation is repeated, but with the coefficient of x2. And so if the displayed symbols do not line up in the order you want you can get a re-spin with a x10 multiplier.
Bonus feature
Bonus symbols are not available on all reels, but only on the fifth, third and first. Wait until the characters will be on all three reels and enjoy the bonus round - a Mintberry Crunch Epic Bonus.
In the bonus game you have to fight enemies, going as far as winning from level to level (and here there are 4of them). The multiplication factor can also be increased to values of x4.
You may also like the following video slots in Fun mode: