You can play this slot machine for real money in following Netent casinos:





Victorious video slot
NetEnt never gets tired of surprising. This time the developer invites all those who are interested in the times of ancient Rome. Victorious video slot brings you the sounds and images of the mighty army of ancient Roman Empire. To see the great Caesar in your own eyes and watch gladiatorial fights with the Coliseum stands, you do not need a time machine - just go to the NetEnt casino. The RTP is 96.9%, and the maximum payout per spin can be up to 192 000 coins.
Tester`s review:
You had better to make bets which are multiply of €25. This video slot is a clone of old Ghost Pirates slot machine, but with much greater popularity among players. Victorious slot machine is suitable for fulfilling the wager requirements (wagering rating is 6.72 from 10). The hit frequency is 42.62%. Maximum winnings during testing was 400x. The probability of triggering the bonus free spins feature is 0.69% (every 145th spin). Medium winning during the bonus free spins feature is 50x. I recommend this slot machine for wagering.
The hidden parameters and settings of Victorious video slot
Description of the slot machine:
You will find yourself directly in the field of one of the battles with the sounds of an offensive march and victory fanfare. NetEnt Company tries to make the vastest variety of video slots. This time they did not disappoint the gambler - the soldiers in steel helmets and battle banners look great on a golden-green background. Somewhere in the distance a bloody battle takes place, and a golden eagle, proudly spread its wings once again to remind us of the power and greatness of the Roman Empire, memory about which is still alive today. Experience the former power, become one of the Roman generals, and go on a campaign that is sure to become victorious as the name of the machine.
Characteristics: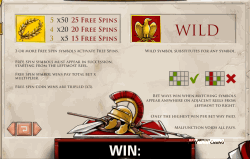 Victorious control panel looks quite traditional: there are reels and some buttons under with which they are managed.
Victorious video slot hostilities take place once in five combat points (five reels), arranged in three rows.
Wild symbols can appear on reels 2 and 4.
To start the free games feature, you need the 3+ scatter symbols (wild symbol can substitute) from left to right in a row.
In one line, a player can bet a coin one to ten, indicating the value ranges from 0.01 to 0.50 cents.
In the setting, you can disable the sound and spin rapid activation function.
RTP of this slot is 96.9%.
Rate size can reach 125 coins and the maximum winning per spin is 192 000 coins.
Joining the legionaries, you have the opportunity to go on as many as 234 campaigns! After all, there are so many opportunities to get winnings in the Victorious slot and to replace the traditional customary benefits to come a new feature - Bet Ways.
Check the specifications:
Number of reels - 5.
Number of pay-lines - 243.
Line Bet - from 0.01 to 0.50.
Max. Rate - 125.
The maximum payout in the Victorious slot machine is 192 000 coins.
Scatter symbol - yes.
Free spins feature - yes.
Wild symbol can substitute for Scatter symbols.
During the bonus free spins feature, all wins are multiplied by three.
Bonus free spins feature: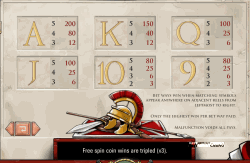 However, in the arsenal of an experienced warrior there is a lot of weapon, but be sure to have special tricks. Among your trump cards:
Golden Eagle - Wild symbol, which replaces all the elements and even the Scatter symbol; Wild symbols can appear on reels 2 and 4, as in normal game and during free spins.
Laurel Branch - Scatter symbol. 3+ scatter symbols in a row from left to right activate the free spins feature. During the bonus free spins, all wins are multiplied by three.
Scatter symbols start the free games; you will not only get the bonus game but the multiplication of its overall rate too:
Three laurel wreaths in a row will give you 3 of their overall rate and 15 free games.
If there will be 4 scatters in a row - you will receive 20 total rates and 20 free games.
For five wreaths - 50 total rates and 50 free games.
Payments: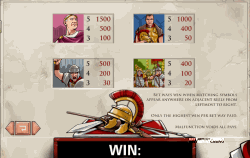 Well, now it is time to get acquainted with its army - special characters on the Victorious video slot:
Playing cards (gold letters on a gray background) in denominations from Ace to Ten can bring you small victories. During the match five symbols, soldiers carrying the banner of victory will pay you from 20 (three) to 400 (five) coins in the playing line.
For character attacking a soldier, you will get from 40 to 500 coins per line.
For the commander in golden armour, you will get from 50 to 1000 coins.
A match for Caesar's in the form of a senator, you will get 100 to 1500 coins.
Wild symbols can create a situation where there are same 6 or more characters. This is where you get the biggest winnings.
You may also like the following video slots in Fun mode: