Details

Written by

Yana Sliusar
Wild Worlds slot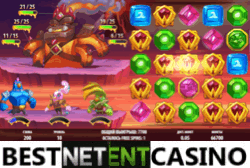 3 Super Heroes are ready to save the world, but they need your help. Therefore, you should trigger
Wild World video slot
from NetEnt company. The provider created it in comic style. You will see fantastic heroes who sit at computers on the slot screen. The playing field is 5×5. Pay lines will be formed horizontally and vertically when 3 or more identical symbols are connected.
The main feature of this online slot is a big choice of bonus features. 2 bonus features are randomly triggered, Super Heroes will launch another 2. In addition, you will find the free spins feature here. Special rules act in them. We advise you to read our feedback and learn the rules of the game, which are valid at this machine.
The long-awaited novelty with the unique gameplay among the slots NetEnt and a large set of bonus features, as well as excellent picture and animation - all this is in Wild Worlds slot machine. Despite the big impression of the game, looking ahead, I will say that this slot was created just to enjoy the game process, as it has an extremely low potential for large winnings, and also the waiting for free spins is not good for the players.
Formation of a winning combination on the playing field of 5 x 5 cells, occurs from three or more identical symbols located in a horizontal or vertical line, while a single row or column can contain more than one win. Due to the fact that the symbols involved in the winning combination are removed and replaced with new ones, as well as due to additional features, several winnings can be made in one spin.
The formation of additional wins helps the feature "Hero Wilds". Triggering of this feature is when in a winning combination there is a symbol of the hero, which turns the remaining symbols of this hero into wild symbols. By itself, the feature is not able to bring a big win, but it is quite good at a minimum and average wins.
Also, the "Destroy Feature" helps for additional winnings, and is triggered in a random way in the empty spin. In this feature, only one colour symbols remain on the reels, and all the others are destroyed (except for the scatter symbols). This feature is not triggered often, and at the same time, it does not realize the potential for issuing a large win, and during testing, in some spins, it brought a 0 win.
Free spins are triggered when three scatter symbols appear on the reels, and launch the bonus wheel, which determines the "world" in which the bonus game will take place. The number of free spins does not depend on the "world" and is equal to 8.
Gameplay in the bonus game is reduced to obtaining the payment combination that "charges" one of the three symbols for striking monsters. While accumulating a full charge, the feature "Hero special attacks" is activated during which blue causes 1 point of damage to all monsters, pink causes 1 point of damage 4 times at random, and green 4 points of damage to one monster.
The number of monsters in each "world" is 3, and each of them has 15 points of health. While destroying each of the monsters, the special bonus feature is triggered (this is where the difference in "worlds" comes, and I will consider them a little lower), and when all monsters are destroyed, the "Boss" appears, which already has 105 health points. The killing of Boss triggers the transition to another world and new 8 spins.
In "Ice World", while destroying Monster or a weak point, Boss launches the series of two Heavy wild symbols that remain while you are forming the payment combination. In Fire Lands, when a Monster or a weak point is destroyed, Boss launches the issuance of 2 - 4 random wild symbols (for 2 spins).
In "Dark Forest", when you destroy Monster or a weak Boss point, Spreading Wild is triggered, which explode along with the other symbols if you form the payment combination, and new symbols are generated on neighbour cells.
The average win in the bonus game during testing was from 15x – 40x bets and the maximum received was just over 100x total bets. While playing in one world, the total winnings were from 60x – 150x, if you managed to move to the second world (16 free spins in total), and when you go to the third stage, you managed to get a total win of 200x+ bets, but "killing" Boss in the third world we couldn't manage it. As I wrote above, I believe that the slot has an extremely low potential for a big win and the chance of getting winnings in 1000x+ bets is almost 0, and its real potential is just 100x – 200x.
Despite the 5 × 5 playing fields and gameplay, which means that the balance can be well-kept, as well as many bonus features, I still think that the slot keeps the balance rather well, and is able to keep it only at medium distances (not always), therefore, I'll leave only neutral recommendations while playing with bonus money. While playing with real money, I personally do not see the point in long sessions due to the low potential of the slot to give a big win, so I would consider only short game sessions in order to get the bonus game from the beginning of the game session and get an average win. And finally, I will express another opinion on the bonus game (rather for the developer): 15+ minutes waiting for the bonus game is not so good.
In my opinion, Netent company has released a lot of new products recently. But, unfortunately, they do not have so high quality, by including Wild worlds slot machine. Although it is a bright slot with bonus games and features. However, you cannot win a big reward in it. Coefficients to win are very small here, despite the frequent launches of the bonus features and bonus games.
The bonus feature is that 3 Super Heroes kill 3 Monsters (due to the pay lines). Then Boss appears who also needs to be killed. In this case, only one of the additional Wild symbols features will help you. When you kill them, then you will receive your winnings of x65 for the entire bonus. It happens in almost all bonuses and even there was x30, although I almost killed Boss. This video slot is not generous in payments, it can easily show up to 50 empty spins in a row. The slot machine is more suitable for those who want to have a good time, and not get the big win. I advise you to play it anyway. Because the slot is interesting, thanks to the bonus features. You can also leave your feedback about this slot machine on this page and share your personal experience with the other players.
The "HERO WILDS" feature is randomly triggered during the usual spins. When the pay lines are formed, then symbols of the same type that did not participate in the winnings will be turned into Wild.
The "DESTROY FEATURE" feature will trigger randomly during the usual spin if there is no win. 1 of 3 Super Heroes destroys all unnecessary symbols. In this case, it leaves only the symbols of its colour on the reels.
The "FREE SPINS" feature is available when 3 scatters drop out. You get 8 free spins in 1 of 3 Worlds: Dark Forest: Spreading Wilds; Ice World: Heavy Wilds; Fire Lands: Random Wilds. The choice of Worlds is random. Super Heroes must kill monsters in each of the worlds, by using the pay lines on the reel. First, they must kill 3 Monsters - 3 Captains and 1 BOSS. 3 Captains have 15 lives each, and BOSS - 105 (3 by 25 and 2 by 15). If you kill Boss, then you will go to the next World. Also, you get 8 free spins to defeat monsters. The number of transitions between Worlds is unlimited, in case of victory over BOSS.
World of Dark Forest: Spreading Wilds. If you win 1 of 3 Captains in this World, then Wild symbols will be added to the reels. These symbols will remain in place until they create the pay combination.
Ice World: Heavy Wilds. If you win at least 1 of 3 Captains in each spin in this World, 2 adjacent Wild symbols will be added to the reels. If wild symbols create the pay line, they will remain in place.
Fire Lands: Random Wilds. In this World, if you win at least 1 out of 3 Captains, then from 2 to 4 wild symbols will be added to the reels.
HERO ATTACKS. Each Super Hero has its own colour and symbols of identical colour on the reels. When the pay combination of symbols of a certain colour falls out, Superhero will strike any of the Monsters.
HERO SPECIAL ATTACKS. Each Super Hero has a super strike indicator. It is filled with 3 successful HERO ATTACKS heroes. When such indicator is full, each of Super Heroes will deal with a super hit: Blue Super Hero takes 1 Life Point from all Monsters; Pink Super Hero takes 1 point 4 times from any of Monsters; Green Super Hero takes 4 life points from 1 of Monsters.
If you select the stake of 1 coin per line, you will receive the following rewards.
Golden stone with the letter W (wild symbol) will deposit your account by 100, 500 or 2 000 coins.
Stone with a crown will pay out 100, 500 or 2 000 coins.
Blue, Pink and Green gold-framed stones will give out 20, 100 or 300 coins.
Square bluestone, Pink rhombus, and Greenstone will increase your account by 5, 20 or 80 coins.
The developer is NetEnt company.
Pay lines - 0 (combinations of 3 or more adjacent identical symbols are paid horizontally and vertically).
Volatility - average.
The range of stakes is from 0.20 to 400 coins.
The playing field is 5×5.
The maximum reward is 1 000 000 coins (when the entire playing field is filled with the wild symbol or Stone with the crown symbol).
The bonuses are random features HERO WILDS and DESTROY FEATURE, HERO ATTACKS and HERO SPECIAL ATTACKS features from Super Heroes, free spins with 3 worlds and the original plot from the scatter.
The theoretical RTP (return to player percentage) is 96.47%.
You may also like the following slots in Fun mode