You can play this slot for real money in following Quickfire casinos:




Dr Watts Up video slot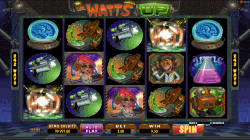 Seeing the first time the name of the slot machine Dr Watts Up, you might think that we will focus on today's popular messenger and once again surprised the turbulent imagination of developers. However, a closer look a little closer, you start to realize that the mobile application under the name consonant WhatsApp nothing to do with, except that it uses a mad-genius scientist Dr. Watt. It is well known that all the great men who gave humanity the greatest discoveries were a little eccentric, but it may very well be that the denial of common standards and enables them to achieve stunning results. A similar thought was expressed by Albert Einstein himself once: "Only those who are taking absurd attempts, be able to achieve the impossible." However, it will be more distracted, and just watch, perhaps, and take an active part in the experiments of Dr. Watt.
Description of Dr Watts Up slot
Here underground laboratory. All around is not only filled flasks and test tubes, but also an arsenal of obscure mechanisms that Dr. Watts continually used in the experiments. Near a tireless assistant and brightens somewhat gloomy atmosphere of a sexual kind helper. Although the professor was not until her charms - he was busy conducting another experiment, raising to maximum leverage all of its mechanisms. The musical accompaniment is though very rhythmic, yet hides and mysterious notes. Listening to a melody, I can not help you catch yourself thinking that is about to happen something unexpected.
Interface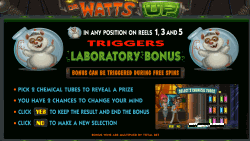 Even if you have technical education of the two universities, do not grasp at first heroically into the hands of a tube or set standing in a corner of the robot. Start with the basics and learn to start the control panel slot machine Dr Watts Up:
Button Spin - launches a spin;
Bet - bet on the spin and hides advanced settings;
Coins - regulates the amount of coins per line;
Coins Size - exposes the denomination of the coin;
AvtoPlay - starts automatic rotation of the drum;
Win - shows winnings for the spin;
Panel Demo Credits / Demo Coins - shows the status of the game score;
View Pays - opens a table with the rules in force in the game, and Paymaster coefficients.
Specifications
Number of reels - 5
The number of lines - 243
The cost of one coin - from $ 0.01 to $ 0.20
The number of coins per line - 1-20
The size range of rates - from $ 0.30 to $ 120
The maximum payout - x10000
Wild symbol - yes
Scatter - yes
Bonus free games - yes
Risk game (gambling feature) - no
Bonus game - yes
The progressive jackpot - not played
The expected payout percentage (RPT) at the Dr Watts Up video slot is 96%
Pay Table
Dr Watts apparently not a fan of card games, so these elements are absent. And as a junior Paymaster characters, the following image: Flask with a pink elixir, the human brain in the same device, microscope and laser, green liquid spills. The characters forming a combination of bonus, share some good benefit to the player, which range between 20 - 600 rates.
The robot, a sparkling green light for eyes, Laboratory-monkey assistant himself Dr. Watts will pay you in case of a successful loss of 120, 200, 400, 600, 800, 1000, 2000 and even 3000 rates.
Wild symbol is represented by a bright logo Dr Watts Up, can not replace the Scatter and Bonus only elements remaining characters are easily influenced by it. In addition to their own combinations it becomes very generous Wild and adds to the score of 300, 2000 or 10 000 bets.
When appears on the screen with a green ball lightning inside, you know - it's Scatter symbol. His appearance (three to five times) coincides with an increase in accounts for 600, 1800 or 6000 rates, as well as the launch of 10, 15 or 20 free spins. And here begins the real experiment fluid boils in test tubes, the robot shining eyes, and assistant just grabs his head. And how could it be otherwise, when, during the Free Spins one of the drums himself transformed into a sparkling flask that says Wild. Selecting the drum is done by one of the devices, and track the number of spins makes the screen of the oscilloscope.
Mouse - a mandatory element of every self-respecting laboratory. I hope you are not afraid of mice, furry rodent since become a symbol Bonus. Once the three mice appear on the reels №1, №3 and №5 will activate the bonus round.
Bonus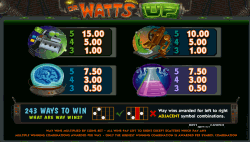 The bonus round offers to take part in an experiment on mice. Complaining Greenpeace makes no sense, because the mouse is unlikely to hurt his reincarnation. Your task is to choose two of the 12 flasks and wait until Dr. Watts will make the necessary manipulations. Smoke, sparks ... But the result obtained during the experiment, you are sure to amuse. Instead of a small mouse in front of you can be a huge mega-rodent, pretty, graceful girl mouse, an entire flock of mice and even cats. You can immediately pick up the prize offered, and you can try your luck again, repeating the choice of bulbs.
Review
The original video slot with an unusual theme. Who would have thought that from boring to prying eyes half-mad doctor experiments can be real fun. Despite the lack of a large number of bonus chips are attracted by everything: quality of design, good music, vivid and entertaining characters. But once in the bonus level, you will watch with interest for reincarnations, forgetting for a moment the winnings obtained.
You may also like the following video slots in Fun mode: