You can play this slot for real money in following Quickfire casinos:




Drone Wars video slot
One of the most popular, and therefore heavily used themes, again flashed on the game's reels online casino. As you probably already guessed video slot Drone Wars dedicated to intergalactic flight, aliens and space wars. Only this time in serious fights humans and aliens will be used more and drones - unmanned aerial vehicles operating on the most dangerous missions. Learn more about space wars and test Drone Wars slot machine for free without sign up you can right now.
Description of Drone Wars slot
Boundless blue space surrounds your spaceship as far as the eye. In its depths lies as unknown, and only by virtue of a daredevil to go on a long journey and resist alien invaders. But they were not long in coming: the porthole machine has Drone Wars flash drones, controlled by space aliens. Do not let the hostile drones approach you, skilfully manoeuvring controls and neutralizing opponents of laser beams. Especially to you for help in flying saucers is already configured in a hurry friendly aliens. But be cosmos-war will be on the soundtrack, the music is very reminiscent of the insert from the movie Star Wars.
Interface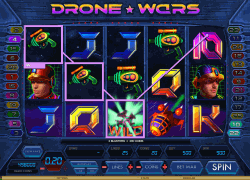 With a mode control panel (Regular or Expert) you control a spaceship - you decide, as well as to determine the rate and number of active lines. Smart car is ready to fulfill your every command.
Press the Spin / Stop - you start and stop the rotation of the drum;
Key Lines - activates pay-lines;
Button Coins - puts a coin on the line;
Window with +/- signs will help determine the denomination of the coin;
Bet Max - starts with the maximum spin rate;
Panel Bet - reflects bet on the spin;
Panel Win - shows winnings for the spin;
Button AvtoPlay - put on autopilot, the computer control to reel;
Panel Demo Credits / Demo Coins - allows you to monitor the status of the game score;
View Pays - opens a table of flights, which are painted in detail the rules and payout at the Drone Wars video slot.
Specifications
Number of reels - 5
The number of pay-lines - 25
The cost of one coin - from $ 0.01 to $ 0.20
The number of coins per line - 1-20
The size range of rates - from $ 0.01 to $ 100
The maximum payout - x1000
Wild symbol - yes
Scatter - yes
Bonus free games - yes
Risk game - no
Bonus game - yes
The progressive jackpot - not played
The expected payout percentage (RPT) of the Drone Wars video slot is 96%
Pay Table
Ace-Ten Symbols painted in acid colors, falling on the active line, disappear mysteriously flicker, but leave his place from 2 to 150 coins. Note Ten, unlike the other card elements, enables payment has two identical characters in the line.
Blaster and spy drone pay you as the winner, the prize 15-500 rates.
Two pilots in the headsets are your assistants. The winning combination they translate into the game by 20, 250 or 750 rates.
Frisbees when friendly, and when not, in any case, you will pay from 50 and up to 1000 rates.
Shining coloured lights Scope - a Wild symbol, which will be familiar to replace any elements except, of course, Scatter. Wild also can form their own play, which makes a player richer 2, 100, 750 or 1000 coins.
Scatter (black hole with bright circles) is worth 5, 10, or 50 total bet and appeared on screen more than three times opens the way to two bonus levels.
Bonus
Having won the right to the bonus round, you can choose one of two scenarios:
Space Attack. You get 5 free spins with extra wild symbols (flying saucer), which will land to expand the playing field and for the whole drum.
Planetary Assault. Reflect attack enemy drones, shooting them with a blaster. Each downed machine will translate winnings to your account. But remember, too, evil aliens attack and you have a total of four shields for protection.
Review
Video slot Drone Wars will be primarily of interest to fans of Star Wars and space travel. But everyone else will love the two versions of the bonus round where you can fight with the aliens (just like in the old computer games), or watch the Wild Frisbees. Feel free to submit your drone into space and test machine Drone Wars.
You may also like the following video slots in Fun mode: