Details
Last Updated: Monday, 03 January 2022 11:45
Wacky Panda slot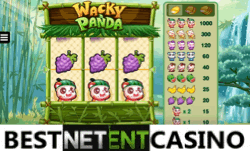 Wacky Panda slot
, represented by
Microgaming
company, the main characters are Asian pandas, which are the same as in the cartoon movie "Panda Kung Fu". It has a special atmosphere of Chinese culture, and here you can find a lot of coins from pandas.
It has not only original themes but also an unusual design. The playing field is represented by three reels with one line for payments. On this page, you can try the demo mode without registration.
The distribution of the winnings is 100% in the usual spins.
The maximum payout during the tests was 249x.
Volatility is 5,52 out of 20 (average).
Cycle length is average.
The rating of the slot machine for the wagering is 3,85 out of 10.
The most simple game process brings great pleasure.
There are only three reels and one pay line, which allows you to increase the chances of winning.
There are three types of bets that identify the size of the winning.
You can bet 1 to 3 coins on the spin, with a range of bets varying from 1 to 15 coins.
A lot of time was spent on the decor.
Grapes and Bananas will bring to the account 20 and 25 coins.
Watermelon, you will get the winning 30 coins.
Panda, who is sitting with his back, will give 40 coins.
Blue and Violet pandas will return 60 and 120 coins.
Yellow panda issues the payment of 300 coins.
Panda with a watermelon cake on the head will return 10 coins for a single symbol, 15 coins for two such pictures and 1000 coins if you collect three symbols.
Grapes pays 40 coins.
Bananas, you will get 50 coins.
Three Watermelons will return 60 coins.
Three Pandas who are sitting with their backs pays 80 coins.
Three Violet or Blue Pandas will give 120 and 240 coins.
Orange panda will give you 600 coins.
For a panda with a watermelon cake on your head, you can receive the payment of 20, 30 or 2,000 coins.
Grapes, bananas and Watermelon give up to 90 coins.
Panda symbol which sits with your back, you will get the winning of 120 coins.
For the Blue panda, the slot will pay 180 coins, and for the purple one, you can get 360 coins.
If you see three Orange pandas, you win 900 coins.
Panda will give you 3333 coins, which has a watermelon cake on its head.
Advice. This slot is suitable for all fans of simple and classic slot machines.
Maximum reward - 49 995 coins.
Pay lines - 1. There are only three reels.
Recommendations. You have to launch this machine because it is worthy of attention and it is fundamentally different from many other developers of the slots.
You may also like the following slots in Fun mode