Details

Written by

Vladislav Dibrov
Last Updated: Wednesday, 11 January 2023 17:59
A KING'S TREAT THAT'S NO TRICK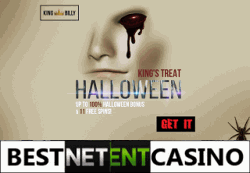 October 31 is just around the corner and the… usual suspects are out to have their party again! Leatherface, Chucky, Pinhead, Jason Voorhees, Hannibal Lecter, Freddie Krueger and of course Michael Myers are on their mission to chill your blood and make your body shiver.
But… wait! Here come cool King Billy and something magnificent happens: your body shivers not from fear anymore but in anticipation. Because King Billy, First of His Line, Guardian of the Realm and Protector of the Players is giving you a Halloween treat that's no trick! Here it is:
Deposit up to €50 (code BOO) and get a 50% bonus!
Deposit €50+ (code BOO) and get a 100% bonus!
Take King's Billy Halloween Quiz and win 11 Free Spins on the Castle Blood slot!
We're off to King Billy's land for Halloween. See you there!