Details

Written by

Vladislav Dibrov
Last Updated: Wednesday, 11 January 2023 17:59
Discover Atlantis and win $50,000 with Bitstarz casino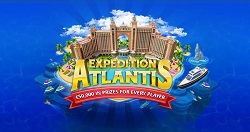 Monday, September 3rd, 2019 – It's time to dig deep, as
BitStarz
has a brand-new promotion that's all about exploring the ocean depths. Expedition Atlantis delivers exactly what it promises, an expedition unlike any other, with some pretty huge prizes in the mix. How does a €50,000 individual prize pool and an all expenses paid trip for two to the Bahamas grab you? Interested? Of course, you are, which why we're bringing you the low-down on the most exciting casino promotion of the summer!
BitStarz is a powerhouse when it comes to promotions – look at Dream Island Level Up, Treasure Island Adventure, and Journey to Russia. The tank certainly isn't empty for this player favourite online casino either, as Expedition Atlantis is a deep-sea adventure that takes action-packed casino promotions to a whole new level.
Levels and prizes
Expedition Atlantis is made up of 40 levels, so if you've played other recent BitStarz promotions, you'll be familiar with the formula. Each level gives you the chance to earn a share of an individual €50,000 prize pool. It doesn't get any better than this, as BitStarz is making this promotion for all – so no matter your skill level there is still a huge amount of cash to play for. We all appreciate the power of cold, hard cash, so Expedition Atlantis certainly isn't afraid to drop some green into the deep blue sea.
This new promotion will let you splash the cash, but what about the top prize we here you ask? Well, if you want to experience the ultimate in luxury travel step this way. The player that reaches Level 40 first will win a trip for two to the Hotel Atlantis in the Bahamas – the world-renowned resort destination. If that wasn't enough, this trip is also all-inclusive – how about that for an amazing top prize?
Already a BitStarz member? Then getting involved couldn't be simpler, as you're automatically entered. Just play your favourite games as per normal, and you can start making your way through Expedition Atlantis' 40 fun-filled levels.
Not a BitStarz member yet? Well, it's time to change that, as you'll need to be a member to make your mark in Expedition Atlantis. Register today, and you'll get your hands on 20 no deposit free spins and a welcome package worth up to €500. Plus, you'll also be able to jump feet first into Expedition Atlantis and start working towards that super-luxurious top prize.
Expedition Atlantis is dripping in cash, with it having a mouth-watering top prize to match. So, what are you waiting for? Discover the lost city of the sea and all the riches it has to offer today!