Details
Thank you for rating this article.
You can play Divine dreams online slot machine for real money in the following Quikckspin casinos:





Divine dreams slot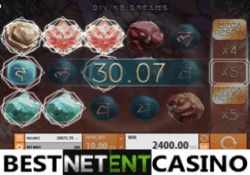 You will get to the forests of Indonesia at the new Divine dreams slot machine from Quickspin company. There are a lot of bonus features, namely a multiplier up to x7, wild symbol with the additional multiplier up to x10, the "Super re-spins" function with the multiplier up to x20, the "Mega re-spins" feature with the multiplier up to x30, free spins with a lot of features. This machine has 5 reels, 243 pay lines. The expected RTP (return to player percentage) is 96,51%.
Review and recommendations from the testing team
Divine Dreams slot is one of the few slots from QuickSpin developer company that left me with a good feeling. In addition to the colourful symbols and pleasant sound, the slot has an interesting playstyle with a big set of features for this provider, multiplier for each spin, and free spins. I was not disappointed by this slot, it has the potential for triggering big wins, and it is not only fully realizable but also reached during free spins feature and during the usual spins.
In the usual spins, the slot sometimes gives out long series of empty spins (with no payment combinations), and this even with its 243 pay-lines. The payouts given in this case are most of the time small and vary from less than the normal bet size to several bets.
It is possible to get bigger wins due to the multiplier or one of the bonus features, among which are: Yin Yang Wild, as well as "Super Respin".
It is not often possible to get a big win without hitting the multiplier reel since a high multiplier (maximum x10) is not triggered most of the time, or when is given there are no winning combinations. In most cases when you have a payout the multiplier is x1-x3.
When Yin Yang Wild symbol is given on the bonus reel, this will trigger two guaranteed wild symbols on the game reels (with random position), as well as a multiplier randomly selected by the slot. As a rule, it is not possible to get a big win when this feature is triggered, and it brings only average values from several to 20x bets (extremely rarely - more).
When "Super Respin" symbol is shown on the bonus reel, this will trigger more wild symbols, which can fall during re-spins (as a rule, they are not given, or you get only 2 wilds, and it is extremely rare to trigger more symbols), and also increases the maximum multiplier up to x20. In most cases when triggered, this feature brings only small (from several to 20x bets) and medium (from 30x to 80x) wins, but sometimes it's quite big, and during testing, it was possible to get payouts of more than 200x and more than 300x total bets. Also, during the re-spin, when the Mega Respin symbol is given on the bonus reel, another additional spin can be triggered.
"Mega Respin" feature is triggering more wild symbols and multiplier increase to maximum x30, while the payouts for both spins are added up. Even with its big potential, when this feature is triggered, the winnings are within 30x-80x bets (the sum for both Super and Mega spins), but sometimes during testing, it was possible to get wins in the range from 150x to 400x.
Triggering re-spin features in the usual spins is not happening often, and, as a rule, the slot gives them out during free spins.
Free spins are not triggered often and, basically, the slot most of the time gives only 3 scatter symbols (that's 8 free spins), but during testing, we still managed to get 5 scatter symbols (worth 20 free spins). The re-trigger feature is replaced by +3 spins symbol, which awards 3 additional spins. It is given on the bonus reel along with multiplier and bonus features. At the same time, the number of spins most of the time does not affect the overall payouts, and it depends more on the number of bonus features triggered (during free spins, the slot is also giving "Super Respin, "Mega Respin", as well as the random multiplier during each spin). Bonus features triggering during free spins is happening quite often, but has exactly the same potential as in the usual spin (can also give you very small winnings). Despite the potential to get big wins, especially with the fact that the bonus features are often triggered. The average payouts are only within 20x-60x bets, and less often winnings reach 100x-150x, and the maximum, during testing, was a little more than 200x total bets.
In my opinion, when bonus features are triggered, the slot realizes its potential better in the usual spins, and not in the free spins.
Despite the sometimes good balance keeping, which is made by the large number of pay-lines and often given wins, as well as the good portion of bonus features triggering, I would still not recommend this slot when playing for the bonus money, as there are slots from other developers that are better for these goals. But if you choose from the slots made by this developer, then Divine Dreams will not be the worst choice. When playing for real money, I would recommend average distances of 200-300 spins, since the potential for big winnings at a short distance of 20-50 spins is not high, and the slot rarely realizes it from the start of the play session. You should not do long distances of more than 500 spins, because if Divine Dreams is "hot", then it often realizes its potential in the middle distance, and the missing of a биг payout on it means that Divine Dreams is "cold", this can lead to a big loss of balance.
Symbols and winnings
Elephant figurine will bring you 100, 250 or 1500 coins.
Figure of the squirrel will deposit your account by 75, 200 or 750 coins.
Monkey figure will give out 60, 125 or 500 coins.
Figure of the turtle can give you back 50, 100 or 400 coins.
Fish figurine will increase your account by 40 - 300 coins.
Stones with different ornaments will be able to return players up to 200 coins.
Bonus feature
The mystical multiplier for winning is triggered in each spin. You can get the additional multiplier from 1x to x7.
If wild symbol and Yin Yang Wilds inscriptions fall out on the reel, then the additional multiplier up to x10 will be used.
The "Super re-spins" feature is triggered when the corresponding inscription appears on the reel. In this case, the winnings can be multiplied to 20x.
If Mega re-spin sign appears, the slot will give out re-spins with the additional multiplier up to x30.
The "Extra Wilds", "Super Re-spins", "Mega Re-spins" special features and the additional free spins are triggered at this online slot.
You may also like the following slots in Fun mode