Details
Thank you for rating this article.
You can play Durian Dynamite online slot machine for real money in the following Quikckspin casinos:





Durian Dynamite slot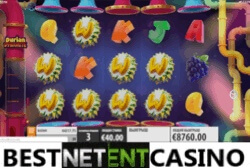 Quickspin developer team has this original Durian Dynamite slot. It has a good bonus feature that should be known. So, the game is played on 20 fixed lines. The maximum bet per spin is 100 coins, allowing you to hit the maximum winning of 100 000 coins. And now about bonuses. Those are "Dynamite Launch Feature" and free spins feature. So read the review, learn the rules, test the slot and leave your comments.
Feedbacks and recommendations of the testers
Right after it's release, Durian Dynamite slot has become very popular among players for its interesting game play, as well as the high potential of triggering a big win, which, in my opinion, the slot does not do very often.
The game play of the slot can give you the special Dinamyte Wild symbol on the third reel. During which "Dynamite Launch Feature" is triggered, exploding and splitting into 2 regular wilds. If any of those wilds get into the already located one Dynamite Wild, on Dynamite reels, then it adds to the reels several additional regular wild symbols (on average 2-3, less often 4, instead of one), which can happen one after another, and this leading to covering the full screen. In fact, getting into the already located on the reels Dynamite Wild is very rare and often only once. Most of the time wild symbols are located so to say "not in the best place", which does not bring big wins.
In the usual spins, without triggering "Dynamite Launch Feature", the slot gives out only small winnings ranging from less than the normal bet size to only a few bets, while sometimes making long series of empty spins, which lead to loss of balance. The bonus feature is triggered often, on average at a distance of several dozen spins (less often longer). Given that by the time you trigger the bonus feature, the usual is giving only 2 Dynamite Wild, and to connect to already shown rarely happens, because of that the potential for the big win is almost not existing. On average, won a few bets, rarely reaching bigger winning of a few tens of bets and almost missing the potential of winning a few hundred bets.
Triggering of free spins feature is often single at a distance of 60-80 spins, but sometimes the slot making you wait longer, which is often compensated by a series of free spins features. This sometimes reaches 4-7 features almost in a row. Before the free spins, the player is offered a set of free spins upgrade packs, which initially consists of 2 Dynamite Wilds, 1 Dynamite reels, as well as to add free spins.
During the opening, additional Dynamite Wilds, Dynamite reels, spins of 1 to 3 additional selections can be obtained. At the same time, I cannot say that any of the features that can be won or numerous spins is surely giving a huge win. And this often depends on whether the Dynamite Launch Feature will connect into the already there Dynamite Wilds, giving the maximum number of wild symbols. Even with the top combination (the maximum set of bonus features), this may not happen, but with the minimum, it may well be. During testing, it was not possible to get a huge number of wild symbols and as I wrote above, often Dynamite Wild symbols miss or give wild symbols not where you want.
The average win during testing was 40x-80x bets, with an average set of 2/3 Dynamite Wilds, 2 Dynamite reels and 10-12 free spins. At the same time, in most of the bonus features, the winnings were minimal, despite an even better set of features, the average values of which were 3 Dynamite Wilds, 2
Dynamite reels and 10-12 free spins, the win was only 6x-18x total bets. However, during the tests, it was still possible to get a bigger win of 160+ bets with the combination of much worse, with minimal winnings (3 Dynamite Wild +1 Dynamite reels +11 free spins). The developer recorded three wins of 209x with the same set of features 4 Dynamite Wilds + 3 Dynamite reels + 11 free spins. The maximum winning recorded by the developer has so far reached only 239x total bet, which can probably be called almost a real maximum of the slot. Despite the colorful and interesting Durian Dynamite slot, I do not recommend you to play the game for bonus money. While playing for real money, it is not recommended using a strategy of progressive bets, as well as long gaming sessions.
Alternative tester review
This is a regular slot from Quickspin company, it is not something special. This slot gives little but can do it very often. For a long time, I could not trigger the bonus feature. The bonus is triggered while playing at high bets, a little less often when choosing small bets. But the average winning did not give much, some prizes up to 20x. As a result, I still managed to take away at least something from it, triggered the bonus feature and got more than 300x total bet, which is very good for Quickspin Slots. Well, in general, Durian Dynamite slot is quite suitable for playing for real money.
Bonus features
"Dynamite Launch Feature". It is triggered if the Dynamite wild symbol appears on the third reel. To the left of the reels, there is a flask for Dynamite Wild, from which two additional wild symbols fall. If an additional Wild falls on Dynamite Wild, it split into three wilds, and if any of those wild symbols falls on Dynamite Wild, it is divided into two more regular wilds.
The free spins feature is triggered when the slot gives you three "bonus" symbols on reels 2,3 and 4. You are given three attempts from "free spins picker" with a chance to increase the number of wild symbols in Dynamite flask to four, the number of free spins up to maximum 36 and the number of Dynamite reels to three during the free spins. Also, you can be given additional attempts at "free spins' picker"— up to three.
Technical parameters
Developer – Quickspin.
Pay lines — 20 (fixed).
Volatility is high.
The betting range is 0.20 - 100 coins.
The playing field is 5×3.
The maximum payout is 100 000 coins (when covering the entire playing field with wild symbol).
Bonus features — up to 36 free spins with additional features from scatter symbol of Bank and the "Dynamite Wilds" feature.
Return to player percentage (RTP) – 96.22%.
You may also like the following slots in Fun mode