Details
Thank you for rating this article.
You can play Dwarfs gone wild online slot machine for real money in following Quikckspin casinos:





Dwarfs gone wild slot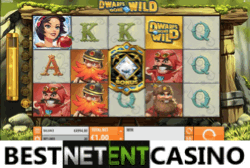 Quickspin company has been releasing slots with original bonus features for a long time. But Dwarfs gone wild slot surpassed all our expectations. It has an incredible number of bonuses. At first, we will discuss the topic of the game. Everybody read in childhood about the beautiful daughter of the king, her envious stepmother, dwarfs, a poisoned apple and a miraculous rescue by the forces of the prince who falls in love.
Our developers devoted this slot to the famous fairy tale. You will meet your favourite heroes again, and you will receive large payments. As you understand, the main heroine is Snow White, and her friends – 7 dwarfs, they are looking for precious stones in the mine. Luck will be on their site and yours as well because every dwarf has a superpower. Shortly speaking, you are being waited for 7 additional features in this game, which are active in free spins. During the usual spins, you will accumulate your bonuses. RTP - 96.38%. The maximum winning is 6 000 coins.
Review and recommendations from the testing team
Dwarfs Gone Wild slot has both its positive and negative sides. On one hand, the slot has very good potential with some high potential bonus features during free spins, on the other hand, the slot needs a large supply of bets because waiting for free spins to trigger can make you lose a lot of balance.
In the usual spins, the slot is bad at keeping your balance, while only giving out only small wins ranging from close to the normal bet size to just a few bets, which rarely reach higher prizes 10x-30x bets, while sometimes making long series of spins without winnings. The "Magic Mirror" feature, which is triggered often (but sometimes when longer distances happen, the slot gives series several triggers in a row), helps you by giving bigger wins.
During the "Magic Mirror" feature, 300 Snow White symbols are added to the game reels and 2 re-spins are awarded. The average win in this feature ranges from a few bets to only 20x bets, which only sometimes reaches 40x. Rarely, during testing, it was still possible to get bigger winnings up to 100x total bets, even with the fact that the potential of this feature is much higher.
Free spins are triggered when 3 scatter symbols are given, or when "Golden Minecraft Bonus Meter" is fully completed. Every win having Dwarf symbols adds to "Golden Minecraft Bonus Meter". The number of bonus features gathered playing usual spins is transferring to free spins accordingly. It is better the slot to trigger free spins with a minimum number of bonus features, which actually happens more often with 1-4 of them gained. Free spins with the maximum number of bonus features don't happen often, even when all are triggered the big win is not guaranteed, but at the same time, this will require a lot of bets while waiting.
During free spins, the following bonus features are possible: "rolling wilds", "spreading wilds", "throwback wilds", "full reel wilds", "free wild", "extra free spins", "win multiplier".
The "Throwback Wilds" feature triggers 2 to 5 random wild symbols and places them in random positions on the reels. This feature rare gives the huge win and often only helps with the slot triggering a large number of symbols of the same kind.
The "Spreading Wilds" feature triggers one wild symbol on the reels, which will explode, adding another 2 to 4 wild symbols next to its positions. Depending on the location and numbers of added wild symbols by "Spreading Wild", the final payout will depend, but often they are not big.
The "Full Reel Wilds" feature makes 1-2 reels full filled with wild symbols. This features have one of the highest potentials, since it is rare, but still able of triggering full wilds for example in the first and second reels, or in the first and third, which often brings quite a big win. But more often one full wild reel is triggered, and in case they are two the distance from each other is big (for example, the first and fifth).
The "Win Multiplier" feature is triggered after all the pay combination are gathered in the spin (either the usual spins or after one of the bonus features) and multiplies it by the multiplier from x2 to x5. During testing, I was not able to get multiplier above x2. Often this feature is triggered on small payouts for several bets, but sometimes it is very successful, making very big wins of 40x-80x bets.
The "Extra Free Spins" feature awards from 3 to 5 additional spins. During testing, it was possible to get only one bonus feature of this kind with 5 free spins added, every other time it was 3.
The "Rolling Wilds" feature – Wild symbol is randomly placed on 3, 4 or 5 reels. For every re-spin, Wild symbol will move one position to the left. The feature itself has the lowest potential for making huge winnings because it awards only one wild symbol, but sometimes during the following spins, the slot gives very big payouts.
The "Free Wild" feature triggers only one wild symbol, but placing it in the "best" possible position, forming the most expensive combination.
Bonus features during free spins may be repeated, or any of the bonus features may not be triggered at all.
The average total winning (just the average, as it depends on which bonus feature was triggered and how well it has played) during testing in free spins with one bonus feature was 14x-40x bets, less often reaching 70x. With two bonus features, there are already 20x-60x total bets, less often reaching 90x bets, and also periodically giving out winnings of less than 20x. With three bonus features, it was not possible to get average wins and they all were around 10x-35 total bets, but the developer recorded a win of 200x bets. With four bonus features, the average was 100x, sometimes giving minimum min within 20x-40x total bets, as well as bigger wins of 200x.
With five bonus features, the average win was only 50x-60x bets and it was not possible to get bigger wins during testing. We managed to get free spins with 6 bonus features only 1 time and the winnings paid was 150+ bets. The top combination when 7 bonus features are triggered do not always give the huge win, and during testing, most of the time winnings were only 100x-130x bets, with sometimes also paying "minimum" for 50x-80x. The maximum payout was 230+ bets (the maximum recorded by the developer was to 319x total bets). Most of the free spins features were triggered with of 2,3,1,7 bonus features in play (with 2 been the highest triggered bonus feature seen, then 3, then 1 and fewest was 7).
Personally, I would not try to wait until I get 7 bonus features triggered since the win rarely reaches big values and the slot can give similar average payouts during free spins with 2-3-4 bonus features, which are triggered at a shorter distance. This will make you lose less balance, I would recommend only medium distances of spins while waiting for free spins. Short distances are not recommended in Dwarfs Gone Wild slot, because there is almost no potential of getting big payouts when 1 bonus feature is triggered. Those recommendations we give while playing real money. This slot is not recommended playing for bonus money. A progressive betting strategy is not recommended since it does not make any sense in this particular slot.
Hidden parameters and settings of the slot (data from the testing team)
The frequency of triggering the bonus is statistically, every 227th spin (0,44%).
Distribution of the winnings is 60% in the usual spins and 40% in the bonus feature.
The maximum payout during the tests was 742x.
The average winning from the bonus was 59x.
Volatility is 11,13 out of 20 (from average to high).
Cycle length is from average to long.
The rating of the slot machine for the wagering is 2,51 out of 10.
RTP of 96,38% allows getting a positive mathematical expectation at the casino.
Bonuses from dwarfs
Throughout the usual spins, the features for free spins are accumulated until 3 bonus symbols of Diamond fall out.
It means that every pay line with dwarf deposits the scale of the bonus.
You will see 7 gold trolleys to the left of the playing field.
Each of them is responsible for a certain additional feature.
7 dwarfs are 7 functions.
Only those features, which have accumulated before launching, will be active in free spins.
And we will tell you about every bonus separately now.
Dwarf blond man will pour out a vat with red-hot gold on the screen and turn one of the reels into wild.
Dwarf with a red beard will bring a barrel of gunpowder to the playing field. There will be an explosion, and several wild symbols will descend into these cells.
Dwarf in a red suit will race over the reels in the trolley and scatter wild symbols.
Dwarf strong man will ride through the playing field and scatter wild symbols.
Dwarf in a hat will double your winnings for 1 spin.
Dwarf hunter will shoot at the symbol and turn it into the wild to create the most profitable pay line.
Dwarf wizard will give you 2 additional free spins.
You may also like the following slots in Fun mode