Details
Thank you for rating this article.
You can play Firestorm online slot machine for real money in the following Quikckspin casinos:





Firestorm slot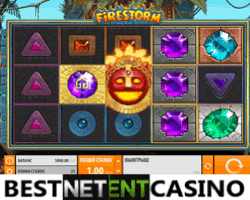 Developers of Quickspin company often produce simple slots, which are endowed with a minimum number of bonuses but are capable of bringing good rewards. Firestorm slot is a bright representative of software from the leading developer. Two wild symbols, one of which launches the bonus, are the only additional options. The highest-paid symbol combination will replenish the account for 2000 coins. You should remember that the percentage of returns is quite high (96.56%), so the risks of losing are minimal.
Firestorm slot will give players a fascinating and exciting journey into the mysterious world of the vanished Maya civilization. In the process of playing, you can once again make sure that the untold treasures of Maya still exist, but to get them, you will have to put a little effort and patience. You should only play one time in this slot machine, and you will return to it again and again. This slot machine attracts gamblers with an exciting story line, beautiful design and good payments. The soundtrack is quite simple and consists of the natural sounds of the jungle.
Review and recommendations by our testing team
Firestorm slot, even with its game play that has a very good potential for winning, is not doing very well and in general is not reaching its potential, giving winnings several times less than the winnings the developers said it would be. So, even with the maximum possible win of 2500x bets (full-screen wild x5), its real potential is not more than 250x, and, I will go forward and say that the maximum win that could be won in this machine was only a little more than 90x total bets.
In the usual spins, Firestorm is making small series of "empty" spins with winnings from less than the normal bet size to only 3x-4x bets, rarely giving combinations with prizes up to 10x-15x total bets, and the maximum gain in the usual spins (without the bonus feature) was only 30x.
One of the good sides from this slot is that the bonus features are triggered often, when having good luck, once in a few dozen spins, but sometimes the slot is making you wait longer in a series of spins with no bonus feature triggered. The bonus feature is triggered when two bonus symbols are shown, which is also playing the role of wild symbol. When the bonus feature is triggered, in addition to the bonus symbol and wild symbol, the slot randomly selects another symbol that is blocked for the duration of all re spin. Re-spin continues until one of the selected symbols is shown on the reels.
Collecting bonus symbols increases the multiplier, the maximum value of which is x5. Even with the good potential for a large win, because of the low prices for the payment combinations made by the provider, most of the time winnings in the bonus feature is 10x-35x bets, less often – they are close to 100x (it was possible to get once), and the maximum gain recorded by the developer in Firestorm was 500+ total bet. In my opinion, the slot is not releasing its potential, because of its low prices for combinations, so it is not recommended for long gaming sessions while playing for real money. When you are playing with bonus money, this slot machine is not recommended also, because it is bad at keeping your balance.
Personal testers opinion
I suggest you better missed this slot if you are trying to complete the bonus requirements; wagering 4,53 out of 10. During testing, my biggest winning was 153x my bet, with the pay combinations formed in 31-32 spins out of 100.
Hidden parameters and settings of Firestorm slot (data from the testing team)
Wild symbols
The pay combinations are formed on 25 pay lines. The player cannot change their activity.
Wild symbols became the main symbols. One is represented by a fiery mask and the other by a corresponding inscription on a green background.
Special Mask options are allocated with exclusive bonus features. It replaces all the pictures in the game, and also runs free spins.
The re-spin bonus will be launched when two or more wild symbols appear.
When bonus spins are active, wild symbols, as well as a randomly selected character, are locked.
If the additional symbol creates a winning combination, one more re-spin will be added.
Also, Fire Mask will give an additional multiplier to the wins with three or more symbols.
For three characters, the winning is doubled, x3 and x4 multiply four and five fire masks, but six characters will increase the reward by x5.
Symbols and payouts
If you catch a combination of three or more symbols, then the colored emblems with stones of different sizes (rectangle, rhombus, circle and two triangles) will return to the account from 8 to 60 coins.
Purple and Blue stones offer a payment of 20, 60 and 160 coins.
Green, Red, and Violet (gold-framed) stones give out prizes in 40, 80 and 200 coins.
Green wild symbol brings payout in 160, 200 and 2000 coins.
You should pay attention to the fact that all wins are indicated when you will be playing at the highest bet.
Settings
Recommendations: to get more pay combinations, you need to make the maximum number of spins, playing at the same bet.
The volatility is average. The re-spin mode is activated at a high frequency and brings the maximum number of rewards.
The maximum winnings are 2000 coins. Wild green symbol gives out this win when using the highest bet.
Active lines are 25.
The percentage of return is 96.56%.
Tip: the option of re-spin is run more often while you are playing at low bets.
You may also like the following slots in Fun mode