You can play Wild Nords online slot machine for real money in the following Red Tiger casinos:




Elephant Treasure Slot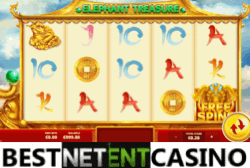 Elephant Treasure slot has almost standard functionality for Red Tiger. The slot keeps a fairly good balance and has a good potential for giving out large winnings. The slot is not very popular among players, which in my opinion, is unjustified, although the slot has its own soul. In this slot, you can enjoy original free spins feature and the opportunity to get an instant win of 30,000 coins. 20 pay-lines take part in each spin. Moreover, the RTP is set at 96.1%. In general, this slot has something in common with the Wild Fight slot, which is more popular among players, so it will be completely appreciated by those who prefer such slot machines.
Review and recommendations by our testing team
In the main game, despite large series of spins without winnings, the slot, in comparison with, for example, the Wild Spartans slot, gives out winning combinations, sometimes up to full-screen and quite large wins (60x - 120x total bets). However, most of the winnings bring an average of 0.25x - 3x bets, less often giving out 5x - 30x, which combined with bonus features are enough to keep the balance.
Additional winnings you can win from randomly triggered wild symbols on the reels. During this feature, the slot is able to give out from 3 to 9 wild symbols, an average of 4-6 and an average winning in the amount of 5x - 10x total bets (less often 15x - 25x). This additional bonus feature is triggered quite often (up to several spins in a row), as a rule, in series and with a large distance between series, which can reach several hundred spins.
The bonus game in the slot is triggered by bonus symbols on reels 1, 3 and 5 and has completely simple gameplay, which doesn't require the player to do anything at all, except to watch the instant win, which the elephant pours (up to 888x total bets). In the daytime, the elephant gives out winnings in the range of 18x-38x bets (less often more or less). During the transition at night, the elephant gives out the greatest win, an average of 120x - 160x total bets with a potential of giving up to max win (888x total bets). The transition to the night mode slot gives, as a rule, once in every 3-5 bonus games, but sometimes in series of 2-3 times in a row.
This slot triggers free spins when activating the corresponding symbols on the 1, 3 and 5 reels. This feature is not triggered very often, while often in a series of 2-3 times, with a small number of spins between them and with large distances between series, which can exceed several hundred spins. In total, the statistic shows that the free spins feature is triggered in an average of 150 spins.
During the free spins, slot excludes the issuance of such symbols as 10, J, Q, K, A, so, there are only the most expensive symbols. The potential for getting a big win during free spins is very high, and the slot often is giving expensive combinations, up to a full-screen. The average winnings during free spins are 80x - 120x total bets, less often, 25x - 50x bets and the maximum winning was more than 200x total bets. This slot is quite suitable when playing with bonus money, but it is worth noting that the slot can give positive and negative series of spins, which are sometimes quite long, so it is recommended to have a reserve of bets balance of at least 300 bets. I would also recommend leaving the slot after an expensive combination (from 150x bets) during free spins. Similar recommendations when playing with real money.
Bonus features
Golden Elephant is a bonus symbol. Three symbols trigger a random number of free spins. In the feature, all low paid symbols will be removed from the playing field. There will also be an additional high-paying super symbol so that you can get the maximum winnings.
The inscription Bonus is a special symbol. Three such symbols give instant winnings up to 888x total bets. Coins and green balls sprinkle on the screen, and they will determine the number of winnings.
The green ball is a wild symbol. It replaces all the symbols and will randomly fall on the reels.
Specifications
Size - 5x3;
Lines - 20;
Volatility is low;
RTP (return to player percentage) is 96.1%;
The maximum winning is 30,000 coins.
You may also like the following slots in Fun mode