You can play Gold Star online slot machine for real money in the following Red Tiger casinos:




Gold Star Slot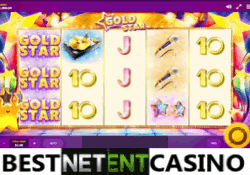 Gold Star slot belongs to a series of slots with the accidental (replaced) symbols and has a certain similarity (but is not a clone because of a difference in a number of lines, lack of free spins and according to other distribution of a pool and return) with Lucky Little Devil slot. It can be carried to "standard" and "typical" for Red Tiger provider. As here we see already habitual "picture", familiar and quite standard functionality and potential of giving a big prize which maximum value is equal to 444,000 coins. By the way, RTP is equal to 95%, and high volatility works. The probability to break a prize is on a mark of 17.67%.
Review and recommendations from the testing team
During the usual spins, despite 20 game lines, the slot rather often allows series of spins without advantageous combinations and given to a combination (without participation the bonus feature), as a rule, insignificant, and bring from 0.2. up to 6 bets. The biggest prizes are given a loss of a large number of accidental symbols, or at activation the bonus feature (deliveries of accidental symbols by Star). It is possible to allocate with the plus that advantageous combinations are considered not only in both sides but also (reels 2 3 4) located on the centre.
During the usual spins randomly it is triggered the Gold Star function in which Star gives several accidental symbols. Often, only 5-7 symbols are given. Minimum, during the test Star, gave 4 accidental symbols, and the maximum quantity was 10. At the same time, instead of accidental symbols with the minimum payment are given, as a rule, (10, J, Q, K, A) less often - more expensive symbols. The average prize varies ranging from 1 up to 25 rates, less often the slot gives larger values to 100 rates. Usually, it occurs at activation the second bonus feature when Star replaces originally given symbols (which were given instead of an accidental symbol) on more expensive. The activation of this function happens rather often, big series, but sometimes to a large number of the spins between series.
Also, Star can trigger giving of Full Screen of accidental symbols (by analogy of the "devil tricks" feature in Lucky Little Devil video slot) that it can to bring a prize up to 888. During testing, it was succeeded to receive this function practically from the start of a game session and the winning of 300 bets.
This slot could be quite a good decision for the performance of wager of requirements and, respectively, a game on bonus money. But sometimes it is "cold" therefore it is necessary to look at "mood" of the slot at the beginning of the game session. At a game on real money (at a large supply of bets - from 250-300) it is possible quite to try "to pressurize" the slot before receiving a combination of a full screen. The short distances (game sessions) seldom bring a desirable result.
Settings
The size – 5х3;
Lines – 20;
Volatility – unknown;
RTP– 95%;
The maximum prize is 444,000.
You may also like the following slots in Fun mode