You can play Golden Offer online slot machine for real money in the following Red Tiger casinos:




Golden Offer Slot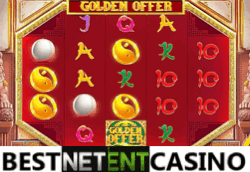 Golden Offer slot cannot be added to the classic slots from the company Red Tiger, because of the non-standard playing field. There are 3x5x5x5x3 reels and 40 fixed pay-lines. The maximum bet is 80 coin and the biggest win is 400 000 coins. This slot has a completely standard set of bonus features, but not quite a typical bonus game instead of free spins. Be sure to read the detailed description of the rules below. The RTP is set at 96%, the frequency of winnings is 25.63%. By the way, pay special attention to the tester review. It provides recommendations for the game.
Review and recommendations by our testing team
In the main game, the slot makes large series of spins without winning combinations, while, despite the slot's potential to give win up to 888x total bets, the triggered combinations are not significant, and the average win for them is only 0.5x-5x bets. The potential for a larger winning in the main game is extremely low and often possible only during the activation of one of the bonus features.
Triggering of bonus features mainly occurs 3-5 times in a series (during the tests, it was possible to get 3 additional bonus features in a row for 3 spins). Inside the series, as a rule, some of those features can be repeated.
The feature "Special Reels" remove such symbols as 10, J, Q, K, A from the reels and giving out only expensive symbols. Despite the great potential of this feature, as a rule, the symbols are mostly not connected to each other and this does not bring large wins. The average winning in this feature is 3x-10x total bets, less often the slot gives a win of 15x-40x bets, and the potential to get a win of more than 50x total bets is almost equal to 0.
The "Wild Reels" feature closing one or more reels with wild (wild reels) symbols. As a rule, 2 reels are closed, less often 1 or 3. Despite the big potential of getting a big win (up to 888x total bets), the average winnings are from several bets up to 25x-40x total bets.
The "Lion's Nudge" is moving one or more reels vertically and like this is trying to form larger combinations. As a rule, part or full closure of three reels (less often four, and five reels during the tests could not be obtained) with average cost symbols (often pearls), which brings an average winning of about 30x bets (less often 5x-15x or more).
The bonus game is rarely triggered by the slot, and during the tests, a series of more than 1000 spins were observed waiting for the bonus game, while the average number of spins waiting for the bonus game was 150-250. As a rule, the bonus game is triggered one-time, in the above spins period (when giving an average win), and rarely in series (when issuing a minimum win).
As a rule, a slot gives winnings of three types in the bonus game: A) average values of 70x - 150x total bets. B) high from 200x (maximum received during tests was 380x total bets, maximum fixed by the provider is 800x) C) minimum values from 20x to 40x bets (rarely, but during tests there was also a fourth type of winnings, from 4x to 15x). Most winnings in every of the described examples were close to each other and mostly they were 2 one after the other, i.e. if the first winning from the bonus was 70x, next bonus will pay like 140x, etc. During testing, we didn't see a bonus of for example, 20x and the next to be like 300x.
This slot is not recommended for playing with bonus money due to long series of spins without winnings and poor balance keeping, as well as a low potential to get a big win with the additional bonus features and sometimes the long waiting for the bonus game. When playing with real money, only short game sessions are recommended in an attempt to get a big win from the start and immediately close the slot. Long distances on this slot are not recommended. During testing, with a reserve of bet balance of 2000 bets, only 8447 spins were made (until complete loss), while getting only 4 big winnings (380x + 380x + 300x + 200x bets), so I repeat: long distances are not recommended!
Bonus features
Wild Reels – the lion will throw a golden ball on the playing field, which will turn one or several reels into wild ones.
Special Reels will fill one or more reels with high-paying symbols.
Swap Tiles will allow you to get the maximum rewards since all the cheapest symbols will be replaced with higher paid ones.
Lion's Nudge will push vertically a few reels to create a winning combination of symbols.
Bonus game
Three Slot Logo symbols triggered the bonus.
You will be offered an instant win.
You can pick up the reward or try again to get more.
Do not forget that the next prize may be much less than the last offer.
Specifications
Size - 3-5-5-5-3;
Lines - 40;
Volatility is unknown;
RTP (return to player percentage) is 96%;
The maximum winning is 400,000 coins.
You may also like the following slots in Fun mode