You can play Jester Spins online slot machine for real money in the following Red Tiger casinos:




Jester Spins Slot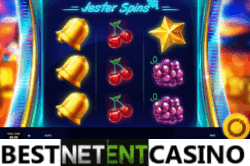 A lot of classical slots differ from Red Tiger company in colourful design and simple characteristics. In a line of traditional games, there is Jester Spins video slot. Its field has sizes 3х3. In it five fixed lines for bets. And on the spins, it is possible to put no more than 40 coins. Of course, it absolutely small range of bets. But nevertheless, there is a chance to win up to 20,000 coins. Also, there is Scatter which returns 500 general bets. In the slot theoretical return of bets which is equal to 96.19% is established. Very high volatility is also involved.
Review and recommendations from the testing team
Jester Spins machine left at me rather ambiguous impressions. So, on the one hand, rather interesting gameplay (considering that it is the slot with 3 reels) and pleasant, high-quality registration, and with another - a small maximum prize (500 bets) and low potential of its delivery.
In the main game, the slot allows big series of the spins without advantageous combinations but at the same time here quite good costs of combinations (there are no prizes till 0.1-0.5 bets and the minimum prize is equal to 2 bets). The average payment - 4-8 bets. Periodically more big prizes meet. By the way, during testing repeatedly it was possible to receive 50-75 bets, and here I did not see the maximum winning in 100 bets.
To tell that the slot gives bonus games often, to tell nothing! Their activation generally happens series and during testing, I could receive up to 7 games for 20 usual spins, though there are long intervals between bonuses up to 100-150 spins, but is rather rare. Besides standard awards, gameplay the bonus of a game provides additional prizes. So, for 2 symbols of the clown the player wins a prize to 50 bets, and for 3 Clown symbols up to 500 bets.
Despite frequent giving of clowns during free spins, the potential of obtaining high values in a bonus to a game disappoints. So, the average winning of 2 Clown symbols makes 6-9 bets, and less often awards reached 12-20 bets (the maximum prize during tests made 25 bets). At giving of 3 Clown symbols, average payment made 20 bets (minimum during tests 11-12 bets were, maximum made 30 bets).
The advantageous combinations during free spins are practically not given. The average general prize in a bonus did not exceed 20 bets. At the same time the minimum awards were equal to 6 bets, and maximum - hardly exceeded 50 bets. Nevertheless, I nevertheless consider that at a long distance the slot is can give the greatest possible prize, but the potential of receiving it on the start of a game session nevertheless is low.
This machine quite not bad holds balance due to frequent delivery of a bonus of games. So, average losses for 1000 spins did not exceed 50 bets, therefore, this slot can quite be recommended for a game for bonus money. If to play for real money, then it is worth being guided by long game sessions (having a stock of bets from 150) as the potential of receiving the winning from start is extremely low.
Bonuses
Bonus game (free spins) is triggered at the delivery of three Clown symbols. The number of the spins also is fixed 10, at the same time the possibility of receiving additional spins is absent.
Settings
Size - 3x3;
Lines - 5;
Volatility - unknown;
RTP - 96.19%;
The maximum winning is 20 000.
You may also like the following slots in Fun mode