You can play Lucky Easter online slot machine for real money in the following Red Tiger casinos:




Lucky Easter slot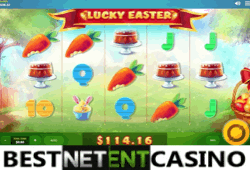 Red Tiger decided not to finish a series of slots Jingle Bells, Lucky Halloween, Lucky Valentine and created one more clone with completely similar gameplay and mechanics - Lucky Easter slot. The slot offers the following bonus features: wild symbol "Chicken", wild mega symbol "Chicken", Easter reels, multiplier "Basket". Pay attention that here high volatility and mid-frequency of loss of prizes. Further, you can see a response of a tester and the description of bonus options. RTP - 95.5%.
Review and recommendations from the testing team
During testing of this slot, it seemed to me that despite the general gameplay and mechanics, it has a few other returns, namely, plays more "exactly", with the application not of such rough mathematical decisions and scripts. So, for example, in the main game several times it was possible to receive combinations from three and four completely covered reels with the top symbols. During triggering the "Easter Reels" function were given, including, and the top symbols.
In the main game of the mechanic nevertheless practically does not differ from clones, except for a little more equal game and periodic advantageous combinations from the top symbols. The main lot of spins brings only payments within 0.5-5 bets with a time long series of spins without prizes. More expensive combinations worth 10-40 bets, as well as wrote above, are given slightly more often, than in clones, but, nevertheless, the bulk of these awards meets during activation the bonus features.
The trigger of the bonus functions in Lucky Easter often happens series from 3 to 10 times. Unlike clones wherein the majority of activation in a series, the bonus function is given same (or in the prevailing quantity), here duplication of functions happens less often and a variety is observed.
The series of empty activation during which Rabbit appears do not give any of bonus functions, but here they are much shorter, than in clones, and are shown less often, but sometimes nevertheless are rather long.
The "Wild symbol chicken" function. In most cases, only inexpensive combinations are given, by the worth from several to 40 bets, but through more "equal" game of the machine, sometimes this feature is capable to issue and larger rewards. Though the potential of it is extremely low, despite frequent trigger of this option (especially during free spins).
The "Easter Reels" function. The slot forms a winning combination fairly "crookedly" because of which the average win is 20-40 bets, but due to a more even game, unlike clones, this slot machine periodically gives out combinations with a large number of top symbols and rather expensive combinations - from 50 up to 100 bets. The activation of this feature occurs less frequently than the previous one, but, nevertheless, quite often.
The "Wild Megasymbol Chicken" function. This feature often is given in addition to mega wild when there are only inexpensive symbols. The general prize varies within 20-60 bets, but nevertheless, during testing, it was succeeded to receive full-screen combination from wild symbols, worth 400 bets. This function is triggered not often and sometimes series on 2-3 times, therefore, you do not hurry to leave a game after the first start of a bonus, it is recommended to make a two-three more of tens of spins.
The "Multiplier Basket" function. Quite often during delivery of this option only inexpensive combinations cost in several bets meet, and the multiplier has average value in x8-10. Less often the multiplier of x3-5 and also more than 10 dropped out.
Bonus game. Distinctive feature from clones are a mix of pieces with the progressing bets and also the random choice of payment up to 800. The prize less than 30 bets extremely rare. Transition to the second level and an award more than 60 bets are given not often, at the same time awards of 800 bets meet even less often. 100-200 bets, but nevertheless are more often paid, during testing it was possible to receive max win of 800 bets.
The free spins feature is triggered by giving of three scatter symbols on game reels or activation by Rabbit. Unlike clones, a large number of free spins on start meets seldom, but at the same time, re-spins more often are given. From 8 to 15 spins are on average started, from 15 to 25 is rarer. Free spins are often triggered by series several times, therefore, it makes sense of an increase in a rate on a short distance.
During free spins the slot also activates the bonus feature (sometimes on several spins in a row) during most of which often are given "Wild symbol Chicken " and also "Easter Reels" and less often "Wild mega symbol Chicken" and additional free spins (from 4 to 8, is more rare more). The average prize during free spins makes from 20 to 150 bets (in the prevailing number of games of 50-80 bets).
Often this video slot plays "plus" and "minus" pieces because of what at a number of short distances badly holds the balance. Compensation of losses of balance, or its increase, happens, generally for the account a bonus of functions. It is possible to finish a game after a plus distance at which, as a rule, it is possible to increase balance by+/-100-150 bets. or to prepare for a long game from the alternating plus and minus distances waiting for delivery of mega wild about the top symbols, or a bonus a game with a prize x800. The slot can quite be used for a game on bonus money, but it is necessary to have a stock of bets not less than 300-400 and to be ready to long sessions with the alternating distances. Similar recommendations and at a game on real money.
Bonus features
The "Wild symbol Chicken" function triggers random giving of wild symbols on game reels. In the majority of activation is given from 3 to 9 (on average 5-6) wild symbols.
The "Easter Reels" function triggers function of giving the combination without the participation of symbols of the minimum value (10, J, Q, K, A), i.e. delivery on game reels of the most expensive symbols.
The "Wild mega symbol Chicken" triggers giving on game reels of a special wild symbol, 3*3 in size. This wild can take any position (1-3, 2-4, 3-5 reels), but most often takes position 2-4 reels.
The "Multiplier Basket" function gives the guaranteed prize with the participation of a multiplier. The greatest possible value x20.
The bonus game is activated by giving three symbols of the bonus game in the main game, or activation by Rabbit. The prize during this function guaranteed, also averages 30-60 bets.
Free spins are triggered at the emergence of scatter. It is possible to receive up to 25 spins with activation of additional features.
Settings
The size – 5х3;
Lines – 20;
Volatility – unknown;
RTP– 95.5%;
The maximum prize is 400,000.
You may also like the following slots in Fun mode