You can play Lucky Valentine online slot machine for real money in the following Red Tiger casinos:




Lucky Valentine Slot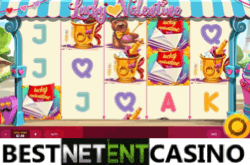 Lucky Valentine slot continues a series of multiple slots, completely copying the gameplay of Jingle Bells, Lucky Halloween, Lucky Easter. It has five reels with 20 fixed lines. And numerous bonus features are waiting for you during the game process. You can also catch a bonus game with payouts of up to 800x total bets or free spins. The provider has set the average frequency for the winning combinations. We also have a tester review and a detailed description of all bonuses.
Review and recommendations by our testing team
As in the clone slots, the slot triggering combinations and bonus features in a strange way. Often it puts the symbols on reels 1,2, 4, 5 or 2,3,4,5 which gives the player not positive emotions.
Slot-winning winning combinations in the main game, as a rule, vary in the range of 0.5x-5x total bets. More expensive combinations, costing 10x-40x, are rarely triggered, while sometimes quite a long series of spins are met without winning combinations. The slot keeps the balance extremely poorly in the main game, and while waiting for triggering of the bonus features, it allows significant losses that can be compensated (or increase the starting balance) only during the bonus features.
The bonus features are often triggered in "waves" from 3 to 10 times. Also, the slot gives the whole series of empty features, during which Valentine appears, but does not give out any of the bonuses, and such series can also be quite lengthy (more than 10 empty features were observed during testing).
Feature "Love Bomb" In most cases, from 3 to 9 (an average of 5-6) wild symbols are issued, but there are only inexpensive combinations, costing from a few to 40x total bets. Despite the frequent activation of this feature (especially during free spins), the potential for winning more than 40x bets is extremely low.
The feature "Cupid's Reels". As a rule, the slot forms a winning combination rather "cheating", because of which the average gain is 20x-40x bets, less often reaching 100x total bets. Triggering of this additional bonus feature is less frequently than the previous one, but still quite often.
"Mega Wild" most often fills 2-4 reels with a wild symbol. As a rule, considering how the slot gives out winning combinations, only inexpensive symbols are often found in addition to the mega wild. The total winnings varied between 20x-60x bets. Although during testing, it was possible to get a combination of full-screen symbols wild costing 400x total bets. This feature is activated not often, sometimes in a series of 2-3 times, so do not rush to leave the slot after the first launch, it is recommended to make around 40 – 60 spins more.
Feature "Love Multiplier." Often, during the issuance of a multiplier, only an inexpensive combination, worth several bets, falls. The average value of the multiplier is x8-x10. Less common is x3-x5, as well as more than x10. Although the maximum possible value is x20. This feature is activated quite often, and in most sessions in series.
Bonus game. The winning during this feature is guaranteed, and an average of 30x-60x total bets. Payments of less than 30x bets are practically excluded. Awards of more than 60x bets are not given out often, but during testing, there was winning of 800x bets. It was also observed that the slot, unlike clones, often gives the maximum winnings from the first bonus games, but their activation occurs less frequently, and often only once, rather than in series of 2-3 times.
Free spins feature. Unlike clone slots, where the spins depend on how much scatters were triggered (the more, the more spins you get), here is different. So, with three scatters, it was possible to get more than 30 spins, and with 5 scatters less than 15. On average, I received from 12 to 25 spins. But free spins are triggered in series several times.
During free spins, the slot also activates the additional bonus features (sometimes several spins in a row), during which the "Love Bomb" and less often the "Cupid's Reels", Mega Wild and additional free spins (from 4 to 8) are issued. The average win is from 20x to 150x total bets.
In most gaming sessions, the slot has a poor balance keeping in the main game. Compensation for loss of balance or its increase occurs mainly due to bonus features. Also, like his clones, the slot plays a series of pluses and minuses. It can give you a lot of bonus features or can trigger a very low number of them, that's why is best if you try to find the "mood" of the slot (Hot or Cold). You can win from the slot if is Hot (where, as a rule, you can increase the balance by 100-150 bets.
The slot can be used to play with bonus money, but you need to have a reserve of bet balance of at least 300-400 bets and be ready for long sessions. Similar recommendations when playing with real money.
Bonuses feature
The Love Bomb feature activates random wild symbols on reels.
The feature Cupid's Reels removes symbols of minimum cost (10, J, Q, K, A), i.e. The most expensive symbols are on the reels.
The Mega Wild will issue a special wild symbol, 3x3 in size. Wild can take any position (1-3, 2-4, 3-5 reels).
Love Multiplier gives a guaranteed win with the participation of the multiplier.
The bonus game is triggered when the three Eiffel Tower symbols appear. Winnings during this feature are guaranteed and reach up to 800x total bets.
Free spins are triggering by three or more scatter symbols. Choose one of the hearts, behind which the number of free spins is hidden. Here you can also wait for the activation of any of the above additional bonus features.
Specifications
Developer - Red Tiger.
Payment lines - 20 (fixed).
Volatility is high.
The betting range is 0.2 - 100 coins.
The playing field is 5x3.
The maximum winning is 40,000 coins (the Gift symbol).
Bonuses - four additional bonus features, free spins from the Notepad-heart symbol and a bonus game from the Eiffel Tower.
The percentage of return (RTP) is 95.52%.
You may also like the following slots in Fun mode