You can play Pussn Boots online slot machine for real money in the following Red Tiger casinos:




Pussn Boots slot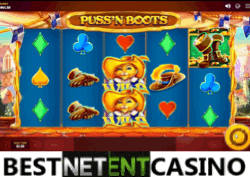 Everyone knows the hero – Puss in Boots, today has become a main character in Pussn Boots slot. Video slot created by Red Tiger, there are many pleasant surprises. But for the starting let's deal with standard characteristics. So, five reels, 20 pay lines, the maximum bet in 100 coins and the largest award in 500,000 coins. Now about features. In usual spins randomly (at Puss' appearance), it is activated one of the bonus functions among which: a shift of reels, megareels, five identical, the shift of symbols. Also, there are free spins with the action of additional functions. By the way, the theoretical return of rates (RTP) is equal to 95.23%, high volatility is established and the probability of loss of a prize in 20.18% works.
Review and recommendations from the testing team
In spite of the fact that Pussn Boots machine has quite a standard "picture". In my opinion, at it one of the best realization among Red Tiger slots. So, Pussn Boots rather "exactly" plays, a bonus function not just has the potential to bringing a big prize, but also realize it.
In the main game absolutely small series of spins without advantageous combinations are allowed, and the given awards bring 0.4-4 bets, and larger remunerations within 5-20 bets periodically drop out. Potential of receiving a prize more than 20 bets in the main game (without activation the bonus features) is rather low, though exists, and similar payments are given activation of one of the bonus functions, or during free spins.
Often function "Shift of reels" does not bring big prizes as inexpensive symbols initially are given. Nevertheless, this option with guarantee gives an average prize within 10-20 bets, and, periodically, during testing, the slot gave up to 80 bets. The megareels function works also as well as similar function in other slots. The appearance of symbols happens rather "crookedly", and the average prize at the activation of this function makes 35 bets (rare you can get lesser or more).
Feature "five identical" usually gives symbols of the minimum or average value. I was waited by an average prize within 10-30 bets. But during the test, I received 1 line of wild +1 symbols, the line a top of symbols and a prize in more than 100 bets and also 2 lines of wild symbols (a full covering of 2 horizontal lines from 3) and a prize in more than 380 bets.
The "shift of symbols" function during testing moved from 2 to 8 symbols, giving out from several to 80 bets, but also more than 150 bets were succeeded to receive a replacement of 14 of 15 symbols by an expensive symbol and a prize.
Activation of functions happens rather often, on average time in 50-100 spins, and is single. But sometimes nevertheless functions are triggered more often or small series. Separate adventure it is worth noticing that unlike some other slots of the provider where the bonus feature in the main game practically do not realize the potential or realize it only during free spins, this machine, nevertheless, it is frequent, gives big prizes at activation the bonus functions and in the main game.
Giving of free spins happens not often as the big prize is practically guaranteed (seldom gives the minimum awards), and expectation averages from 100 spins. The average prize during free spins reaches 80-140 bets (rarer, it is less or more), but also payments in more than 200, and even 300 bets met.
This slot quite not bad maintains balance at average distances, allowing losses at a short distance waiting for the bonus of function and levelling it on longer, after activation the bonus features therefore quite will be suitable for a game on bonus money. At a game on real money, it has the quite good potential of delivery of big prizes including series of such payments, therefore, it is possible to try "to pressurize" it before receiving a big win and also to use the strategy of increase in bets.
Bonuses
The «Shift of Reels» function triggers moving of one or several reels.
The function of «Megareels» excludes symbols of the minimum payment and gives only the most expensive symbols.
The «Five Identical» function activates delivery on the reels from 1 to 3 lines (lines No. 1, No. 10 and No. 20) symbols of one type. Pay attention that one type of symbols to one line, in the second lines, can be given both two various types of symbols, and identical. Happens also to the third line.
The «Shift of Symbols» function triggers the random choice of several symbols and their replacement by other symbols of one type.
Free spins are activated by the slot at the delivery of three and more scatter symbols — the inscription Free Spins. The number of free spins is defined by the choice of one sector from three. As a rule, the slot gives from 3 to 12 spins (on average 5-7), and also together with the number of spins the bonus function is shown. The bonus feature is triggered in every spin.
Settings
The size – 5х3;
Lines – 20;
Volatility – unknown;
RTP– 95.23%;
The maximum prize is 500,000.
You may also like the following slots in Fun mode