Details
Last Updated: Wednesday, 11 January 2023 17:59
How do online casinos cheat affiliates?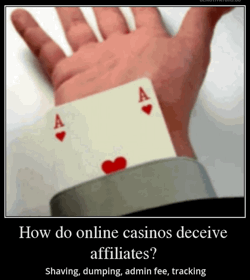 Among our partner programs, there are several casino Softswiss, and we also have western players. If you are a beginner in affiliate marketing and you are thinking about what online casino is worth adding to your site (YouTube channel, social network group, etc.), then you should read this article attentively and understand some of the risks you face when you add those or other partners. Online casinos have a lot of ways to promote massive affiliate payments and, in the future, to low them. This is done to motivate the affiliate that will add them to the site. Today, the dumping of conditions among operators has already begun. Lack of traffic (players) and the continually increasing number of new online casinos is bringing about a lot of great rivalries.
Dumping is the beginning of the end
You should agree that when the manager of the online casino promises you (as a partner) 65% instead of 40%, it looks much more attractive and you are likely to add this casino to the site. In fact, in absolute terms, you can get much less. Let's talk about the basic techniques that online casinos use to deceive affiliates.
In this article, we will talk about how online casinos deceive affiliates in their affiliate programs? What do partners need to know not to lose their money and bets? What is a shaving, how can you low an envelope by disabling tracking files (cookies) and what other tools have operators found to deceive their partners? We need to immediately indicate that the written information is our subjective opinion and expresses only our guesses. All given examples do not have a proof base, but the indirect signs indicate the correct logic of our assumptions.
Deception of partners with the help of admin fee
This parameter means how much the deduction (in %) of the online casino makes to cover its direct costs. They include: the costs of payment systems (they receive a percentage of each deposit and payments), the costs of paying off their percentage the software manufacturer, royalty payments (if it is a casino on white label (Softswiss, Everymatrix, etc.) Western online casinos often take 20% to 30% from the amount of the player's deposit as an admin fee; some casinos directly deduct actual costs from the deposit amount.
Today Softswiss has become one of the most dynamically developing white labels. In all online casinos on this platform, you can not only see the actual value of the installed admin fee, but casino owners have the opportunity to change this value at any periods. It would seem that nothing is challenging to catch a casino by the hand - but this moment has already provided. You will not find a detailed layout for the login or numbers of players in every online casino on Softswiss` platform. You see only the quantity of registrations, the number of new depositors (players who at the first time deposit to their account) and already "clean" (that is, after deducting all admin fee profits).
Thus, even if you agree with the player that he will register with your link and make a deposit of exactly $ 100 and will loses it, then your efforts at this moment will give you anything. The casino directly will refer to the fact that, apparently, at that moment, one of the players won or lost money. And it coincided in time with your test. Then, they will change admin fee to the one that you have already discussed (if you are an experienced affiliate and ask these questions) for a week to avoid new checks. After that, they will put you again, for example, 50% admin fee. You should believe that by checking the statistics, you are motivated by a small number of players and low income. When under your program, there will be thousands of active players; at best, you will check the statistics daily.
Now let's try to find out what happens on the way out. If you are offered 65% with an admin fee (for example) 50%, then from every lost € 100 you will receive € 32.5. If you are provided 50% with an admin fee of 35%, then you will receive €41.25 from each lost 100.
How does online casino explain the high admin fee?
The owners of online casinos claim that a massive part of their income goes to pay for payment systems. According to them, with each deposit which was made through the payment systems Kiwi and Yandex money, the casino pays from 10 to 12% of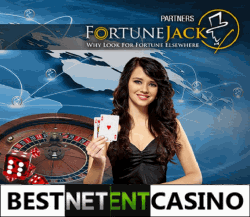 the amount. For payment systems, Skrill and Neteller it is about 4%, and for cards, visa and master card - from 3 to 5%. At the same time, all these systems take a percentage not only for a deposit on the account but also for deducing a winning on this payment system. The most interesting fact is that if the admin fee is set at 35%, then it will spread to all deposits, including "cheap options" (Skrill, Neteller and others).
In this case, it is easy to calculate that it is enough for the player to deposit the account three times and withdraw the money for the same amount to get the affiliate zero, only from the value of the admin (35% x3). The rules of the triple deposit scrolling are partly explained by the payment of large commissions in favour of payment systems.
Quick payments and deductions for player transactions
Another obstacle in admin fee is repeated deposits. To understand how it works, I will give an example on figures with the value of an administrative fee of 35%:
The player deposits €1000 wins €2000 and after that withdraws this money. You get minus €2000. If the player lost this €1000, then the plus would be calculated which is based on the amount of €750 (that is, 1000 - 35%).
Now we assume that by winning €2000 and withdrawing them to the payment system, the player decides to continue playing the game and then he makes a deposit of €2000. If he loses, the profit will be calculated, which is based on the calculation of €2000 minus 700 (35%) and also minus €1000 that was lost in the first attempt. That is, your profit will be calculated based on the amount of €300. With that, the player lost €1000.
If the luck smiles again and he will win another €1000, and then he can withdraw this money and deposit the account back (already for €4,000), then the numbers will be negative (although the player will also lose the initial €1000). The calculation will be €4000 minus €1400 (35% admin fee), and minus €3000 (previous winnings). Thus, due to only one admin, you could not receive a profit from €1000 but received a minus €400.
You should believe that all players immediately withdraw their winnings and after a short time recharge the account. It is essential to understand that the higher the value of admin fee will be put on your affiliate program, the sooner the casino makes payments, the more you will receive a loss from the admin fee.
Shaving of affiliates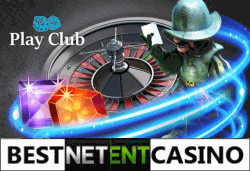 Extremely "funny" way to optimise profits for online casinos and "liberation" an affiliate of extra money. From the English word to shave. This way - to cut you – it just turns off the player from you. It is done elementary - in a few clicks and partially guarantees security for the tripping.
In the Western online casinos, in almost in all partner programs, there is a detailed layout for the players' logins (or by numbers). Disconnection from the partner can be easily proved. If for example, under the affiliate program, a friend or an affiliate is playing with the player in contact (Skype and so on). You can make a screenshot of the affiliate program and create a precedent on the forums, which will significantly damage the reputation of online casinos and the completion of affiliate programs with many sites. Such things can happen. We often receive e-mail messages about failures in import statistics and apologies for delays in payments from various casino partner programs.
And again Softswiss
If we are talking about Softswiss, then still there will be no detail or display of costs - only the number of registrations, new depositors and "clean" (apparently laundered from the admin fee) income. Already with 30-40 active players, you can quickly disconnect those players who play at the large bets, or for complicated reasons cannot be associated with the affiliate directly.
How can I catch it? This is extremely difficult to do it because you will be nodded at the coincidence of the game with several accounts in time. You can check it by asking your friends to play and fixing the dates for the deposit of the account. If the sums are significant, or the player plays continuously, then you can catch the casino. Even in the best case, when you say specific claims to the casino, you will most likely be told that it was a technical failure and the player will magically reappear in the casino partner program (that is, his deposits are counted). However, this is not how it will prevent him from disappearing from it in the future.
Some affiliates claim that while the player is shaving, his money disappears from all periods (and past). And for an affiliate, it is enough only to fix the numbers for the past months and periodically check their changes. But, this version is not proven, and we did not test it.
What kind of players does usually online casino shave?
As a rule, online casinos are most likely to disconnect large and medium players who use large and medium bets.
Most often, they do this after a pause in the game. It does not capture so much the attention of partners. Again, they can always argue that it is a technical failure.
They often try to disconnect players who are not indirectly associated with an affiliate. What do you think about an online casino that asks you to fill out an extensive questionnaire while registering? It also asks you to indicate the country and address of residence. It is possible that initially, this rule was introduced by Western online casinos as license compliance? The less the player and the affiliate connect something, the higher the likelihood that the online casino will want to affix it and release the affiliate from the burden of getting a profit for that player.
And most important is that, if the casino sees that the affiliate does not observe the players and is not inclined to check them, then the appetite for the shaving will grow like a leap, it means so quickly. In this case, the casino will react much more carefully to a partner who will fool for each missing player or discrepancy of numbers. It is also important to understand that (if we are talking about Softswiss), the larger the affiliate program and the more players register and play, the more slowly you can shave any of them. Of course, if you have one player (and it is you from another computer), then it will be almost impossible to shave this player.
Potential costs of the affiliate from shaving
As in the case of admin fee, the lost benefit from shaving can be just tremendous. If you are turned off, we can assume, one player per week, and then it will be 4 active players per month - and 48 active players a year. Now imagine that you have on your site 4 online casinos from Softswiss. You will lose a massive portion of your income. And, if we consider that at the online casinos are not shaved small or unpromising players - the losses will be just enormous.
Dummy players for reducing partner payments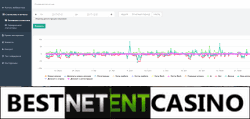 You have connected a player who won a big sum. It is difficult to come up with a clue, so the method is very well quoted. Here is an example: we have on our site a partner Play Fortuna casino, with a total deposit of €200 000. At the same time, 6 of our 800 active players won €167,000 (in total), which explains the extremely low commission for the reporting period.
How does it work?
At first, you need to choose partners who have something to take, namely large partners with significant favourable commissions and huge bets. In all usual licensed online casinos, there is no negative transfer (that is, any minus is reset to the first day of any month). Therefore, for weak partners, it makes no sense to hang large winnings. And for those who have the amount of commission for the reporting period exceeds the amount of skidding the player - just right. So, for example:
The player under any affiliate (or without it) wins €10,000. Choose partners, the number of commissions which for the reporting period (in this case, two weeks) exceeds this amount.
The player manually connects to this affiliate, and the winnings are deducted from his commission.
At the end of the reporting period (or in the case of a pay-back win), the player disconnects from the partner.
The online casino tries to make everything in order not to leave a partner with anything. That is, the commission should be still there. Let it be small commission - but it was. In many things, this is interrupted by the own affiliate players, who formed the initially large amount of the commission. As a consequence, they will often win after significant losses.
How to check? There is no way. Yes, it will be almost impossible to realise. After all, this is a player - no players are excess. If you once won, you can lose someday. The trick is that after the end of the reporting period, the player will no longer be under your affiliate program. If someone has a similar situation with a playlist, you should write us an e-mail (or leave your comments).
The most important question (and the answer) is - how, with such a detailed affiliate program and engine, Play Fortuna does not have detailing logins. It was not in the past partner program and still lacks in the new program. If they have nothing to fear and they do not leave room for manoeuvre - what is the reason for such selectivity? Is it such fear of cashback from the side of an affiliate?
People create landings from the series "I earned a dad on a jeep", or I am now an independent woman who does not ask for money from her husband and leads several script projects ...
Disabling cookies (tracking files)
As you should know, if a person at least once went to the online casino site on your link, then his tracking code will preserve at the cookies. It does not matter whether he registered the account immediately after the transition, or after a few days - if he did not clean the history of the browser (in particular the cookies), then it will be fixed under you. A few years ago, one large and respected western online casino was caught up on the fact that their cookies did not work. If a person erased the tail and remainder of an affiliate link or did not immediately click on the register button, then he was involved as a direct player without any binding to the affiliate. Owners of this online casino for many years owned a large poker site, and they have affiliated themselves - so to assume that they did not know anything or did not understand - at least it is silly.
One of the affiliates noticed fraud, and after verification, it was found out that the situation was massive. For several years, the partners of this casino lost 90% of the players that online casinos received as direct players, and they did not share profits with affiliates. After presenting the claims, they referred to a technical failure in the system, and they activated cookies files. Today, video slots are one of the largest online casinos in the world.
Cross-marketing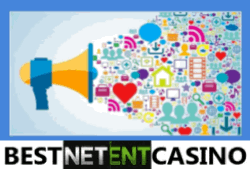 It is just a brilliant idea, which online casinos borrowed from Western fraudsters. The idea is simple, like all ingenious:
At first, we open two online casinos.
In the first online casino, we connect to all worthy (and not worthy) affiliates, placing ourselves for money and promising "gold mountains" (up to 80% of income, but in this case, you can offer 500%, and then shave players). We collect the players base, choosing the jellied depositors and cutting off the bonus players.
We send players to the mail letters from the second casino in the format "Hello, I am a manager and so on... Sign up here, and we will give you No deposit bonus and a super bonus with a low deposit wager. Also, you will have a cashback which is more significant than at the first casino and everything it will do everything for you. This is the link in the letter. Just look, large players are already in another online casino without affiliates. When they realise that something is wrong, they send spam across the entire database of players from affiliates. It is especially important to consider players who closed the account or installed self-restraint. The casino, in turn, worries so much about gamblers' state and complies with the rules of gaming commissions in regards to responsible gaming.
From the player's side, it looks like this way. You registered in one casino, entered e-mail and phone number - you start mass-mailing spam, calling and sending SMS messages. The raspberries, Burans and Yo-Yo have already had five brands.
This procedure you can repeat an unlimited number of times. In any case, at each new turn, you can throw players in the old casino and close it with the players' money on the account. The essential thing is that no one knows that these casinos belong to one people.
What should the casino affiliate do to avoid the losing players?
Check your numbers. It is better to ask the managers more often. At the slightest discrepancy, it is essential to ask and clarify everything. As in any business, they should understand that you are a very woke affiliate and to deceive you; it will not be easy.
Always ask which admin fee will be installed and how much the online casino promises to put it. This is especially important for those online casinos where this parameter is not visible, and the affiliate cannot control the honesty and decency of the operator.
Check the admin fee more often. You request some of those players to make a small deposit in an unpopular time and see how much is added to the total income. Regular deposits of $ 10-20 per month can significantly facilitate your life as a partner. The most important thing will be to raise a scandal if you are deceived. Write on the forums, write to us and so on - create a precedent. You should remember that the casino is afraid of contacting you after such a situation. They are cheaper to deceive a dozen other affiliates who do not follow the indicators and do not conduct "controlling purchases" from partners.
You will need to check the relevance of redirects in partner programs regularly. If you have an old redirect, then all players will get to the stub. After that, they enter the name of the casino in search, and now they are players and can take part in the game process of the online casinos.
Where to play?
Fastpay casino has a rich choice of casino games, over 5000 games in their portfolio, the top casino on our site. Moreover, they will send the money super-fast (1-5 minutes).