Details
Thank you for rating this article.
About 1x2 gambling software for online casinos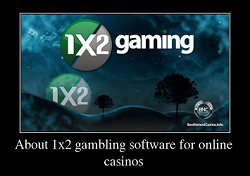 The products by the British provider 1x2 Gaming are not so popular and well-known as slots from Quickspin, Netent or Microgaming. The main field of interest to the developer is a virtual sport - the company has some sports simulations, the majority of which is devoted to football and all existing leagues.
Online casinos that are using the 1x2 Gaming software offer a solid set of the table games, several dozen slots, keno/bingo, scratch cards, mini-games and more.
The best online casinos with 1x2 gaming software
The features of the 1x2 gambling software
The old and unattractive graphics. 1x2 Gaming products are far behind the NetEnt slots (and that's putting it mildly). Most slot machines have primitive cartoon graphics. Possibly the best slot is one of its latest releases - Kick-Ass. Perhaps, this game looks a little better than the rest, but still not good enough to compete with slots by popular brands.
No unique themes. In 1x2 Gaming slots, all bonus features are old and are not using original decisions. Judge yourself: Gladiator of Rome, Aztec Secrets, Treasure of the Pyramids, Bloody Bank, Classic Fruit and Charming Lady Luck – all features were seen before. There are some unique games, but their number is too low.
Multiplatform. Games by 1x2 Gaming usually are coming as an addition to large selections of the slots from other companies.
The simple (even rudimentary). The 1x2 Gaming slots are very simple, even too much. Many of them are made on the same principle, have similar bonuses and special features. On most machines, there are wild symbols and free spins. They all lack of multi-level bonuses and other features of modern slots.
A small number of lines. The maximum number of lines in 1x2 slots is 50. Honestly speaking, the developer has stayed far behind the technological revolution.
The humour. A thing you can't take away from the products of the British company is humour. In some slots, there's something that will certainly make you laugh. As an example of "funny" slots can be Piggy Bank and The Craic.
The RTP(return to player percentage). The average RTP of 1x2 slots is between 96% - 97%. For example, the RTP of the slot Aztec Secrets equals 97.5%, while on the Gladiator of Rome its value is 97.32%. Kick-Ass has an RTP of 96.9% and Blood Bank of 97.32%.
The low dispersion. Finding precise data on the volatility of 1x2 slot machines is a bit problematic. In general, most of them have low and average volatility.
Table games. The 1x2 Gaming offers the following table games: blackjack, roulette and poker. There is a total of 20 variations of games, and they are made at a high level.
Where to play?
Fastpay casino pays money to payment systems and bank cards within a few minutes (up to 5). They have a rich choice of casino games (over 5000), including 1x2 Gaming and one of the best customer care in the online gambling industry.