Thunderkick slots Description with 2023 Testers Review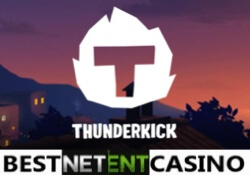 Among the many young developers of online gambling software, Thunderkick company requires special attention. Several former NetEnt employees opened their office in Stockholm, Sweden, in 2012. This fact played a key role. Because many were drawn by the high-quality products created by professionals. In a short time, the developer filed its portfolio with interesting and original slots. By the way, unlike many other companies, Thunderkick specializes only in online gambling. So in this article, we talked about all the features of the gaming slots released by the developer. Also provided information about the company and its activities.
Logo
Name
(Play in the demo)
Percentage
(RTP)
Volatility
(Dispersion)
1429 Uncharted Seas
98.5%
14.25
Arcader
96.1%
24.03
Babushkas
95.8%
16.26
Barber Shop Uncut
97%
7

Baron Bloodmore and the Crimson Castle
96.07%

Beat the Beast Cerberus Inferno
96.15%
187.44

Beat the Beast Griffin's Gold
96.14%
16.96

Beat the Beast Kraken's Lair
96.12%

12.17

Beat the Beast Mighty Sphinx
96.14%
143.7

Beat the Beast Quetzalcoatl`s Trial
96.16%
11.91

Big Fin Bay
96.14%
Birds on a Wire
96.1%
69.39

Bork The Berzerker Hack 'N' Slash Edition
97.3%
55

Carnival Queen
96.1%
47

Cosmic Voyager
96.14%
11.46

Crystal Quest Deep Jungle
96.14%
8.41

Crystal Quest Arcane Tower
96.17%
9.80

Crystal Quest Frostlands
96.16%
8.43

Divine Lotus

96.14%
11.6

Dragon Horn
96.1%
9.71
Esqueleto Explosivo
96%
13.59

Esqueleto Explosivo 2
96.13%
56.50
Flame Busters
96.1%
99.93
Flux
96.2%
33.58
Frog Grog
96.1%
20.16
Fruit Warp
97%
69.92
Full Moon Romance
96.1%
7

Gods of Rock
96.05%
Jaguar Temple
96.1%
47

Jin Chan's Pond of Riches
94.27%
130.3
Luchadora
96.2%
55.13
Magicious
96%
16.58

Midas Golden Touch
96.1%
32
Not Enough Kittens
96.1%
31
Pink Elephants
96.1%
101.63

Pink Elephants 2
96.13%
86.89

Pyramyth
96.17%
9.63

Queen of Flames
95.75%
-

Raven's Eye
96.1%
58

Riders of The Storm
96.15%
125-219
Rocket Fellas Inc
96.1%
72
Spectra
96.4%
42.82
Sunset Delight
96.3%
25.03

Sword of Khans
95.36%
9.4

The Falcon Huntress
96.1%
67
The Rift
96.3%
34.99
Tiger Rush
96.3%
42.6
Toki Time
97.1%
17.41
Turning Totems
96.1%
34.75
Well of Wonders
96.1%
25.56
Wild Heist at Peacock Manor
96.1%
95
Yeti Battle of Greenhat Peak
96.1%
34
Zoom
96.2%
35.07
All about Thunderkick slots
It is worth starting with themes and design. Indeed, the company is creating great slots. They have an original design, but often the themes are done humorously. And this adds to the gameplay even more interest. Of course, there are slots on the theme of fruits and other classics.
Avoiding the standard play game made many players change their minds about online gambling. After all, the developer does not produce the same type of slots with five reels and 10 lines. Its goal is to launch innovative slots. So in Fruit Warp slot, they completely removed the classic reels and lines. In general, in their arsenal, which is around 40, you can find a wide variety of slots. Most still have five reels, but the variation in pay lines is huge.
Another "highlight" of the developer is bonus features. In slots, employees use all their imagination, trying to satisfy the tastes of each player. We want to draw your attention to such slots as Bork the Berserker, Esqueleto Explosivo, Spectra, Magicious and others. Of course, many slots have standard free spins, but they necessarily use more features. There are additional multipliers to win. Not without its special symbols - wild and scatter. They are in every single slot.
By the way, the company does not produce slots with progressive jackpots. This is the main rule of the company.
The betting range presented in the developer's products usually varies from 0.1 to 100 coins per spin. The opportunity to play bigger is rare.
The multipliers for combinations depend on the number of pay lines.
It is important to know that theoretical return to player percentage (RTP) are rarely below 96%. These slots can return serious amounts.
But volatility is often at a high level. This negatively affected the opinion of the players.
The slots are available in various languages. Today, the provider cooperates with the largest online casinos worldwide, therefore, seeking to translate games into all the most popular languages.
About the company and its achievements
Thunderkick developer company has opened two offices. The second is in Malta. The company operates under a license given by Malta Gambling Commission. The portfolio of online slots is constantly updated with new products. The provider conducts all necessary tests of the RNG and also uses the latest technology for data protection. In 2017, the Frog Grog slot received the Best Volatility Award in the Video slots Awards Malta. Here, another award was received in the nomination "Best Mobile Game". It became the Flame Busters slot.
BNC opinion about Thunderkick
Having many years of experience in the gambling industry, we can confidently say that the products of this provider are outstanding in their high-class design. Indeed, professionals are working on the design. Colourful and thrilling slots attract attention. But this is only the first impression. Now about the functionality. Everything is not so cool here. Often there are slot machines with very high volatility.
Twist, twist, but no return. By the way, bonuses, which are triggered quite often, can give meagre payouts. And then, among several hundreds of bonuses are given, a mega-profitable one is triggered, which make up for all that you have lost. So these slots can give a lot, but not always. Many players love the slots of this developer for the theme and design. We recommend that you get to know them using the portfolio of slots on our website.
Where to play
Fastpay casino pays money to payment systems and bank cards within a few minutes (up to 5). They have a rich choice of casino games (over 5000), including Thinderkick and one of the best customer care in the online gambling industry.